Earnings season isn't over yet but the numbers are eye-popping. China's biggest companies are raking in billions.
832 major companies have delivered their profit reports and most are registering big gains. Their combined profits have now risen above the $100 billion mark. Most of that income is concentrated among top tier firms.
China's top ten list is made up of names that should be familiar to seasoned investors. They include PetroChina (NYSE:PTR), China Construction Bank (OTCPK:CICHF) and Sinopec (NYSE:SNP).
Compiled by Wind Info of China, the top ten list excludes so-called Red Chips. Those are companies that do business in China but are listed on the Hong Kong stock market.
The number one money-maker in China is Industrial and Commercial Bank of China. With a stunning $18.95 billion in profits, ICBC replaced PetroChina as the nation's most profitable company. ICBC is not listed on U.S. markets. It is the world's largest lender by market value.
PetroChina, the country's largest oil and gas producer, fell to third place with $15.14 billion in net profits last year. Chinese companies which sell or refine petroleum products have seen profits squeezed by price controls.
In second place is China Construction Bank with $15.65 billion in profits. The bank reported a 15% rise in profits in 2009.
Here's a chart of the top ten from China Daily and the Beijing Times with profits listed in yuan: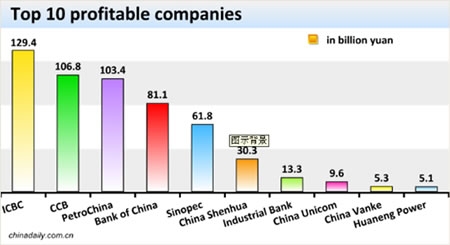 Energy and Finance Lead
Eight of the top ten are companies in the banking and energy sectors.
Sinopec Corp, Asia's biggest oil refiner, came in fifth with $9.05 billion worth of profits. The company, also known as China Petroleum & Chemical, doubled its profits during 2009.
China Shenhua Energy Co. (OTCPK:CSUAY), China's largest coal producer, was sixth with $4.43 billion in profits. This big cap giant is not traded in the U.S.
Industrial Bank, a mid-sized Chinese lender, came in seventh with almost $2 billion in profits.
China Unicom (NYSE:CHU) delivered $1.4 billion in profits. Unicom is gaining as the nation switches away from land line coverage to wireless service. China Unicom is the nation's number two telephone company behind China Mobile (NYSE:CHL).
As a red chip, China Mobile did not make the rankings.
China Vanke brought in $783 million in profits. It is the country's biggest property developer by market value. Earnings continue to soar in China's ongoing real estate boom.
Last on the list is Huaneng Power (NYSE:HNP), China's biggest listed electricity producer. Huaneng's profits rose to $746 million as China's energy use rebounded after the economic crisis eased.
The New Global Giants
China's critics like to accuse the country of fudging its growth numbers. But China's top ten are delivering giant cash returns.
The performance of the banking sector is entirely credible. Banks took the lead in Beijing's economic stimulus program. With a flood of new lending, profits have followed.
Much of that new money has gone into real estate development. The result is a boom for companies like China Vanke.
As I have reported often, China's auto sector is hitting historic highs. China has passed the U.S. as the world's largest car market. It makes sense that petroleum refiners and dealers would also benefit despite price controls.
In terms of market cap, China's top ten have now achieved world-beating status. They account for 75% of the income collected by the 832 firms rated so far. These ten raked in $82.5 billion and the numbers keep coming.
Wind Info says the top ten may still change as other giants like China Life (NYSE:LFC) bring earnings season to a close.
Disclosure: No positions