The economic news today was bullish for commodities in that materials stocks could see upside if we have a strong summer in the real estate market and the homebuilders see rising demand for new homes, something that has been missing from the equation as of late. The low rates should help moving forward, but it will take a few weeks for this to trickle down into the mortgage market so we have to hope for steady rates in the near-term.
There is some interesting news in the oil and gas E&P sector today with a few upgrades and big news from some big names.
Chart of the Day:
One has to like the overall trend in both housing starts and building permits since the lows, however in recent months we have seen more volatility as the interest rate environment and other factors have caused potential buyers to take a second look. We would like to see the numbers within the numbers improve as well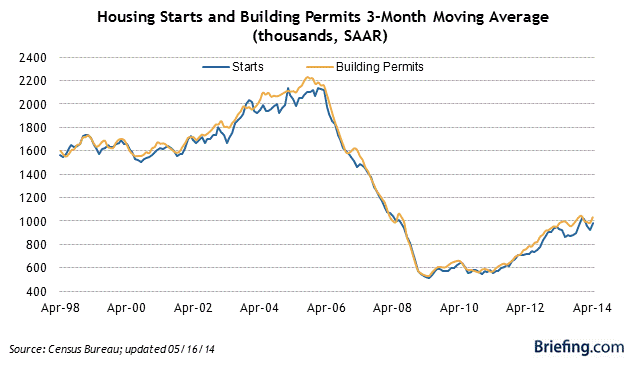 Source: Briefing
Commodity prices are as follows (at time of submission):
Gold: $1,293.80/ounce, up by $0.20/ounce
Silver: $19.385/ounce, down by $0.099/ounce
Oil: $102.10/barrel, up by $0.60/barrel
RBOB Gas: $2.9788/gallon, up by $0.018/gallon
Natural Gas: $4.431/MMbtu, down by $0.038/MMbtu
Copper: $3.1405/pound, down by $0.004/pound
Platinum: $1,471.10/ounce, up by $1.20/ounce
Is The Housing Market Coming Back?
That is the big question right now as the housing numbers that came in today were above the expected numbers. Many of the home builders have been out of favor with the investment community as the narrative has turned negative in recent quarters. The story may be changing however with interest rates trading back down towards the 2.50% area for the 10-year benchmark and the possibility that this could lead to a rush of new buyers locking in low rates right as the summer real estate season kicks off.
We are not interested in playing the housing market via names such as Toll Brothers (NYSE:TOL) or D.L. Horton (NYSE:DHI) as geography and other issues come into play, but instead via materials companies such as Cemex (NYSE:CX), which today announced a new CEO to replace Lorenzo Zambrano.
JP Morgan Bullish On Energy Play
We have spent a lot of time on PDC Energy (NASDAQ:PDCE) lately as it is one of our best ideas for the remainder of 2014. We think there is considerable upside left, even after the recent 20% move higher, due to the production growth out west and the exploration that the company is doing in the Utica to prove up their acreage there.
Today JP Morgan raised its price target on the company to $81/share from $72/share due to the company's exposure to the Wattenberg. The firm maintained its overweight rating on the stock while saying that PDC remains one of their favorite small cap E&P names.
Chesapeake Continues Plans For Spin-off
Chesapeake Energy (NYSE:CHK) announced that they will continue to proceed with plans to spin-off their oil services division while also looking to sell more of their non-core acreage. The company believes that they can sell $4 billion in assets in 2014 while having a minimum effect upon their production (most likely less than 2%) and not a large impact upon cash flows.
The $30/share level has proven to be a psychological resistance area for Chesapeake shares. With shares falling below $28/share on today's session our attention is now focused on the $27-27.50/share range for support.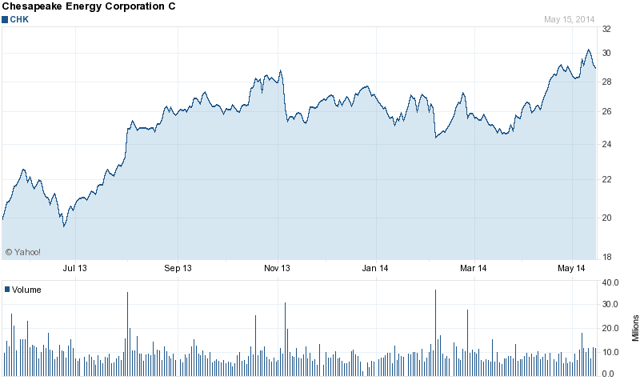 Source: Yahoo Finance
The company expects that they will close the oil field services recapitalization and dividend by June 30, 2014 which will result in $1.1 billion of debt being moved off of Chesapeake's balance sheet while also receiving another $400 million in the form of a dividend in order to pay down intercompany debt stemming from the oil field services division.
Regarding the $4 billion that the company expects to raise via assets sales, we would note that the company is well on its way to reaching that goal with its current pace of transactions.
Disclosure: I am long PDCE. I wrote this article myself, and it expresses my own opinions. I am not receiving compensation for it (other than from Seeking Alpha). I have no business relationship with any company whose stock is mentioned in this article.