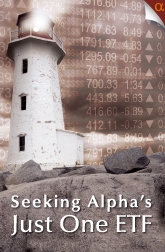 Several times a week, Seeking Alpha's Jason Aycock asks money managers about their single highest-conviction position - what they would own (or short) if they could choose just one stock or ETF.
---
Michael Johnston is co-founder and senior analyst at ETF Database, the online guide for ETF investors to obtain high returns through long-term investing.
Which single asset class are you most bullish (or bearish) about in the coming year? What ETF position would you choose to best capture that?
In the aftermath of the most recent recession, investors have experienced a number of fascinating revelations. The crisis in Europe has revealed that fiscal irresponsibility does indeed have its consequences, while the meltdowns on Wall Street have shown that credit should perhaps be taken a little more seriously.
It's also become very clear that the global economy is now dominated by the emerging and frontier markets - the developed world is really just along for the ride. The developing markets of the world are forging ahead at mind-boggling rates and now account for virtually all of global GDP growth. Meanwhile, advanced economies in the U.S. and Western Europe remain stuck in neutral, battling stubbornly high unemployment. The growth gap between developed and emerging markets has perhaps never been wider, while the "risk gap" has never been narrower.
As we move forward on the path to recovery, the BRIC is behind the wheel. The U.S. and Europe are the kids in the back seats, repeatedly asking "are we there yet?"
This realization has changed the way many investors look at the asset allocation process. Historically, many investors have made only minimal allocations to emerging markets that were perceived to be extremely risky. But now investors are shedding their "home country bias," increasing their knowledge of and level of comfort with markets that can offer growth potential they can't find anywhere else.
Emerging markets equities should be a core holding of any portfolio. As more and more investors come to this realization, and as the developing economies continue to leave advanced markets in their dust, establishing exposure to this asset class is critical.
The Emerging Global Shares INDXX India Small Cap ETF (NYSEARCA:SCIN) is one of the more recent additions to the ETF lineup. As the name suggests, this fund invests not in ADRs traded on the NYSE, but in small-cap equities listed on Indian stock exchanges. That means that most investors probably won't recognize a single one of the underlying holdings. But it's the one ETF I wouldn't want my portfolio to be missing. In addition to the tremendous growth potential, I'm convinced that this ETF is much more of a sure thing than most investors realize.
How does SCIN fit into your overall investment approach?
For me, short-term market timing and active trading are not only a waste of time, but a spectacular waste of money. A lot of investors who are a lot smarter than me have made fortunes doing it, but my focus is on the long-term. Rather than seeking out short-term inefficiencies, I try to identify high-level macroeconomic trends that are playing out not over the course of a few weeks or even months, but during a significantly longer period of time.
Predicting short-term performance in equity markets is impossible, especially in the current environment; it makes a lot more sense to identify an investment thesis that will play out over a longer period of time. But that requires the ability and willingness to tolerate volatility in the short term. SCIN is an inherently risky asset; its underlying holdings consist of small companies in a developing market that lacks complete transparency and advanced investor protections. As India finds its way on the global stage, odds are that it will stumble a few times. But oftentimes, there can be a nice reward for tolerating a bit of risk.
Tell us a little more about the Indian market. What makes this area your top pick?
Once upon a time, emerging market exposure was a binary option: Either you had it, or you didn't. Thanks in part to the ETF boom, investors now have dozens of choices, including country-specific funds as well as those that spread exposure across a number of economies. By my count, there are more than 80 emerging-markets ETFs, including broad-based funds like Vanguard Emerging Markets (NYSEARCA:VWO) and iShares MCSI Emerging Markets Index (NYSEARCA:EEM), and dozens of country-specific options.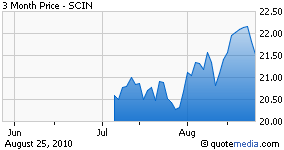 Each emerging market is different, but the central investment thesis is largely the same. As people move from rural areas to the big cities and begin non-agricultural employment, discretionary income surges and the middle class expands rapidly. A larger and wealthier middle class will demand cars, cell phones, electronics, and other consumer products as per capita income and standards of living increase. This scenario is admittedly simplified, but a general summary of the drivers behind the rise of emerging markets already in progress.
Within the emerging-markets asset class, China gets the bulk of the attention from investors—and for very good reason. But if you subscribe to the investment thesis outlined above - a rising middle class driving an economic transformation - India is in many ways the more attractive growth opportunity. From a population perspective, India is big and getting bigger; it should surpass China to become the largest country in the world sometime in the next 25 years or so. From a risk perspective, the fact that India is a democracy can't be overlooked. And from a demographic perspective, the facts are compelling.
Half of India's population is under the age of 25, providing not only a pipeline bursting with young intellectual capital, but a massive group of people who are just beginning to increase consumption. But the most compelling argument for India focuses around the swelling middle class; according to McKinsey, India's middle class is in the process of growing from about 5% of the population in 2005 to more than 40% in 2025. That translates into some 300 million people climbing out of poverty, many of whom will gravitate towards large cities and begin spending their newfound discretionary income. Even within the existing middle class, there is untapped potential; more than half of that demographic doesn't yet have a credit card.
All of these factors combine to form a tremendous investment opportunity, the only economy that is expected to post GDP growth of 5% over the next four decades. And while there are certainly some obstacles to such a scenario, the primary drivers of this economic transformation are already in motion.
Are there alternative ETFs that could be used to capture the same theme? What makes SCIN your first choice?
ETFs have been praised for bringing exposure to every corner of the world within reach of ordinary investors. I love ETFs, but I think they get far too much credit in this respect. The majority of international equity funds are dominated by mega-cap stocks - the largest publicly traded stocks in that market. This tendency often introduces two biases to these funds: 1) the correlation with the local economy is diminished and 2) large caps tend to be concentrated in certain sectors of the economy, while other industries are underrepresented.
Larger companies tend to be, well, larger. They often generate revenue from a number of markets throughout the world, meaning that performance can depend on larger macroeconomic trends. (Coke (NYSE:KO) is a good example; the U.S.-listed firm earns about 75% of revenue from international sales.)
Indexes comprising a given country's largest publicly traded stocks also tend to have a disproportionately large allocation to banks and oil companies, since these types of companies tend to maintain the biggest market caps. Conversely, consumer exposure is often lacking, and in some cases absent altogether. When you're talking about emerging markets exposure - where the primary driver of growth is a rising middle class - that becomes a very critical bias.
The performance of small-cap stocks tends to depend not on overseas demand or oil prices, but on growth in local consumption. Moreover, ETFs focusing on small-cap stocks will generally maintain greater consumer exposure than their large-cap counterparts. That makes small caps a better "pure play" on an economy, whether that market is the U.S. or India.
There are a handful of other ETPs offering exposure to Indian equities (INP, PIN, INDY). All of them are fine products, but the risk/return profile of these ETFs is fundamentally different from that of SCIN. Large-cap Indian companies - Infosys (NASDAQ:INFY), Reliance Industries, etc. - certainly stand to benefit from a rising middle class and a surge in India's economy. But the sector and market cap exposure offered by SCIN is truly unique.
Does your view differ from the consensus sentiment in this area?
Investors are coming around on the importance of emerging markets exposure, but many are still playing catch-up. Many investors in the U.S. still make huge allocations to domestic equities, with only minor weightings to the developing world. There is a perception that emerging markets are extremely risky—that a company could be nationalized at any moment.
In reality, the "risk gap" has perhaps never been more narrow—it's pretty easy to make a case that the regulatory environments in the U.S. and Europe are a lot more uncertain and potentially adverse than those in Brazil, India and China.
In regard to the entire asset class, investors are divided on emerging markets. Many are grateful for the contribution to overall portfolio return over the last year, but skeptical of the ability to keep that momentum going forward. With all the doom and gloom in the U.S. markets, it's hard for many investors to imagine emerging markets equities decoupling and continuing to race ahead, even though that's exactly what has happened over the last 18 months.
On India in particular, investors are divided over the country's long-term prospects. There's no argument about the tremendous potential, but significant disagreements over the obstacles to tackling that potential. The legendary Jim Rogers bemoaned the dilapidated infrastructure after visiting the nation in person, expressing his belief that the lack of efficient roads and a developed rail network would act as a significant restraint to economic growth.
What could go wrong with your pick?
In the short term, there is a lot that could go wrong. India's inflation rate is quickly spiraling out of control, and the central bank is taking aggressive steps to curtail lending. The country is vulnerable to natural disasters that can take a major economic toll. And general risk aversion, whether it is spawned by debt defaults in Europe, turmoil in South America, or further job losses in the U.S., can send risky equities tumbling.
Over the longer term, there are some considerable risks as well. India's infrastructure - or lack thereof - stands as a significant obstacle to sustainable GDP growth. If people can't get their products efficiently from Point A to Point B, all the discretionary income in the world won't make a difference.
There is the risk that the growth of India's middle class, in terms of both size and wealth, won't occur as quickly as is expected. And given India's history with Pakistan, the potential for geopolitical conflicts that take a toll on the Indian economy are certainly very real.
Your long-term outlook seems backed up by Morgan Stanley, who figures that India's GDP will rise to around 9-10% in the next few years, passing China (expected to be around 8%). As you note, discretionary spending drives the growth, but can India avoid China's volatile cycles? Maybe through a higher savings rate?
In many ways China and India have a very similar story to tell. Both economies are fueled by surging populations, a rising middle class, and realizing untapped potential through the development of more robust infrastructure. But there are some notable differences as well. China is the world's largest exporter, and the sale of goods to overseas markets has been and will continue to be a major component of economic expansion. India, on the other hand, relies far less on the rest of the world to buy its goods - with the possible exception of the country's textile market. India has a much greater chance to "decouple" from the global economy, insulating itself from the ups and downs of the developed world (and other emerging markets as well). India's economic boom will, for the most part, be funded internally.
Having said that, avoiding the volatile market cycles that have been characteristic of China is no slam dunk for India. It wouldn't be the least bit surprising if the Indian economy overheats several times in coming decades, pulling back each time and creating short-term volatility.
Thanks, Michael, for sharing your ideas with us.
Disclosure: Long SCIN.
Disclaimer: ETF Database is not an investment advisor, and any content published by ETF Database does not constitute individual investment advice. The opinions offered herein are not personalized recommendations to buy, sell or hold securities. From time to time, issuers of exchange-traded products mentioned herein may place paid advertisements with ETF Database. All content on ETF Database is produced independently of any advertising relationships.
Read more Just One Stock interviews »
If you are a fund manager and interested in doing an interview with us on just one stock or ETF position you'd hold, please email Rebecca Barnett.