Looking for underappreciated high dividend stocks? How about one that has actually beaten the market thus far in 2014? If your answer is yes, it might be time to for you get excited about soda ash.
Soda ash might not be the sexiest topic you come across on Seeking Alpha, but it's an essential ingredient used in the production of glass, chemicals and detergents, and has enabled this week's focus stock to create a stable, efficient business and pay out a very generous distribution.
Soda ash is mined from trona, which is "a relatively rare sodium-rich mineral found in the United States, Africa, China, Turkey and Mexico. Sweetwater County, Wyoming, is a major contributor to the total world production of trona, which is mined and then processed into soda ash."
(Source: US Bureau of Land Mgt.)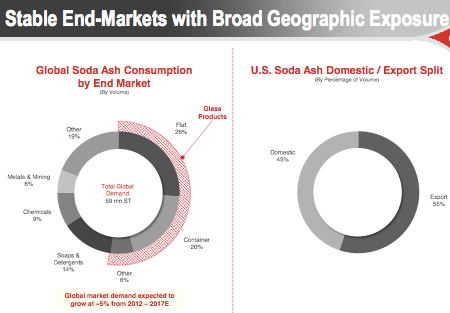 Profile: OCI Resources LP (OCIR) is a subsidiary of Atlanta-based OCI Chemical Corporation, which operates the trona ore mining and soda ash production business of OCI Wyoming, L.P. OCI Wyoming is one of the largest and lowest cost producers of natural soda ash in the world, serving a global market from its facility in the Green River Basin of Wyoming. The facility has been in operation for more than 50 years.
OCIR went public in September 2013.
OCIR's use of trona for soda ash production gives it a distinct advantage over synthetic producers, whose costs run as high as 2.9x in comparison:
(Source: OCIR website)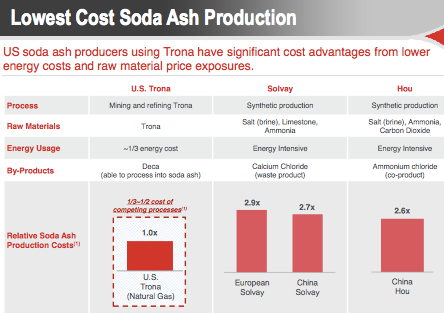 Dividends/Distributions: We've added OCIR to the Basic Materials section of our High Dividend Stocks By Sector Tables.
After paying an initial interim $.07 + $.50 distribution on Q4 2013 earnings, OCIR declared a $.50/unit based on Q1 3014 earnings.
On its Q4 2013 earnings call, CEO Kirk Milling stated, "We are confident in our ability to deliver the $0.50 per unit in quarterly distributions to our unitholders this year and will assess opportunities for raising the distributions later in the year."
This 9.44% dividend yield looks well-supported, with a 1.31 Distribution Coverage ratio:

Options: Unlike many of the stocks we've covered in our recent articles, OCIR doesn't have options, and we haven't been able to add it to our Covered Calls Table or Cash Secured Puts Table, as there are no US options available yet.
Earnings Estimates and Valuations: OCIR's P/E of 10.92 is based on the $1.94 "proforma EPS" it listed for 2013, since it went public in September 2013. Although this isn't a huge growth story, OCIR does look undervalued on a 2014 and 2015 PEG basis, with increasing average EPS growth forecasts for both years:

It also looks cheaper than industry averages for Price/Free Cash Flow, Price/Tangible Book and Price/Sales:

OCIR benefits from being in a stable industry, with growing demand, which should enable it to increase distributions in the future: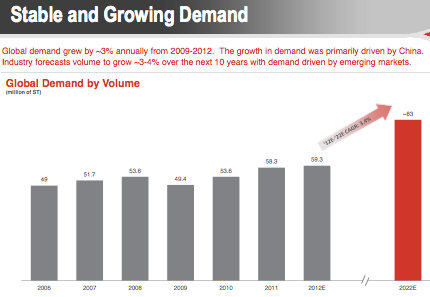 It also has long-term customer relationships.
(Source: OCIR website)
Financials: OCIR's management efficiency ratios and operating margin are much better than industry averages.
Performance: With the S&P up a bit over 1%, and the Dow negative year-to-date, OCIR has handily outperformed both indexes, in addition to offering a good yield:

Disclosure: Author is long OCIR.
Disclaimer: This article was written for informational purposes only.
Above Tables were furnished by DoubleDividendStocks.com, unless otherwise noted.
Disclosure: I am long OCIR. I wrote this article myself, and it expresses my own opinions. I am not receiving compensation for it (other than from Seeking Alpha). I have no business relationship with any company whose stock is mentioned in this article.