There's a significant global shadow market for used Apple (NASDAQ:AAPL) iPhones. Steve Jobs' legacy of high-margin for high-end products has made the iPhone a social status icon. It's no longer just a luxury smartphone. People, especially those in emerging markets like the Philippines, will buy the iPhone because it grants the owner a halo of affluence.
My old iPhone 4 is still a better companion gadget than my Galaxy S3 when I attend social gatherings. I don't know about Americans or Europeans, but here in my country people no longer try to impress their peers with their cars or watches. The air of elitism is now largely dictated by what smartphone we carry. If you carry around an Apple 64GB iPhone 5S, you are likely to be perceived as part of the Class A, affluent citizens club.
I know it is dumb to use a phone as barometer of success and social status. But that's just how it is now. Most well-heeled Filipinos spend big money to buy the latest iPhone and iPad for themselves and their kids. Even the middle-class citizens who cannot afford the iPhone 5S will sign up for very expensive 2-year contracts with Globe or Smart just so they can get their hands on the latest iPhone.
Apple Philippines sells the cheapest 16GB iPhone 5S for 36,990 pesos ($1 = 44 pesos) = $840. The middle-class married Filipino customer will find this expensive. The Philippines has one of the world's lowest monthly average salaries of $279. Filipinos who make at least $600/month are the ones who are considered middle-class.
My old Fil-Chinese boss and his family are all using iPhone handsets. His wife, son, and two daughters are iPhone 5S-toting Class A citizens. The middle-aged groupies who can't afford to pay in cash will use their credit cards or sign up for costly 2-year contracts. Import duties make iPhones very expensive here in the Philippines.
The price of the cheapest iPhone 5S is still $240 higher for a good-salaried Filipino. He can either use a credit card to buy the iPhone on installment or sign up for a very expensive 24-month contract with Smart. The biggest mobile service provider in my country, Smart, offers the 16 GB iPhone 5S for free if one inks a 24-month post-paid contract of 2,499 pesos/month ($56.80/month).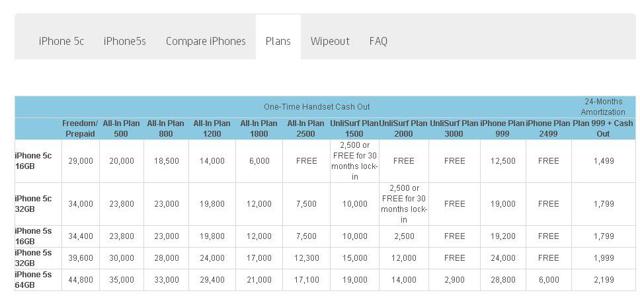 Source: Globe Philippines
The said contract only gives 300 minutes of free calls to Globe, Smart, and SunCellular mobile users. There are also 300 free texts to all networks, and unlimited (there's data daily limits) mobile surfing. Credit card issuers here in the Philippine also charges 3 to 4% monthly interest.
Comparing the options of buying outright, credit card installments, and post-paid slavery, one can see they are all expensive undertakings. The average Filipino customer, who wants an iPhone to boost his ego and social status level, will resort to buying a second hand iPhone.
The 2nd Hand Market for iPhones
This is happening in most emerging markets. The iPhone is such a glory symbol that people are getting fleeced in the second-hand market. The Philippines has a very active buy/trade/sell underground industry for iPhones. It is not only confined to eBay Philippines.
There's also olx.ph, ayosdito.ph, local shops, and Facebook Groups. Savvy entrepreneurs are making a killing buying and selling second hand iPhone 4, iPhone 4S, and iPhone 5 phones.
My well-cared for 32GB iPhone 4 still commands 9,000 - 11,000 pesos ($204 - $250) on Facebook Buy-n-Sell groups. Second hand iPhone 4S can fetch as high as 15,000 pesos. A Globe-locked used 32GB iPhone 5 can even be resold for 29,500 pesos. The trick of this iPhone reselling industry is to always claim the handset was lady-owned to fetch a higher price.
Some enterprising people are even signing up for multiple iPhone plans with Globe or Smart. A good-salaried Filipino can sign three times for a 24-month 2,499/month iPhone plan and sell the iPhone 5S 16GB model as brand-new for 33,000 pesos.
He can use the said 33,000 pesos as a capital to buy and sell used iPhones. He can buy three used iPhone 4S for 11,000 pesos each and resell them for 14,000/piece. He is enjoying his 2,499/month plan privileges but he is also making money trading iPhones.
Second hand Apple phones, unlike Samsung, Sony or HTC-made smartphones, enjoy very high resale value. My 32GB Galaxy S3 only got a highest offer of 9,200 pesos when I tried selling it. I have proved that Apple Insider was really correct to claim that the iPhone has far more resale value than Samsung's Galaxy S premium phones.
Based on this evidence, I'm convinced that Apple will again post record sales number for its upcoming iPhone 6. The social/cult-status of the iPhone has many loyalists (and wannabe loyalists) who will again make very long waiting lines when the iPhone 6 arrives this August.
Used iPhones from America Are Flooding Emerging Markets
The high demand for used iPhones in emerging markets has also caused increased importation of iPhone 4/4S handsets from America. AT&T and Verizon-locked iPhone 4 and iPhone 4S units are now heavily traded in the Philippines. There's also a few US-branded iPhone 5 and iPhone 5S but the older models are more popular.
An SMS conversation with a Fil-Chinese Facebook seller from Manila told me that his partner in America can bulk buy used iPhones and have them shipped via Balikbayan boxes - which often are not strictly inspected by customs officials. Shipping a balikbayan box from the U.S. only cost around $100. He can buy a used AT&T iPhone 4 for $80 to $120, unlock it and sell it to his local provincial distributors for at least 8,000 pesos. The provincial dealers have a store but they also sell online and do local meet-ups or pick-ups.
Like I said earlier a used 32GB iPhone 4 can even sell as high as 11,000 pesos. The big profit from importing used iPhones from the U.S. is the main thesis of this article. It is not only happening here in my country. China, Brazil, India, and other emerging markets that are hungry for iPhones has created a derivative industry out of Apple's success.
The iPhone cool and hip factor is still applicable even if one only owns a used iPhone 4. The online firms like gazelle.com and usell.com that are buying American people's old iPhone 4 handsets for less than $80, are selling them to overseas wholesale buyers. The importers will have an easy time selling an iPhone 4 for $160.
Even CDMA iPhone 4S, which cannot be used in the GSM-only standard Philippines, still finds a buyer at 8,000 peso-price level. There is a global-wide massive black or shadow market for used iPhones.
Even criminal organizations are now focusing on stealing American's smartphones for smuggling to emerging markets. The thieves' favorite targets are iPhones. Stealing or trading used iPhones is a global billion-dollar industry.
Conclusion
My prediction that the Apple iPhone 6 will again set a record number of sales is supported by the global wide high resale value of used iPhones. The Apple smartphone has grown into an addictive social status icon that it has spawned a worldwide shadow market for used iPhones.
The high resale value of iPhones means Tim Cook is never going to authorize a $249 iPhone in his lifetime. Cook, like Jobs, knows there's no need for cheap iPhones because Apple phones have enduring market value. My old iPhone 4 can still sell for a higher price than the brand-new $200 BlackBerry Z3 or Lumia 630.
There will be long lines for the iPhone 6. Apple, like its iconic iPhone product, offers investors an enduring investment value. It is the most profitable smartphone and computer company in the world. There are so many prima facie evidences of Apple s worthiness as an investment.
Don't miss the Bull Run on Apple. Buy now while it is still below the consensus price target of $626.93 from Finviz's chart. Cannacord Genuity has $660 PT for AAPL. ISI Group has a PT of $675.

Source: Finviz.
Disclosure: I am long AAPL. I wrote this article myself, and it expresses my own opinions. I am not receiving compensation for it (other than from Seeking Alpha). I have no business relationship with any company whose stock is mentioned in this article.