Facebook (NASDAQ:FB) may have lucked out when Google (NASDAQ:GOOG), (NASDAQ:GOOGL) and all the other search engine owners got hit with massive regulatory changes in Europe. I'll quote what Bloomberg reported on the topic, so you can get a basic idea on what in the heck's going on:
The European Union's top court yesterday ruled citizens have a "right to be forgotten" online, meaning people may ask search-engine owners to remove personal information and request that a court or data-protection authority step in if a company doesn't comply.

All of that is set to create new headaches for U.S. Web companies, which have businesses based on handling tremendous amounts of data that often aren't touched by humans. The ruling opens the way for European users to flood the firms with Web takedown requests, adding costs and time to what they already do in content removal. Many of the companies already deal with compliance for different data laws in various geographies, subjecting requests to shed content to thorough legal analyses before making the information unavailable.

"It's just such a mind-bogglingly impossible decision," said Fred Cate, distinguished professor at the Indiana University Maurer School of Law.
As you can tell, these costs will hit Google, Yahoo! (YHOO), and Bing (NASDAQ:MSFT) pretty hard. The question comes down to what extent will costs rise, and how much can be done to mitigate the disadvantageous situation?
Why Facebook seems to have dodged the bullet
As you all know, I'm a huge fan of investing into Facebook. Social networks offer impressive upside potential, as revenue ramp and scalability are mind-bogglingly better when compared to other comparable investment opportunities.
While Google, Microsoft, and Yahoo! get shafted by European regulators for privacy-related concerns over web searches, Facebook continues to navigate the regulatory environment with regards to user data intelligently. Facebook doesn't violate privacy, according to VG 24/7:
The suit in question alleges Facebook and Zynga violated privacy by disclosing confidential user information to advertisers and other third parties, and hinges on referrer headers used in Facebook pages. These headers showed user Facebook IDs and previous page viewed, so advertisers (and ad hosts) can determine who clicks on ads, and where they were when they saw the ads.

The court ruled that the referral header information does not constitute the contents of a communication.
Facebook has been able to avoid unfavorable regulatory rulings by offering users adequate privacy controls. Facebook doesn't disclose confidential user information to advertisers or third parties. The two facts are really encouraging.
Facebook's implementation of privacy settings (happened years ago), costs significantly less than the cost of removing web searches to private information. The task of managing privacy options is done by the user, and not by a team of employees at Facebook. This costs Facebook hardly any money, in other words. At the same time, the EU ruling on privacy when it comes to web-based search will require search engine owners to hire a lot of of compliance officers.
I can't quantify the costs that well, to be honest. However, I know that compliance measures can cost in the billions of dollars depending on the circumstance. For example, JPMorgan Chase (NYSE:JPM) had to increase risk compliance controls as a result of a changing regulatory environment. Approximately $1.5 billion had to be spent on increases in staffing, increasing the headcount in the compliance division by an additional 5,000 employees.
I mention this JPMorgan Chase case study to illustrate regulatory changes can significantly increase costs. Perhaps Google needs a risk-compliance team significantly larger than what's in place. The cost of compliance could easily reach in the billions of dollars, which has been a massive headwind for the company. Google's stock has declined by 14% from its 52-week highs this year.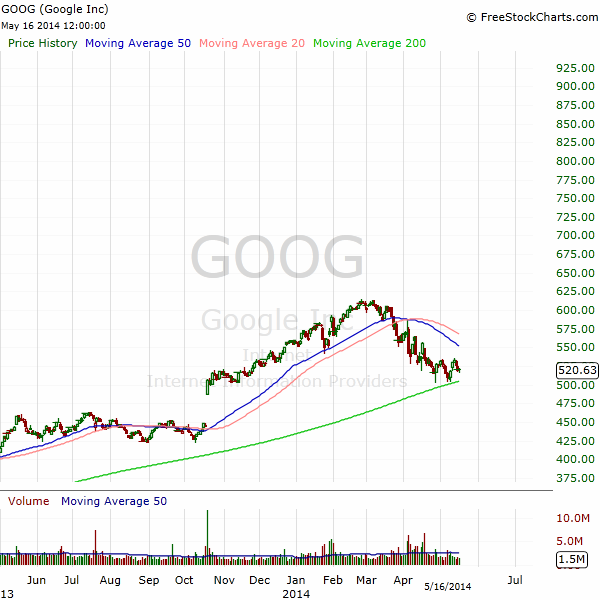 Source: FreeStockCharts
Google seems to be in a sustained downtrend. Google's exposure to privacy-related regulatory change is large, as the vast majority of the company's revenues come from search-related ads.
What this may mean for Facebook shareholders
At the present, search ads are the biggest competitor to Facebook's newsfeed ads. While both ad formats offer compelling marketing ROI, especially when such advertising is implemented intelligently, it's likely that Google, Bing, and Yahoo! will have to price search-based ads higher on a global basis to offset rising costs from European operations.
The extent to which costs can rise from the implementation of better compliance measures is unknown at the present moment. I couldn't come up with a very good cost estimate even if I wanted to. However, I'm hoping analysts will come armed with many questions on the next earnings conference call. I'll be extremely surprised if the sell-side completely overlooks compliance-related costs as a result of European court rulings on privacy.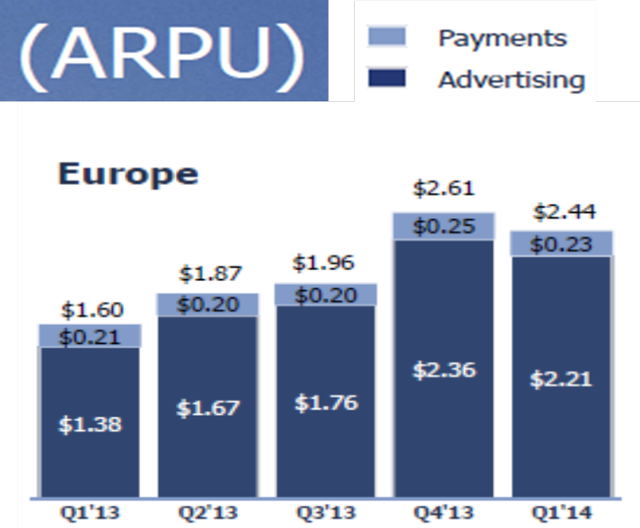 Source: Facebook
In Facebook's 2014 fiscal year first quarter, the company had $2.21 in average revenue per user from advertising in its European segment. However, because of recent changes in the regulatory environment, that is heavily unfavorable to search engines, it's likely that Facebook can charge significantly more for its ads, as other competitors in the space will have to offset costs with higher pricing.
Between Q1'13, and Q1'14, Facebook's ad revenue per user increased by 60%. This increase in revenue came from better advertising strategies (high click-through rates), higher pricing on pre-existing ads, along with reduced effectiveness of timeline communication from company pages.
Furthermore, better engagement from audiences, along with international user growth will add to Facebook's revenue growth.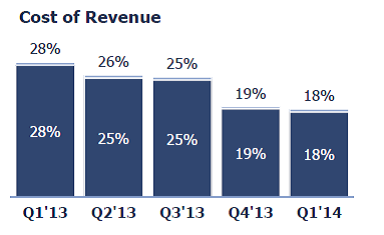 Source: Facebook
Facebook can increase its ad pricing even as costs of revenue as a percentage of total revenue trends lower. Data center infrastructure costs have declined considerably over the past five years. Computing power is increasing at a rate that's greater than what Facebook actually demands. Pair that with additional energy savings from more efficient CPUs and hard drives, and it's safe to assume that cost of revenue as a percentage of revenue will continue to decline. Therefore, declining costs paired with higher pricing will boost profits margins going into the next fiscal year.
Conclusion
I think it's safe to assume that search operators like Google, Bing, and Yahoo! will report rising costs due to compliance-related reasons in future quarters. The impact may result in higher pricing on cost-per-click ads in order to offset compliance costs.
Social networks have been able to avoid compliance-related costs when it comes to user privacy. This makes the regulatory environment more favorable to social networks at the present moment. Furthermore, I anticipate that in response to higher ad pricing from search engines, Facebook will raise the price on its social feed ads even as variable costs trend lower. With the combination of higher revenue per user, and falling cost per user, one can easily arrive at the conclusion that investing into the social networking giant makes sense from a momentum standpoint.
Disclosure: I have no positions in any stocks mentioned, and no plans to initiate any positions within the next 72 hours. I wrote this article myself, and it expresses my own opinions. I am not receiving compensation for it (other than from Seeking Alpha). I have no business relationship with any company whose stock is mentioned in this article.