The Alerian MLP index gained 1.01% this week, and the MLP index has posted an 8.47% total return - including distributions - YTD. The S&P 500 ended up flat for the week, closing just 0.62 points below last Friday's close for a 0.03% drop. The overall gains in the MLP universe are reflected in the 21 new 52-week highs for the week against three new lows. The 10-year benchmark dropped to 2.50%, leading to more risk-taking from yield hunters, with the average MLP yield at 6.27%
Specialists from Deloitte emphasized the attractive investment prospects for energy midstream during the closing session of the financial services company's 2014 Washington Energy Conference. There was a quote of interest from Jed Shreve, a principal at Deloitte Transactions and Business Analytics LLP. As for the assessment of regulatory risks to the industry:
We all learned in kindergarten not to kill the goose that lays the golden eggs. Growth has been phenomenal. There are about 100 MLPs now, with about 20 in the shadows waiting to [initial public offerings] in 2015.
Unit Value Winners and Losers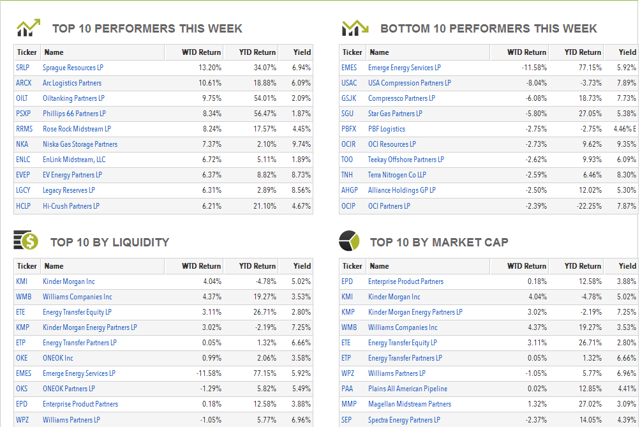 The top gainer for the week, Sprague Resources LP (NYSE:SRLP) reported enough DCF generated in the first quarter to cover the full-year distribution 1.3 times and projected FY EBITDA at the top of their guidance range. Arc Logistics Partners LP (NYSE:ARCX) reported the company's first complete quarterly results since the December 2013 IPO, and shares moved higher on very low volume. Positive results for the first quarter after going public often lead to a unit price bump. Goldman adds Kinder Morgan (NYSE:KMI) to its conviction list, despite having minimal ownership in the closed end fund GS MLP Income Opportunities Fund (NYSE:GMZ), moving units up 4%.
On the losing side, Emerge Energy Services LP (NYSE:EMES) was the top MLP last week, up 16%. This week, it seems there was some profit taking on a unit value still up 77% YTD.
Distribution Rate Changes
There were just two distribution announcements this week, both from variable payout partnerships.

Insider Trading
The large insider trades this week were purchases. The SunCoke Energy Partners (NYSE:SXCP) purchase was part of a drop down transaction with the partnership's sponsor, SunCoke Energy (NYSE:SXC). Richard Kinder continues to build on his holdings in Kinder Morgan Inc. and show his belief in the long-term value of the company. Similarly, Leon Cooperman added to the large stake his firm holds in Atlas Resource Partners, LP (NYSE:ARP).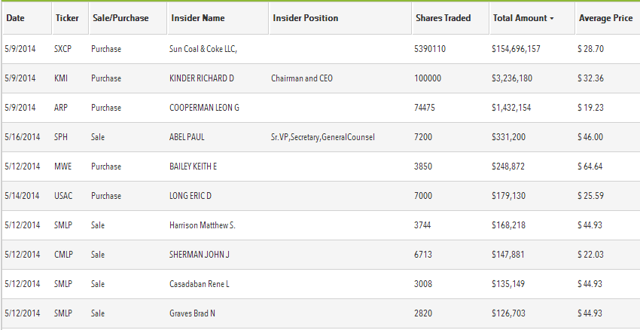 Share Issuance News
Partnerships were active in the debt and equity markets this week. Oneok Partners LP (NYSE:OKS) went for a significant equity raise with an 11 million unit offering.
Get the details of any offer of interest by clicking on the specific issue on the Issuance page of the MLPData Dashboard.



ETF, CEF and Mutual Fund Money Flows
MLP focused funds added $350 million in assets for the last week, compared to $455 million from the previous week. The $350 million in new money is close to the current growth trend in assets for the class. Mutual funds added $207 million, up from last week. ETFs took in $143 million, down $120 million compared the previous week. ETF fund flows show more week to week variability than with the mutual funds.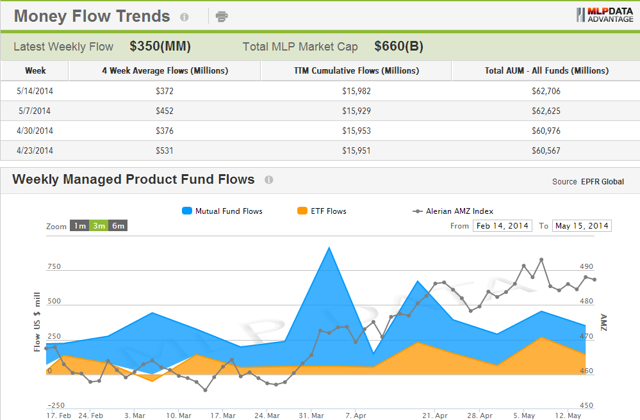 Next Week's Earnings Calendar
The 2014 Q1 earnings season has run its course, with only Seadrill Partners LLC (NYSE:SDLP) remaining to report on May 30.
To make sure you get this round-up each week, make sure you are Following MLPData here on Seeking Alpha. All charts and tables provided by MLPData.com
Disclosure: I have no positions in any stocks mentioned, and no plans to initiate any positions within the next 72 hours. I wrote this article myself, and it expresses my own opinions. I am not receiving compensation for it. I have no business relationship with any company whose stock is mentioned in this article.