There is nothing quite like a new smartphone to get people excited and lining up outside stores. It is so common place when another iPhone is launched that it has stopped being news and it has become more newsworthy when there is no line up for the next "big thing".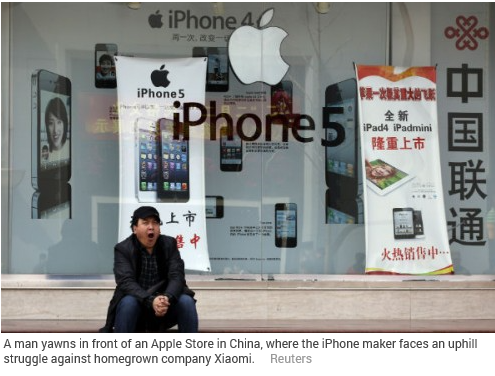 Source: International Business Times
BlackBerry (BBRY) has drawn quite a few yawns in the past couple of years as observers have pronounced the company on life support with many looking forward to the funeral and competitors planning to attend the wake, no doubt. CEO John Chen's attempt to engineer a turnaround seemed all but hopeless but the faithful have kept their hopes up waiting for some sign that BlackBerry can achieve some of its former glory.
One of those who seems less faithful today is Fairfax Financial who dumped a pile of their BlackBerry stock recently cutting its position to 46.9 million shares by selling 5.2 million shares into the market, according to reports. Fairfax CEO Prem Watsa may have pulled the trigger a bit early on that trade. The BlackBerry launch of its new Z3 smartphone in Indonesia was a mob scene reminiscent of its past heyday.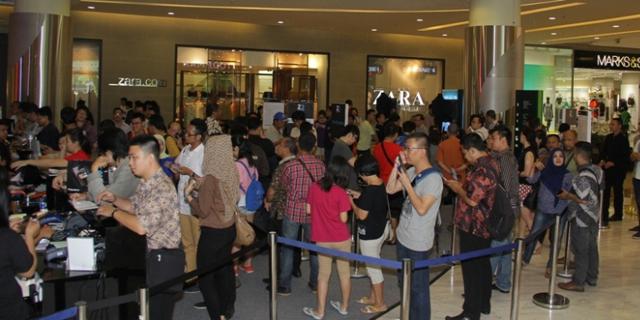 Source: Inside BlackBerry
BlackBerry is an also ran in many markets with its positions devastated by Android and iOS but in Indonesia it is still a contender with almost 30% of the market, second only to Android and decidedly more popular than iOS or Windows devices although the latter is making an impressive charge.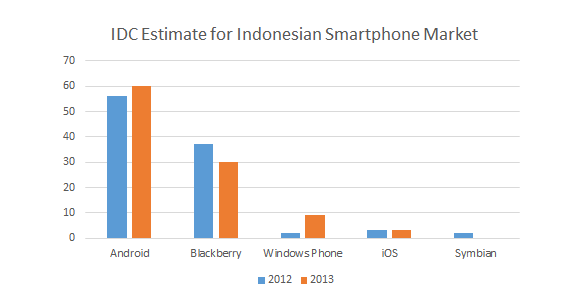 Soucre: WM Poweruser.com
With a population of 246 million Indonesia is a large market not much below the United States. Annual volumes of smart phone sales in Indonesia are an estimated 16 million units with growth coming in over 50% according to Canalys's forecast during 2013. The actual market very likely turned out to be larger and growing even more quickly than that Canalys estimate since total year global smartphone sales came in around 1 billion according to IDC and Gartner versus the 837 million at the time of the Canalys forecast.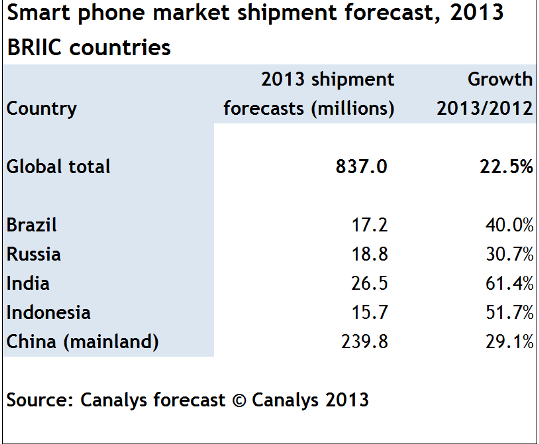 Regardless of the precise number, there is no doubt Indonesia is a large and growing smartphone market and may be the scene of a replay of Custer's Last Stand at Little Big Horn. Of course, investors in BlackBerry are hoping for a better outcome than that suffered by George Custer on June 25, 1876 and perhaps liken the company more to Sitting Bull who was considered to be no match for Custer as the battle at Little Big Horn approached.
In any event, one good launch is a straw in the wind but it does suggest that BlackBerry continues to have an audience and its joint venture with FoxConn appears to be hitting the market with a well-designed device at a price point where consumers are showing interest.
We have seen Motorola get from zero to 6% of the United Kingdom market with its Moto G device in just a few months; Xiaomi go from unknown to 40 million devices in just three years and outsell Apple in the March quarter in China; and, new entrant OnePlus One getting a lot of ink for its "Never Settle" high performance smartphone offered at a very attractive price. These small successes confirm my belief that the market is fickle enough that it is never too late and that just as iOS and later Android took the market by storm with severe punishment handed to Nokia and BlackBerry, the incumbents always face the risk that a new idea or new device will capture the imagination of consumers and take a large bit out of the sales and profits the leaders enjoy.
Reports suggest BlackBerry may be cash flow positive by 2015. If it is, the market might well take notice given the stock now trades at less than $10 a share and the market value of the company is a rounding error for its major competitors. It will take a lot more than selling a few thousand of the new Z3 on opening day to return BlackBerry to health, but for a change the news is a bit more upbeat.
I have a small long position in BlackBerry, more a trip down memory lane driven more by nostalgia than conviction, and I remind investors that BlackBerry stock could be a wild ride in either direction, but I am impressed it is still standing and like what I see from the reception to the Z3.
Good luck with your investments.
Disclosure: I am long BBRY. I wrote this article myself, and it expresses my own opinions. I am not receiving compensation for it (other than from Seeking Alpha). I have no business relationship with any company whose stock is mentioned in this article.