This is intended to be a very timely and opportunistic write up. I am writing today because the valuation at Blucora (NASDAQ:BCOR) has reached absurd levels, which prompted me to re-examine the name and ultimately re-establish a large position. At the time of writing, you are able to purchase shares of BCOR at a 4.6x EV multiple of forward EBITDA (or 21% ROIC). I believe that the fair multiple for this business is in the 8-9x range, implying a 55% return to the fair price, based on current fundamentals.
This opportunity exists because of the blended impact of 2 events:
1) a 'short thesis' was published on the name in February which alleged that the company was a fraud and worth near-$0; and
2) this was promptly followed by the company lowering guidance for the remainder of the year (2q14-4q14) due to temporary technical issues on their operated Search platform.
I believe that these two issues have caused a massive over-reaction in the marketplace, and have masked the value of BCOR's crown-jewel asset: TaxACT (43% of BCOR's EBITDA). I also believe the entire short thesis to be, at best, misinformed - and at worst, it was blatant libel.
Business Description
BCOR is comprised of 3 different digital businesses. They are: TaxACT, Monoprice, and Search. For 2014, they are looking at about $113mm of EBITDA in aggregate. Due to the digital nature of their businesses, CapEx is extremely light ($5mm in 2013), yielding high conversion to FCF and deserving of premium multiples. Further, the company has approximately $643mm (at FYE2013) of gross NOLs that offset taxes.
Management
BCOR was previously known as Infospace. New management took over after the old guys destroyed a ton of value. Ruckelshaus, now CEO, has a background in tech M&A - and led the corporate development division of Expedia for 4 years. Snyder, who represents CIG on the board of directors (they own 4% of BCOR shares), has a history in tech investing and previously worked in Goldman's Principal Investments group. They have grown this company to where it is today, and are responsible for the acquisition of TaxACT - which has performed fantastically and obviously makes up the majority of the BCOR's value. Further, they appear to be prudent managers, and continue to diversify the business with new digital assets.
Valuation
For the purpose of valuing the company, I used the forward estimates for 2014 published by researchers. These numbers already include the negative forward guidance issued by the company for their search business, but doesn't incorporate any further growth in the Tax business. Importantly, the EBITDA estimate for 2014 is about $9mm lower than 2013, and is primarily due to management's guidance that the next 3 quarters would be weaker - with 2q14 being the low point and recovering from there. On the call, they indicated they were confident that they have identified the fix that will return the Search business to normal, but they are simply too far into 2Q14 already for it to have a meaningful impact. 3Q and beyond should be considerably stronger. My EBITDA number incorporates a YoY EBITDA cut of 1/3 in 2Q, with gradual reversion.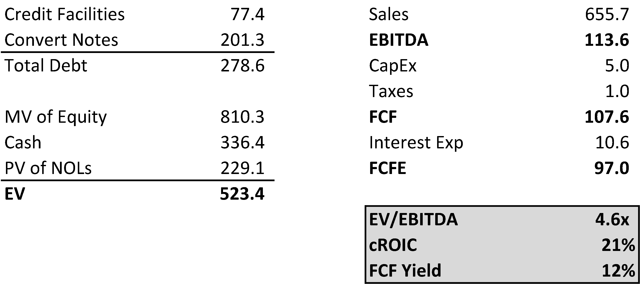 Ok, so for the low multiple of 4.6x, and the very high ROIC and FCF Yield - what are you buying?
TaxACT
TaxACT is the value-based player that offers Digital Do-It-Yourself (DDIY), catering to the 40% of filers who self-file, with a current market share of approximately 12-13%. They are the 3rd largest in the tax prep world, behind TurboTax and H&R Block. The company has consistently grown market share by offering a 'freemium' model - free basic filing service, plus a premium for upgrades and/or states. Its ARPU is $13, as compared to $54 at TurboTax and $33 at H&R. I personally used TaxACT this past year, and believe there is no quality step-down from TurboTax, which I used previously. I encourage you all to read the online reviews for this product - they are fantastic.
The company a market tailwind as well: DIY filings are growing much faster than professionally-assisted, and DDIY is growing at a 2-4% per annum (and they are simultaneously stealing share from the other players as well).
This past tax season TaxAct put up: Unit volume +5%, revenue +12%, and EBITDA +19%. Not only that, but it has had strong growth over many years (see below). Bottom line: This business most definitely deserves a premium multiple for valuation purposes due to 1) its high/consistent growth; and 2) it being a FCF machine, with minimal need for CapEx/reinvestment. The 2014E numbers are rock-solid at this point, because they represent the tax season that just ended.

Monoprice
Monoprice is a recent acquisition focused on the retail of consumer electronics. Its business model is also value-oriented, and operates as a 100% digital/online retailer. It has an established network of relationships with manufacturers in Asia, which yields a very efficient/low-cost supply chain and COGS, while providing great quality. The best way to think about this business is as a cheaper RadioShack, with no physical locations to drag performance & waste CapEx, and growing traffic.
We have only 1 quarter of data post-acquisition, but we are tracking to an estimated run-rate of approximately $155mm of revenue and $13mm of EBITDA. I am assigning this a relatively benign 8x multiple due to the unproven growth story but still high FCF conversion.

NOLs & Cash
The company had $643.3mm of gross NOLs. These offset operating income for tax purposes, and should be cut by 40% to approximate the domestic corporate tax rate that BCOR would pay. Also, they are realized over several years, as BCOR realizes income. Management has estimated that at their current rate of EBITDA, plus planned reinvestment of cash in the business, they expect to realize all of their NOLs in 5 years. I discounted them over 5 years at a 4% rate, which I assume to be their cost of cash (based on their borrowing rate under the credit facilities). This yields a $229mm PV of cash equivalent NOL value.

Cash at the end of the latest quarter was $336mm, which management will use to continue their diversification strategy through acquisition and to fund innovation of new growth products at TaxACT (like doing taxes on mobile devices). I highly encourage you to listen to management's remarks at their latest tech conference to better understand what they are trying to accomplish.
Further, cash will continue to build at the rate of $90-100mm per year based on the businesses we have today. This will continue to be reinvested to accelerate that rate of FCF and improve the rate at which NOLs are realized.
Search
This has morphed to more of a Search and Content business with the recent acquisition of HowStuffWorks - but this is only a small part of the story. The real meat of this business is in the large search syndication network that they run (this is the legacy Infospace asset). They operate as a large partner to the major search engines. Google, Yahoo, etc love these guys because they bring more volume to their search marketplaces. They have a B2B model, which is positioned between Google and the ultimate purchaser of the ad space. They add value and cost efficiency by commanding a better rate (due to scale) from Google. Finally, they just renewed their multi-year contract at Google, albeit on less favorable terms, which I believe is much more than priced-in at this point. Again, our forward EBITDA numbers already adjust for the changes in the Search business.

While the Search business is taking a step-down to a new base in 2014, I don't think there are any indications that it declines from here. The majority of the EBITDA they are losing is due to the new Google contract that was renegotiated without Mobile AdSense, which is no longer being offered to any of Google's partners - so it is definitely not a company-specific problem. They will continue to grow their business, as they have in the past, just without the mobile side via Google (they will use Yahoo instead).
The 'Short Thesis' that Blew-Out the Stock Price
Posted in late February, this is what started the tumble that has lasted about 3 months. I encourage you to read it and form your own opinion. I think its contents have been sufficiently debunked by many analysts and BCOR's management already - please see the public-side discussion at VIC and management's view in the 4Q13 conference transcript.
My opinion is that the entire report was formulated specifically to be a hit-piece to lower the share price using a very sensational format. None of the 4 main points (listed at the top of the short article) are true, and the author somehow forgot to include BCOR's most valuable asset (TaxACT) in his analysis. Addressing his/her 4 key points in order:
1) Google, Yahoo, and BCOR have a long-standing relationship, nothing illegal/illicit was done here, and there is no reason to terminate such a profitable relationship; in fact, they just renewed their multi-year contract.
2) Lingo for illicit material constantly changes. Management at both Google and BCOR oppose these illicit searches, and eliminated them from their algorithms promptly. They no longer exist, and the ads originally were placed automatically based on an algorithm performing an automated ROI calculation.
3) They will not receive undue scrutiny from regulators, etc. because you can search and find ads for illicit material on Google, Yahoo, and Ask as well. There's porn on the internet, folks. This stuff is simply unavoidable.
4) In the author's valuation, they completely neglected the $300mm of cash, $600+mm of NOLs being monetized, Monoprice and, most importantly, TaxACT (which is the most valuable asset that the company owns), and instead focused purely on the sensational aspects of the Search business.
Conclusion & Recommendation
BCOR has been impacted by over-reactive selling stemming from a purposefully misleading short report and downward revision in guidance for 2Q14. This has created an opportunity to buy the company's digital assets at a 4.6x EBITDA multiple. I believe that the fair price, based on everything we know today, is in the $28 context using a sum-of-the-parts of each operating division (shown below).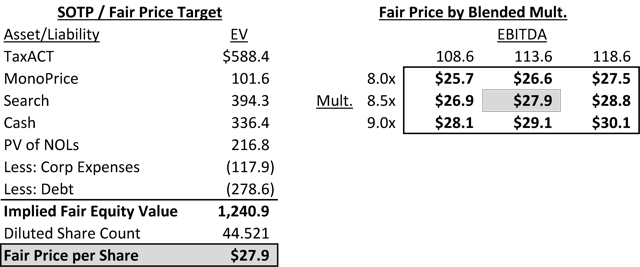 I believe this is a very compelling opportunity because you are buying assets that generate $95-100mm of annual FCF to the equity, which management will continue to use to prudently grow & diversify their portfolio, at a very deep discount. On the balance sheet, these guys have a ton of cash which they will continue to reinvest, and enough NOLs to not be a taxpayer in the foreseeable future. Their crown-jewel asset, TaxACT, sets a floor valuation for this business to protect the downside and is worth about $13 per share by itself (plus, they have another $7.6 per share of cash sitting on the balance sheet right now) - this implies that, based on today's market price, the other divisions and the NOLs have a negative valuation. These are clearly mispriced assets.
Finally, it is worth noting that another member of their board, David Chung - an ex-partner at Blum Capital (a big west coast PE shop) - increased his personal share count by 50% via open-market purchases totaling ~$100k last week.
I recommend buying a ton of this today, which allows you the opportunity to win two ways: 1) return to fair valuation level on a multiples basis; and 2) BCOR is your classic compounder that will continue to generate FCF at an abnormally high rate, and plow that cash into growth opportunities. Further, your downside is extremely limited due to the margin of safety on valuation.
Disclosure: I am long BCOR. I wrote this article myself, and it expresses my own opinions. I am not receiving compensation for it (other than from Seeking Alpha). I have no business relationship with any company whose stock is mentioned in this article.
Additional disclosure: This article is not a recommendation, advice, offer or solicitation to buy or sell a product or service. This article expresses solely the author's opinion, and not the opinion of any affiliates or employers. The author does not represent nor warrant the accuracy or completeness of any information contained herein.