Chesapeake Energy Corp.'s (NYSE:CHK) hiring of CEO Doug Lawler to replace its founder Aubrey McClendon 11 months ago seems to be a turning point for the company. The company is the second-largest producer of natural gas and the tenth largest producer of liquids in the U.S. In addition to having natural gas and oil assets onshore in the U.S. the company also owns extensive marketing, compression, and oilfield services businesses. The company recently reported its Q1 FY 2014 financial results revealing an outstanding performance. The company's EPS in Q1 FY 2014 soared 97%, compared to Q1 FY 2013, to 59 cents and the company's revenue surged around 48% to $5.05 billion. In this article I will shed some light on the company's performance in the recently reported quarter. I will also determine the company's future outlook considering the initiatives the company is enacting to improve its position and performance in the future.
Strong Start to FY 2014
Chesapeake Energy reported strong growth in Q1 FY 2014 with revenues increasing by around 48% to $5.05 billion from 3.4 billion in Q1 FY 2013 (see table below). The analysts expected the company to achieve $4.45 billion in revenue for Q1 FY 2014.

Source: CHK 10Q Q1 FY 2014
A harsh winter across most of the United States wore out stockpiles and drove benchmark Henry Hub natural gas prices up in comparison to previous years (see graph below).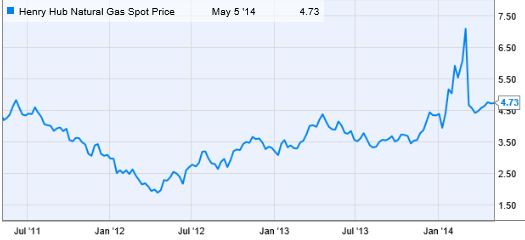 Source: Ycharts
The rise in demand and prices of natural gas helped Chesapeake and other companies post better-than-expected results for quarters ending in March 2014. Higher gas prices helped Chesapeake Energy beat estimates with a huge surge in oil equivalent realized price to $31.44 per BOE in Q1 FY 2014, up from $26.79 realized in Q1 FY 2013 (see table below). The company's average realized price of natural gas in Q1 FY 2014 was $3.27 per mcf, 53.5% higher than $2.13 per mcf in Q1 FY 2013. On the other hand, the company sold oil at an average realized price of $85.08 per barrel in Q1 FY 2014 down from the previous year's price of $94.85 per barrel.

Source: CHK 10Q Q1 FY 2014
Additionally, the company also recorded a strong production of 675,200 barrels of oil-equivalent per day in Q1 FY 2014 up 11% from Q1 FY 2013 after adjusting for divestments. The strong production in Q1 FY 2014 urged the company to increase its full year adjusted production outlook from 8-10% growth to 9-12%. On an adjusted basis the company's average daily oil production in Q1 FY 2014 rose 20% in comparison to average daily oil production in Q1 FY 2013. Moreover, the company's average daily NGL production rose 63% in Q1 FY 2014 in comparison to Q1 FY 2013. The company's adjusted natural gas production increased 4% in the recently reported quarter compared to similar quarter last year.
The strong top-line growth due to improved production and prices resulted in robust earnings growth for the company. The company's GAAP earnings rose from $15 million or 2 cents per share in Q1 FY 2013 to $374 million or 54 cents per share in Q1 FY 2014. On an adjusted basis, the company's earnings increased by 97% from $0.30 per share to $0.59 per share easily beating Zacks' consensus estimate of 47 cents. The increased NGL production, high natural gas prices, together with strict cost control for general and administrative costs were the huge drivers behind the company's earnings growth in Q1 FY 2014. The company spent $4.73 to produce each barrel of oil-equivalent in Q1 FY 2014 down from $5.14 during Q1 FY 2013.
Strengthening its Cash Flow Position
It is difficult not to be encouraged by Chesapeake's latest quarter results or have more faith that the company is making great progress due to its turnaround strategy. The company's ongoing revival strategy involves cutting spending and selling plenty of non-core gas fields and side businesses. As a result of these efforts Chesapeake's capital expenses will not exceed its operating cash flow in FY 2014 (see chart below) for the first time since 2011.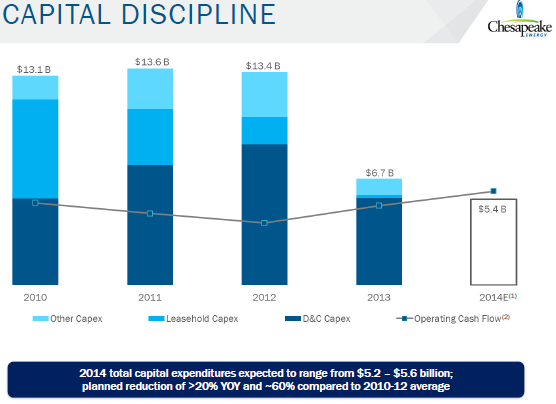 Source: CHK Latest IR Presentation
During Q1 FY 2014 the company received total proceeds of $520 million from asset sales. The approximately $850 million total capital expenditures incurred by Chesapeake in Q1 FY 2014 were a 50% drop in comparison to capital expenditures incurred in Q1 FY 2013. That capital expenditure was adequate to enable the company to complete 234 total wells in Q1 FY 2014 which is 40 wells less than what the company drilled in Q1 FY 2013. The company has stated that its capital expenditure guidance for the year will be in the range of $5.2-5.6 billion which is lower than consensus estimates of $5.76 billion.
The surging liquids production combined with higher realized prices is also stimulating an increase in the company's operating cash flow. The company's Q1 FY 2014 operating cash flow was $1.6 billion which is 37% ahead of the operating cash flow of Q1 FY 2013. Consequently, Chesapeake now projects its full-year cash flow will reach $5.8 billion-$6.0 billion which is 13% higher than the company's previous guidance of $5.1-5.3 billion. Analysts estimate the company will generate $4.45 billion as cash flows from operating activities.
Another influx of cash is expected in the coming months as the company is planning to sell or spin-off a rig business. RBC Capital Markets LLC analysts estimate this potential sale or spin-off could bring $1.9 billion in proceeds for Chesapeake.
Overseas Expansion Expectations and Prospects
CEO Doug Lawler's is determined to build up foreign fields and convert Chesapeake from a U.S. shale driller into a global oil explorer. This transformation in the operations of the company is an attempt by CEO Doug Lawler to liken Chesapeake to his former employer Anadarko Petroleum Corp. (NYSE:APC). At Anadarko, Lawler watched over the company's oil projects around the globe. Extending Chesapeake's range abroad would strike a glaring contrast to the growth strategy applied by the company's founder and former CEO Aubrey McClendon. McClendon ruled out foreign exploration as a growth strategy in an interview in 2012.
CEO Lawler revealed his intensions for Chesapeake to go overseas while addressing a hometown crowd at a Rotary Club lunch in Oklahoma City last month. Lawler stood beside a map of the world spotting and marking drilling prospects from Australia, China, Africa, and Latin America. During his rotary speech Lawler disclosed that Chesapeake's engineers and geologists were analyzing rock data from around the globe. In a Q1 FY 2014 conference call, Lawler said that he anticipates healthy foreign demand for Chesapeake's shale-drilling expertise.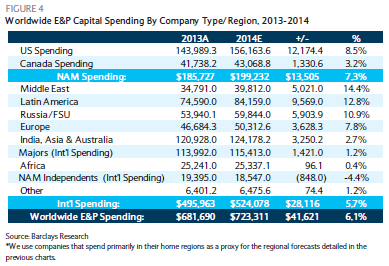 Source: Barclays global 2014 E&P spending outlook
According to Barclays global 2014 E&P spending outlook, the global oil and gas exploration and production (E&P) spending is forecasted to reach a new level of $723 billion in 2014 reflecting a 6.1% rise from $682 billion in 2013. The year 2014 is anticipated to record an acceleration of E&P spending growth of more than 7% in North America (led by the U.S.) along with robust growth of more than 6% in international markets. The Middle East, Latin America and Russia are expected to grow their oil and gas E&P spending by 14%, 13%, and 11% respectively. The bank believes that the mix of oil and gas spending will divert from huge infrastructure projects towards superior drilling, evaluation, and completion activity in 2014. This denotes a solid core revenue opportunity specifically for the diversified oil and gas companies.
Oil and Gas Industry Outlook and Takeaway for Investors
Chesapeake appears to be a company on its way to improvement and optimization after Lawler took over in June 2013. The company's better-than-expected results in the recently reported quarter were driven by growth in production, increases in prices and cost-cutting initiatives. Looking ahead, the company is expecting to record an amount of operating cash flows over and above the company's planned capital expenditure in FY 2014. This will mark the first year in more than a decade that the company will post positive free cash flows.
Chesapeake expects its NGL adjusted production will grow by 58-63% in FY 2014 compared to the previous growth expectation of 44-49%. Natural gas production is expected to grow at a rate of 4-6% which is consistent with the company's earlier forecast. The company's guidance on growth in oil production also remains the same, between 8-12%. According to Lukoil global trends in oil & gas markets forecast, the U.S. is expected to see growth in gas consumption in the coming years. From 2010-2025 more than 70% of the surge in the supply of liquid hydrocarbons will come from alternative fuels such as NGL. As far as the outlook of prices is concerned the U.S. Energy Information Administration has recently raised its 2014 and 2015 forecasts for natural gas. The government agency expects natural gas prices to average $4.74 per MMBtu in 2014 and $4.33 per MMbtu in 2015.
The company's CEO is playing it smart by capitalizing growth opportunities in foreign markets. The oil and gas E&P expenditure in various regions abroad are expected to record double-digit growth in 2014 mainly focused on drilling. Considering the company's bright future prospects I rate the stock as a good buy.
Disclosure: I have no positions in any stocks mentioned, and no plans to initiate any positions within the next 72 hours.
Business relationship disclosure: The article has been written by a Gemstone Equity Research research analyst. Gemstone Equity Research is not receiving compensation for it (other than from Seeking Alpha). Gemstone Equity Research has no business relationship with any company whose stock is mentioned in this article.