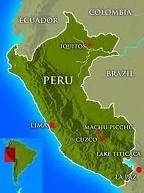 As the world fights to control the global economic downturn amid volatile markets, more and more investors are now seriously considering investment options in emerging economies that can offer much better returns on their investments both in the short and long terms. Since most investors have already been looking at emerging economies, the most talked about emerging economies (like the BRIC nations) have been over invested and overheated. With the global population of the planet increasing by the day, it makes much more investment sense to look at nations with Commodity based economies rather than just investing in emerging economies as a fad.
Arguably one of the most important commodity based economies after Chile is the Latin American nation of Peru. Peru's government can definitely take a leaf out of Chile's book by offering more incentives and showcasing an investment friendly environment. If Peru can manage its policies accordingly, there is a potential for a lot of global investment in this Andean nation.
Peru is a country that features practically all of the planet's climates, with remarkable natural, mining, and power resources. According to FAO figures, Peru, the third largest country in South America, has 7.6 million hectares with immediate agricultural potential, but less than 3.6 million are actually used. This paves the way for a good Agriculture based commodity segment as an investment opportunity.
The country's top exports apart from Agriculture products include copper, gold, zinc and crude oil. Furthermore, the country's Ministry of Energy and Mines estimates that only a 10% of the overall national territory with mining potential has been explored so far.

Peru is a member of the Asia Pacific Economic Cooperation (APEC), which facilitates the mechanism development of the economic-trade cooperation with other 20 powerful economies. Peru is, likewise, is one of the 5 country members of the Andean Community of Nations, which has more than 120 million inhabitants and an overall GDP of around US$ 300.00 billion.
Peru ranks fifth worldwide in gold production (first in Latin America), second in copper, and is among the top 5 producers of lead and zinc.
Peru has also signed agreements for the promotion and protection of investments with 29 countries of Europe, Asia and Latin America
Around 8 million hectares are suitable for agricultural farming, 18 million hectares for pasture and 49 million hectares for sustainable forest activities (besides 54 million hectares of protection lands).
Peru is the leading exporter of asparagus and paprika in the world, the leading producer of fishmeal, oil, Alpaca and Vicuña fibers and is also the leading producer of silver worldwide.
Investing In Peru:
Peru Companies Listed In United States (ADRs)
Compania de Minas Buenaventura (NYSE:BVN): Buenaventura is one of Peru's public traded precious metal company with interests in mining gold, silver, copper etc. The company is a major holder mining rights in Peru and was established in 1953. Revenues and EBITDA for the past 5 years has been increasing due to the incredible run in the commodity markets.
Creditcorp Ltd. (NYSE:BAP): Credicorp Ltd. is Peru's largest financial services holding company. The company operates in commercial banking, insurance and investment banking.
Southern Copper Corp. (NYSE:SCCO): Southern Copper Corporation engages in mining, smelting, and refining mineral properties in Peru, Mexico, and Chile.
Other Peru ADRs Include
Cementos Lima (OTCPK:CEMTY) Construction And Materials
Compania Minera Atacocha S.A.A. Mining
Ferreyros (OTC:FERSF) Industrial Engineer.
Grana y Montero Construct.&Materials
Gold Hawk Res Inc (OTC:CGHRF)
Inca Pacific Resourc (OTC:IPRFF)
Peru Exchange Traded Funds (ETFs)
The iShares MSCI All Peru Capped Index Fund (NYSEARCA:EPU): The index measures the performance of the Peruvian equity market.
EPU Top Ten Holdings
1. Buenaventura Mining Company Inc. ADR (BVN): 18.25%
2. Credicorp, Ltd. (BAP): 14.30%
3. Southern Copper Corporation (SCCO): 13.27%
4. Alicorp S.A.A: 4.45%
5. Compania Minera Milpo Sa: 4.19%
6. Sociedad Minera El Bocal-Com: 3.86%
7. Grana Y Montero SA Gramon, Lima: 3.78%
8. Volcan, Compañia Minera S.A.A. (XVOLB): 3.76%
9. Minsur SA Minsur: 3.76%
10. Intergroup Financial Services Corp: 3.55%
Expense Ratio: 0.63%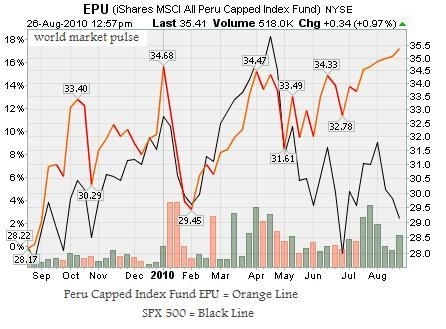 The Above graph shows that EPU is following an inverse pattern compared to SPX suggesting that Peru market index is high and bullish while the SPX is down. Worldmarketpulse analysts believe that EPU is very bullish on intermediate to long term even though on short term it appears to be slightly over bought but there is still some room for an upside.
ISE Global Copper Index Fund (NASDAQ:CU): The index is a modified linear weighted index designed to track public companies that are active in the copper mining industry based on analysis of revenue derived from the sale of copper. The Fund has just 10.20% Holdings In Peru.
Expense Ratio: 0.70%
Peru's Economy: An Overview
The economy of Peru is the 47th largest in the world, Peru is an emerging, market-oriented economy characterized by a high level of foreign trade. Peruvian economic policy has varied widely over the past decades. Peru is a country with many climates and geographical zones that make it a very important agricultural nation. Peru exports potatoes (3000 varieties), sugarcane, coffee and cotton.
The South-Pacific Coast hub: The central location of the country in South America occidental coast facilitates its projection as a productive and regional trade nucleus. Several ports, airports and a road system, which influence will extend from the Pacific coast up to Western Brazil, thus, Peru is prepared for serving as an efficient connecting bridge between South America, Asia and, United States markets. Peru is an import and foreign capital destination, as an exporter it covers almost all world regions.
Transparency International's 2009 Corruption Perceptions Index (NYSEARCA:CPI), gives Peru a score of 3.7, in a countries rating that ranges between 0, perceived to be highly corrupt, and 10 for those perceived to be the least corrupt. Peru fares better than some of its neighbors –Argentina scored 2.9 , Bolivia 2.7, and Ecuador 2.2—but ranks the same as Brazil and Colombia.
Peru Direct Foreign Investment: As to direct foreign investment, it has primarily centered on mining, industry, communications and energy; showing not only the importance of exports for Peruvian economy but also the growing strength of the domestic market.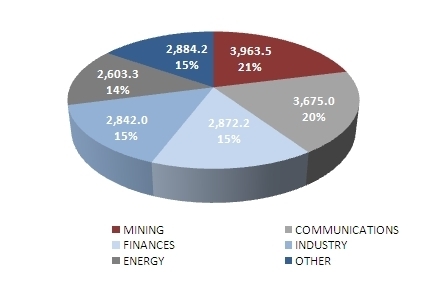 Peru's Exports:
Peruvian exports apart is their diversity, which includes mining, agriculture, fishing, hydrocarbons products and diverse manufactures. Although mining is the sector responsible for an important percentage of the total of Peruvian exports, however there are also other exports like basic metals such as copper, zinc, molybdenum, iron and lead, plus precious metals like gold and silver.
Exports by Product Groups (US$ Million)
| | | | |
| --- | --- | --- | --- |
| Group | 2007 | 2008 | 2009 |
| Traditional Products | 21,464 | 23,796 | 20,571 |
| Fishery | 1,460 | 1,791 | 1,683 |
| Agriculture | 460 | 685 | 633 |
| Mining | 17,238 | 18,657 | 16,361 |
| Oil and petroleum products | 2,306 | 2,663 | 1,894 |
| Non Traditional Products | 6,303 | 7,543 | 6,160 |
| Agriculture | 1,507 | 1,912 | 1,823 |
| Textiles | 1,736 | 2,018 | 1,492 |
| Chemicals | 805 | 1,041 | 837 |
| Iron & Steel Industry | 906 | 908 | 560 |
| Fishery | 499 | 622 | 517 |
| Metal-mechanic | 217 | 324 | 357 |
| Other | 634 | 719 | 576 |
| Other | 114 | 190 | 154 |
| Total Exports | 27,882 | 31,529 | 26,885 |
Negatives:
Peru still lacks basic infrastructure in most parts of its territory and it continues to experience high poverty rates. As a result, there is growing public discontent over the government's perceived inability to ensure a wider distribution of wealth at a time of rapid economic growth, and Peru is witnessing an increase in protest and strike activity. This, added to the negative effects that the global economic downturn is having on the country's economic stability, may be paving the way for the resurgence of radical populist and former presidential candidate Ollanta Humala for the 2010 regional and 2011 presidential elections. The government has attempted to address the issue through an increase in public investment in infrastructure across the country.
Peru, along with its neighboring nations of Bolivia and Ecuador, collectively form the Andean nations which are basically self sufficient economies, but most European and American analysts feel that these regions lack any investment opportunities given their current political conditions.
Peru is the 72nd most corrupt country in the world according to Transparency International's Corruption Perceptions Index.
Peru is notorious for its embargoes of properties and businesses, especially those related to natural resources. Especially dangerous are agriculture and mining. Laws are changed constantly to favor friends and win votes with populist measures.
Future Outlook:
Peru has been showing excellent performance. During 2008, the GDP showed a 9.8% expansion placing us among the countries that grew the most in said period of time, which happened after 8 years of continuous growth. In 2009, when the majority of countries in the world shrunk in economic terms due to the international crisis, Peru registered a US$ 130,324 billion GDP, equivalent to a growth rate close to 1%.