"It is clear that our efforts to re-merchandise many areas of the store and revamp our messaging to the customer are taking hold. We expect to carry this momentum into the second quarter as we continue to position the company for long-term profitable growth."

-J.C. Penney CEO Mike Ullman
Were you feeling the contrarian itch to possibly follow the trend and get into J.C. Penney (NYSE:JCP) stock right now, post-earnings?
I'd contend that this might not be the best spot to be buying in, for a couple of reasons. The contrarians got it right around $5/share. Despite a nice quarter, buying in now would be chasing the crowd in uncertain macro market conditions, in this investor's opinion.
J.C. Penney has had an astronomical run over the last 3 months, up 58.5% in that short time span. For the last 12 months, however, the company is still off 46%. So, it's got a ways to go before returning to glory - and there's some risks that are still worth pointing out about the retailer: namely its balance sheet being leveraged, the details of its posted comps, and its reliance on consumer spending.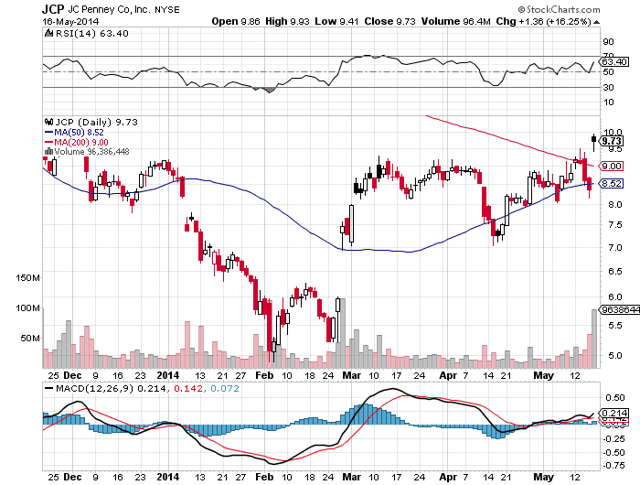 First, let's look at the earnings that Penney reported.
USA Today reported:
Penney reported sales grew 6.3% to $2.8 billion for the quarter ended May 3, up from $2.6 billion last year. The company posted $352 million in net loss. Still that beat analyst estimates. Penney lost $1.15 per share, better than the $1.26 analysts expected.

Penney shares ended up 16.3% to $9.73.

Sales at stores open at least a year grew 6.2%, a significant leap from last year's same-store sales loss of 16.6% in the first quarter of 2013.
On the heels of this news, and as you can see from the above chart, the stock shot upwards and wound up closing last week near $10 territory the company's stock hasn't seen in a while.
The company showed improvement in SG&A spending, margins and sales. All in all, it appeared on paper to be a strong quarter.
This is capping off an astronomical run back up from the $5 region where the company's stock sat just months ago.
Some of the good also came from the fact that the company secured a new $2.35 billion line of credit, which should continue to give the company room to operate. With breathing room and same store comps bouncing back, what's not to love?
I'm in no way trying to take away from the progress the retailer has made over the last couple months, but this isn't the time I'd be jumping in to go long the company. There's a couple of risks to consider.
While we're speaking about debt, let's take a quick look at some of the key financial stats behind the company:
As you can see, despite having $1.17 billion in cash and a new revolving credit line, the company continues to have billions more in long-term debt. This was the first quarter of the last few to not see a rise in shareholder equity - the company is quietly using its own equity - albeit slowly - to keep operating.
Any future misses in production could continue to find J.C. Penney going back to the well and continuing to leverage its balance sheet. The company has $1.17 billion in cash, but $2.0 billion in accounts payable and $4.8 billion in long-term debt.
It's not the strongest balance sheet in the world and remember - this company still posed a ($1.15)/share loss for the quarter.
In addition, the growth we saw from Penney in comps this past quarter isn't in the same neighborhood as the regression we saw from the company. In other words, the company is going to continue to have to grow - and more aggressively than this past quarter.
Ken Perkins, via CNBC.com, joined in the skepticism:
Despite gaining traction among consumers-including April's feat as its first month of positive traffic in two and a half years-the 6.2 percent same-store sales gain "did not come close to making back the 16.6 percent drop in comps in last year's first quarter," Perkins wrote in a note.

What's more, about half of the gain came from improvements in the store's home category-a department that was under construction in about 500 of its 1,100 stores in the same quarter last year and accounts for about 10 percent of the company's total space, noted Wells Fargo analyst Paul Lejuez.

"Digging into the drivers of the comp, results seem much less impressive," he said.
Put succinctly, I get that people are excited about J.C. Penney again. I wouldn't find myself a buyer at these levels because I'd consider it chasing with too much more that J.C. Penney has to prove in the coming quarters.
Let us also not forget this turnaround also continues to hinge on the macro market holding up and consumer spending continuing to be what it is now. Any tension from the major market indices that could carry over into a reduction in spending could negatively affect Penney's traction.
While the company's guidance that it offered was impressive, they now have to deliver - and then deliver again - and then continue to deliver even further. Penney is going to need quarter after quarter of continued growth in order to get back to being a burgeoning business.
After being totally bearish on the company for years, I admit that this is the most promise we've seen from them in a while.
However, I'm not ready to jump in yet, and will continue to watch from the sidelines here.
Best of luck to all investors.
Disclosure: I have no positions in any stocks mentioned, and no plans to initiate any positions within the next 72 hours. I wrote this article myself, and it expresses my own opinions. I am not receiving compensation for it (other than from Seeking Alpha). I have no business relationship with any company whose stock is mentioned in this article.