This market is a minefield, you better be wearing one of those bomb squad suits and have the agility of a ballerina if you wish to play. But, for those willing, there are some decent opportunities on both sides here. Over the past few days I have radically increased my overall exposure. My absolute exposure is 35% long, and total exposure is 50%, which leaves the short exposure at 15%. But the long short exposure really doesn't tell the story of what's going on in my book. Allow me to explain.
On Tuesday morning at the open I began building positions in several miners. I started with a basket of Silver Wheaton (SLW), Eldorado Gold (NYSE:EGO), Compania de Minas Buenaventura (NYSE:BVN), and IAMGold (NYSE:IAG) at 3% each. When it comes to materials, I like to go with the basket approach. I could have just bought a 15% position in one or the other, but I prefer to spread it around. I then increased SLW and BVN to 5% positions as they moved north. On Wednesday morning I bought a 5% position in SLV, the silver ETF. I like to trade the underlying commodities using a pretty simple trend following system. My long exposure to the miners and underlying asset silver is about 21%.
Now when looking at my overall long/short exposure, it's important to keep in mind where that long exposure is coming from. The miners are very uncorrelated to the overall market right now, just take a look at this chart ().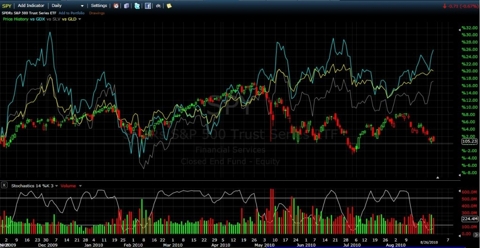 As the market has melted down over the past few weeks, the metals and miners are running. I wouldn't say that they have been inversely correlated to the market as a whole though, just go back and look at the time period of February through April. So this is not a short bet on the market, it's just a pure directional bet on the metals with the added bonus of the fact that they have not been highly correlated with a market that is fit for someone in a straight jacket.
Staying on the metals theme here, a little more reasoning behind the trade. Take a look at a weekly chart of the GDX, the gold miners ETF. You'll notice a beautiful cup and handle pattern over the last 9 months taking shape, and a monster inverse head and shoulders pattern longer term. The entry point to these positions on Tuesday was prime as they found support at their rising 50 day moving averages. This provides a great pivot point under which to set your stop. I'm not in these positions for a quick buck, these are trend trades. I'm also expecting gold to go to $1,300 based on the measured move off its inverse head and shoulders pattern breakout.
The rest of my long exposure includes positions in Radware (NASDAQ:RDWR) and Atmel (NASDAQ:ATML) which have both bucked the broader trend of tech destruction, ICICI Bank (NYSE:IBN) the Indian bank I've been looking to buy for quite some time, Ecopetrol (NYSE:EC) the Colombian oil company which is on fire, in fact everything Colombian is on fire and I really regret not taking that position in Bancolombia (NYSE:CIB) the Colombian bank, Baidu.com (NASDAQ:BIDU) off of a longer term support zone, New Oriental Education & Technology Group (NYSE:EDU) as it breaks out and ignores the rest of the market, iRobot (NASDAQ:IRBT) because I think it's a long term winner and I'll keep a small position, and SBA Communications (NASDAQ:SBAC) as it puts in a huge cup and handle pattern and threatens to take off.
As you can see, I don't have much exposure to tech, and I don't have any exposure to domestic financials, which at this point are complete poison. In fact, I think there is a huge trade being put on by hedge funds right now, long emerging market banks, short domestic banks. It makes sense as the interest rates in these emerging market countries is much higher, and here our government is starting to kill the banks by closing the spread by buying treasuries and sending yields to the floor. They are trying to get banks to lend in order to make money, but it's not working, they refuse, it's too risky out there, so they suffer. I'm not sure who will win in this game of chicken, but I know this, don't be long domestic banks.
On the short side, I think Yahoo! (YHOO) is cooked, finally. Everything I can see tells me this company is done for, they don't hold an advantage in anything. I'm still short GameStop (NYSE:GME), you know my thesis there. I'm also short RadioShack (NYSE:RSH), you know that thesis, and yesterday I took a short position in Life Technologies (NASDAQ:LIFE). It's a pure technical play, the setup is beautiful and I think it could completely collapse, imminently.
So the theme here is, be long and short, and don't be highly correlated on the long side. I think the market bounces a bit here, but may stall out mid-way through next week, put in a bear flag, and then we may see the next leg lower.
Check the positions sheet for exact entries and updated performance.