AT&T (NYSE:T), one of the largest US carriers in the United States, yesterday finally announced the acquisition of DirecTV, Inc. (DTV), the leading U.S. satellite television provider, in a landmark $48.5 billion deal that will help transform the broadcast industry as we know it. On May 18, 2014 AT&T announced that AT&T will acquire DirectTV for $95 per share. AT&T also laid out the deal terms which include a combination of cash and stock:
DALLAS, TEXAS and EL SEGUNDO, CALIF. - May 18, 2014 - AT&T and DIRECTV today announced that they have entered into a definitive agreement under which AT&T will acquire DIRECTV in a stock-and-cash transaction for $95 per share based on AT&T's Friday closing price. The agreement has been approved unanimously by the Boards of Directors of both companies.

Summary Terms of Transaction

DIRECTV shareholders will receive $95.00 per share under the terms of the merger, comprised of $28.50 per share in cash and $66.50 per share in AT&T stock. The stock portion will be subject to a collar such that DIRECTV shareholders will receive 1.905 AT&T shares if AT&T stock price is below $34.90 at closing and 1.724 AT&T shares if AT&T stock price is above $38.58 at closing. If AT&T stock price at closing is between $34.90 and $38.58, DIRECTV shareholders will receive a number of shares between 1.724 and 1.905, equal to $66.50 in value.

This purchase price implies a total equity value of $48.5 billion and a total transaction value of $67.1 billion, including DIRECTV's net debt. This transaction implies an adjusted enterprise value multiple of 7.7 times DIRECTV's 2014 estimated EBITDA. Post-transaction, DIRECTV shareholders will own between 14.5% and 15.8% of AT&T shares on a fully-diluted basis based on the number of AT&T shares outstanding today.

AT&T intends to finance the cash portion of the transaction through a combination of cash on hand, sale of non-core assets, committed financing facilities and opportunistic debt market transactions.
In order to ensure regulatory approval, AT&T is also set to divest its 8% stake in América Móvil.
As usual in the mergers and acquisitions business, shares of DirecTV have been soaring lately and it is likely that DTV shares will open at around $95 in today's trading session -- the deal price.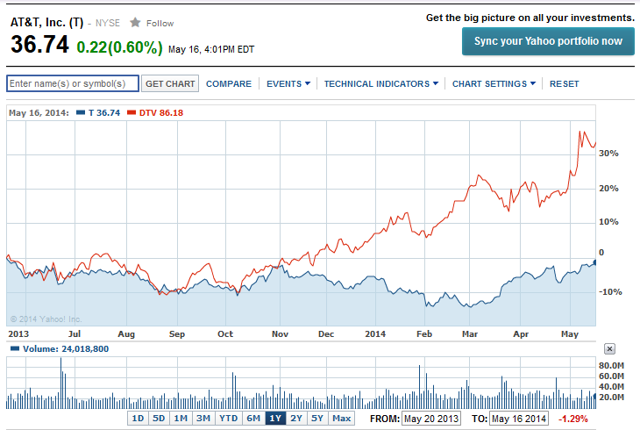 (Source: Yahoo Finance)
Why the DirecTV acquisition is a good deal for shareholders
The transaction will lead to an integrated communications company with serious broadband reach (approximately 70 million customer locations) and access to a broad pool of video content. In addition, the deal will address one of the biggest challenges in today's communications industry: To deliver premium content from one content provider to multiple screens (Mobile phones, tablets, desktop PCs). Also, AT&T's network reach makes it the most suitable partner for a premier content distribution business.
Most importantly, AT&T's DirecTV acquisition pretty much highlights a trend that many commentators already pointed their fingers to when the Comcast (NASDAQ:CMCSA) and Time Warner Cable (TWC) deal was announced (which currently faces regulatory scrutiny): Industry consolidation, that will benefit communications companies with scale and depth. AT&T delivers the scale, DirecTV delivers the depth. In addition, AT&T expects the DirectTV acquisition to be solidly accretive. In particular, AT&T expects:
Cost synergies of more than $1.6 billion annually three years after transaction closing
Positive free cash flow and adjusted EPS effects within one year after closing.
Cost synergies and higher revenues from video content distribution will surely have a positive free cash flow impact, which, in turn, should translate into tailwinds for AT&T's prospective dividends. While I think AT&T will be cautious in the beginning and will wait with dividend increases until DirecTV has been integrated, increases in shareholder remuneration as a consequence of the deal are a very real possibility.
Another point worth mentioning, is that the consolidation in the communications industry is in full swing. The AT&T/DirecTV deal should provide tailwinds for the regulatory approval process of the Comcast/Time Warner Cable deal as it sends a strong message to regulators that the sector indeed consolidates toward larger entities.
Conclusion
I have already had an optimistic outlook on AT&T despite the recent surge in AT&T's share price and with no consideration of AT&T creating the second biggest pay TV enterprise. Should the deal go through, which I think it will, AT&T could experience a significant boost to its free cash flow in the near term and, ultimately, its dividend. I think most investors in AT&T are income investors who want to benefit from the 5% annual yield that the stock offers. With increasing consolidation and an expansion of its broadband network, AT&T will have a strong grip on mobile and video networks that should translate into higher free cash flows and dividends for shareholders down the road. Long-term BUY.
Disclosure: I have no positions in any stocks mentioned, and no plans to initiate any positions within the next 72 hours. I wrote this article myself, and it expresses my own opinions. I am not receiving compensation for it (other than from Seeking Alpha). I have no business relationship with any company whose stock is mentioned in this article.