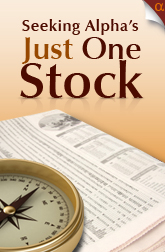 Several times a week, Seeking Alpha's Jason Aycock asks money managers about their single highest-conviction position - what they would own (or short) if they could choose just one stock or ETF.
---
Tom Samuels is founder and managing partner of Palantir Capital Management, a fee-based RIA based in Houston. He has more than 25 years of investment management and research experience, and previously was chief investment officer of Stavis, Margolis Advisory Services.
If you could only hold one stock position in your portfolio (long or short), what would it be?
We would hold Seaboard (NYSEMKT:SEB), which is a U.S.-based midcap company producing and shipping food products all over the globe.
Based in Kansas, Seaboard grows and produces grains, hogs, and sugar on three continents. The company also owns a fleet of ships to transport its products to customers all over the world. In addition to the core food-related and shipping businesses, Seaboard owns a biodiesel plant and other power generation assets.
Tell us a bit more about the company behind the stock.
In many ways, Seaboard is managed as if it were a private company. The company does not seek opportunities to promote itself with investors, issues little commentary on the business beyond required SEC quarterlies and has the ability to make short-term financial sacrifices that result in longer-term gains. This willingness to manage global assets for longer-term gains at the occasional expense of short-term results has become far too rare in today's global quarter-to-quarter-driven corporate culture.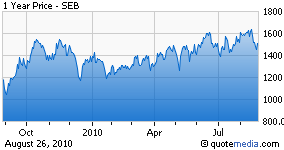 There are a few key aspects of the Seaboard story that we feel are opportune. The company is mostly vertically integrated, owning and managing its assets from farm to delivery. Because its grains, hogs and sugar are produced on multiple continents and shipped direct to customers, volatile political, currency, and business factors in one region will not derail the company's overall fortunes unduly. In fact, Seaboard may be in a position to profit from short-term fluctuations because it can source products from multiple continents and both the Northern and Southern hemispheres.
Production of food products globally is a key investment theme for the Palantir Fund (PALIX), and Seaboard is a core holding in that space. As billions of consumers in the emerging world enter the competition for quality food, we see a multi-year secular opportunity.
As of the quarter ended in June, the company had over $600 million in cash and short-term investments versus $76 million in long-term obligations. Cash flow generation from operations for the first half of 2010 was in excess of $200 million. If credit crunch conditions return, Seaboard has no need to access the debt markets and is positioned to make key acquisitions from debt-hampered competitors.
Since the beginning of 2000, the S&P 500 index compounded return is negative, while Seaboard stock has compounded at 21.7% per year. Yet, the stock trades at about 10x trailing 12-month earnings and is practically uncovered by the analytic community.
How does your choice reflect your fund's investment approach?
The Palantir Fund is a global long/short mutual fund. We operate a focused portfolio using multiple analytic techniques (fundamental, technical, etc.). Our goal is to grow shareholder capital while protecting against market downdrafts. As a mutual fund, we offer hedge fund-type strategies without the huge back-end fees. The fund is daily liquid, no-load, and has the portfolio transparency and low investment minimums consistent with the mutual fund space.
Over our nearly three-and-a-half-year history, we have sought to be a consistent core holding in a well diversified portfolio. Because we are independent and not part of the Wall Street herd, our portfolio is built with names (like Seaboard) that are often uncovered and present significant opportunities.
In general, we favor focused profitable companies with strong balance sheets, healthy cash flow generation, and shareholder-friendly managements. Companies that fit this profile are usually more in control of their own destinies in a difficult macroeconomic environment and are in position to take market share and buy assets cheaply. Our short process attempts to locate companies which are the inverse of the above.
Let's talk about sectors a bit. How much is your selection based on Seaboard's industry, as opposed to a pure bottom-up pick?
With pork from Oklahoma, sugar from Argentina, and a fleet of containerized cargo ships, Seaboard is a globally diverse agribusiness and transporter company that is difficult to segment into one industry. Since it is best known for pork, it typically is considered a meat products company.
The production of pork and pork products is generally not thought of as a growth industry, but because the U.S. pork industry has been digging out of one of the longest and sharpest downturns in history on a combination of factors (high feed costs, a fall in global demand due to the global recession and H1N1 virus fears, high hog supply), this industry finally turned extremely profitable in 2010 after losing money for about two years.
Of the major players in pork, Seaboard was one of the only ones who didn't suffer substantial losses. Growth is expected to continue this year because of low feed prices and hog prices near all-time highs (up 70% this year) due to tight supply. Higher international demand (especially from China) should be another positive factor going forward.
How is Seaboard positioned with regard to competitors?
Seaboard is the second-largest U.S. hog producer and fourth-largest U.S. pork processor, so much of its revenue comes from pork production and processing. Domestically, its main competitors in the meat industry are Smithfield Foods (NYSE:SFD) and Hormel (NYSE:HRL), but performance among competitors can differ significantly, even given the same industry factors. There are several concerns in the industry, specifically, the uncertainty of hog prices in 2011. Because Seaboard is so diverse and derives much of its revenue from other business operations, it may have less price volatility than competitors.
Since Seaboard is also heavily involved in producing grains (which sometimes has an offsetting cycle from pork) and shipping, the normal pork price cycle is more muted with Seaboard than its main competitors. Companies like Bunge (NYSE:BG) and Archer Daniels Midland (NYSE:ADM) compete in the grain business, and shippers such as DryShips (NASDAQ:DRYS) provide competitive shipping services.
China is the largest consumer of pork in the world, and there are several Chinese competitors helping to feed that market, such as Zhongpin (NASDAQ:HOGS) and AgFeed (OTC:FEED). Floods in China this year killed thousands of hogs there, which has helped Seaboard. Domestically, Tyson (NYSE:TSN) and Smithfield benefited from higher pork prices while Hormel has struggled.
There are also new USDA antitrust rules for the meat industry currently being debated that could potentially shift the balance of power away from the processors to the farmers in an attempt by the government to regulate an industry that has long been controlled by a few large companies. These proposed rules would make it much easier for farmers to sue processors they think are demanding unreasonably low prices, and would put some of the biggest restrictions on meat companies since the Great Depression.
It's too early to tell how these rules could potentially impact profits, but it's something that we're taking into consideration. (Being vertically integrated, these proposals could actually work to Seaboard's advantage if passed.)
How does SEB's valuation compare to its competitors?
Seaboard is trading near its 52-week high, but because it has a lower P/E (10) than its main competitors, little debt, $600 million of cash on the balance sheet, and a seasoned management team buying back shares, we continue to believe its prospects are outstanding both for absolute gains and relative to its competition.
Does your view differ from the consensus sentiment?
There is little consensus or sentiment regarding Seaboard stock. Most of its holders are "strong hands" with a longer-term approach.
This stock tends to be somewhat thinly traded and is not conducive to traders, especially with a price per share over $1,500.
Does Seaboard's management play a role in your selection? If so, how?
Management has been stable and consistently competent. Steve Bresky leads the team in a manner which reminds one of the global entrepreneurs of years past. As mentioned before, management believes that less is more when it comes to investor communication and rarely releases more information than is required by SEC mandate. Less than 30% of Seaboard stock is publicly held.
What catalysts, near-term or long-term, could move Seaboard stock significantly?
Seaboard is positioned to take advantage of ongoing turmoil in its core markets and in the global economy. Because Seaboard products are geographically diverse and demand is accelerating (especially from Asia), future grain disruptions (think Russian drought, U.S. flooding, Argentine regulatory incompetence…) provide windfall opportunities. The same is true for pork.
Additionally, because Seaboard owns their ships, their product is much more assured of prompt transport. This could be a crucial advantage if containers are in short supply or shipping rates move higher.
If credit crunch conditions return - we think this quite possible - Seaboard could be in position to pick up key assets for pennies on the dollar from debt-burdened competitors and grow market share as well.
It's true the company doesn't trumpet much of what it does. I had to dig through filings to see that they paid just over $7 million in May for a 50% stake in PS International, a North Carolina commodity trading/export firm. Could this be an example of SEB getting more hedging expertise on the cheap, in this volatile export environment?
A recent investment ($7.7 million) in a North Carolina commodity trading firm gives Seaboard an additional avenue for trading/hedging both commodity and currency risks. Although the vast majority of Seaboard's trading/hedging is directly related to its core business, management seems to be positioning to potentially exploit speculative opportunities.
If Seaboard were to initiate opportunistic speculative trading positions (in addition to those related to its core business), the company's risk profile would be temporarily elevated, however given Seaboard's global presence in food products and shipping it seems logical for the company to have the capability of exploiting future disruptions in global liquidity and markets.
What could go wrong with your pick?
Natural disasters affecting Seaboard agricultural fields or hogs could certainly disrupt short-term cash flow. Removal of favorable tax treatment for biodiesel could affect profitability at Seaboard's biodiesel plant. Corporate strategy could change or become ineffective.
With that said, Seaboard management seems to be well seasoned and cash-rich enough to ride out potential storms better than the competition while converting great growth opportunities in global agriculture to the benefit of shareholders.
Thanks, Tom, for sharing your thesis with us.
Disclosure: Long SEB.
Read more Just One Stock interviews »
If you are a fund manager and interested in doing an interview with us on just one stock or ETF position you'd hold, please email Rebecca Barnett.