Tile Shop Holdings (NASDAQ:TTS) is a premium specialty tile retailer dedicated to the home tile market. According to its investor presentation, the company had 95 stores in 30 states as of May 1, 2014, with trailing 12-month net sales (as of March 31, 2014) of $237M and adjusted EBITDA of $52M. Its market cap is 716M as of 5/16/2014, putting in squarely in mid cap territory.
Business overview
As with any retailer, store growth and comps are the two key growth drivers. TTS has grown its store count from 41 to 88 stores since FY09, and plans to add 20 more stores this year which would take it up to 108 - an annualized growth of 21%. After the end of the great recession which saw its same store sales shrink 4.6%, it has increased its comps by 11.4%, 6.4%, 7.1% and 12.4% over the last four years. TTS positions itself as a premium tile retailer targeting affluent customers, and this is reflected in its gross margin. Its gross margin in 2013 was 70%. This was down from historical GM levels, which have ranged from 72-74%. SG&A expenses have been outpacing sales growth and were 55.6% of sales in 2013, materially higher than the historical ranges of 50-52%. This would indicate that TTS has opportunities to be more efficient with its operating expenses going forward - even a return to past years could yield significant upside.
Store growth and comp growth assumptions
In its Q1 earnings call, TTS management indicated that it expects to open 20 stores during 2014, bringing the store count at the end of the year up to 108. In my model, I believe TTS has the opportunity to grow store count by 20 each year through 2020 - if it expands at these levels, store count will be 228 by then. TTS is present is 30 states and has the opportunity and the ambition to become the first national premium tile retailer. In my view, this is an eminently achievable goal given its past performance. The expansion opportunities are clear - the industry is highly fragmented and there is no recognized franchise. I have modeled comp growth at 5% for FY14, which is the mid-point of management's expectations, 8% going forward through 2017 and 7% from 2018 through 2020. TTS hit high single digit comp growth in March, which was the first month of the quarter not affected by bad weather. My assumptions around store growth and comps are shown below: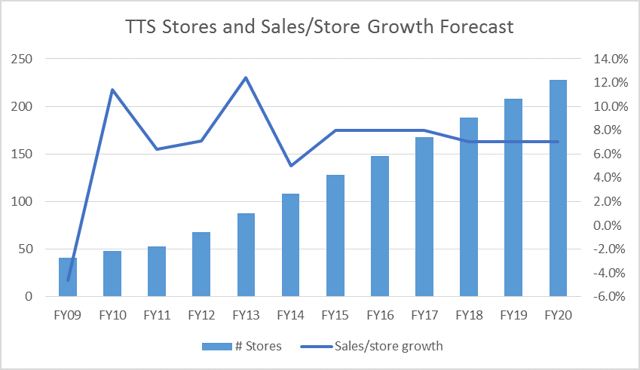 Source: TTS 10-K (FY09-FY13)
As can be seen, I am being fairly conservative in my assumptions, since my store growth as well as comp growth numbers are lower then what TTS has achieved over the past four years.
Margin and operating expense assumptions
I am assuming that TTS will continue to maintain its gross margins in the 70% range. Gross margins increased sequentially by 100 basis points from Q4 to Q1 2014 and were at 70% in Q1. The company indicated that it had revamped its compensation structure to reduce the incentives for increased promotional activity, and I expect that gross margins will stabilize as a result of this.
SG&A expenses increased to 55.9% of sales driven by increases in payroll and advertising, but also due to professional fees associated with being a public company. I do expect these to moderate somewhat as a percentage of sales as the company obtains more operating leverage across a higher store base, but am fairly conservative. I assume that SG&A moderates to 54% of sales by 2020. My assumptions around key operating metrics are shown in the chart below: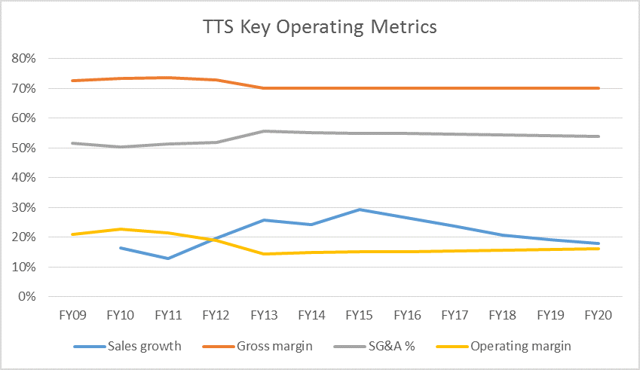 Valuation
In my model, I have used a discount rate of 10% and a terminal value growth rate of 3% for TTS. I do believe that TTS has the opportunity to grow much faster, but I am attempting to be conservative. I arrive at a fair market value of $16 for TTS, which is around 16% upside to Friday's closing price. This suggests that TTS is a pretty safe bet at these prices. The complete valuation model is attached below: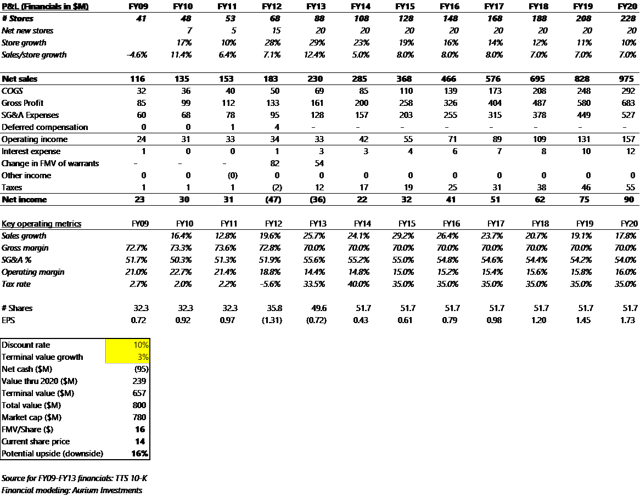 Risks and opportunities
I believe that TTS actually has the opportunity to grow stores at a faster clip than I have modeled. If I change my growth assumptions slightly to 250 stores by 2020, that would result in an FMV of $18, or 31% upside. On the other hand, maintaining my store growth but reducing comps to 5% results in an FMV of $14 - in line with current prices. The model is also very sensitive to gross margins and SG&A levels - every 100 basis points changes the FMV by 7%. Hence the trend in these metrics are important to watch out for, and I will be looking for stabilization in GM and improvement in SG&A.
Summary
I believe TTS has great growth opportunities ahead of it. The company operates in a fragmented market with no national player, and has the opportunity to stake its claim to be the first one. Shares are priced at a discount given its opportunities, and insiders seem very confident of its prospects - putting in significant amounts of their own money over the last few months. As investors, we would do well to follow their lead and pick up shares.
Disclosure: I am long TTS. I wrote this article myself, and it expresses my own opinions. I am not receiving compensation for it (other than from Seeking Alpha). I have no business relationship with any company whose stock is mentioned in this article.