In my time writing for Seeking Alpha, one of the best names I have seen is the Boston Beer Company (NYSE:SAM). The craft brewer, known most for the Samuel Adams line, traded for just over $100 when I looked at the name back in late 2011. With revenues and earnings soaring, the stock hit a high of $265 late last year. Recently, the stock has pulled back a bit, and that leads to an interesting opportunity for investors. Today, I'll examine the continued growth story of Boston Beer, and how investors could be nicely rewarded.
Continued strong growth:
When looking at Boston Beer, you have to like the growth history of this company. In the table below, I've detailed revenue and EPS growth from 2011 to 2013, along with current analyst estimates for this year and next. You can view all past results here. Dollar values for revenues are in thousands. The growth numbers below are as-is, and are not adjusted for the extra week in the 2011 period.

*53-week period.
**Current analyst estimates.
When you think of the Boston Beer Company, the first thing you probably think of is the Samuel Adams beer line. This year, the company is celebrating the 30th anniversary of Boston Lager, the company's flagship product. However, this company is more than just the Sam Adams line. Have you heard of Twisted Tea or Angry Orchard seen in the picture below? Those malt beverages and hard ciders are part of this company, and right now are providing a solid amount of growth.

(Source: Twisted Tea site and Angry Orchard site)
Q1 is the lightest sales and earnings quarter of the year, but it probably will end up being the biggest growth quarter in 2014. In the 10-Q filing, the company reported 835,000 barrels in shipment volume for core brands, up roughly 32% over the prior year period. Revenues for the quarter were up more than 35%, as the company was also able to increase its net revenue per barrel by 2.5%. The company was able to raise prices, although part of the price increase was offset by customer program and incentive costs. In the last three years, Q1 net revenue per barrel is up by about 7.5%. Not only is the company growing revenues by increasing shipments, but the ability to get higher prices per barrel has also helped.
Current estimates may be conservative:
One item that many investors like to see is rising analyst estimates. If estimates are rising, especially over a longer time period, it can show that the company is performing better than expected. In the table below, I've tracked analyst estimates for 2014 going back to last summer. You can get to current analyst estimates from the link provided in the section above.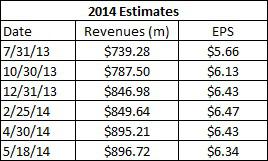 For a growth company like Boston Beer, it all starts at the top, and I'm talking about revenues. You can clearly see a trend here, with the average analyst revenue estimate up more than $150 million since last July. That is due to the company continuing to beat, and you can see many recent beats here. In the company's most recent Q1 period, revenues beat analyst estimates by nearly $5 million. If this trend continues, you would think 2014 ends with more than $900 million easily. Perhaps the company could even do $925 million to if the year turns out very strong. By the way, on that July 31st date above, analysts were looking for around $671 million in 2013 revenues, and the company finished the year over $739 million. Current estimates call for just over $1 billion for the year in 2015, but I think you might see the $1 billion number (on a trailing 12 month basis) hit by Q3 2015 or perhaps earlier.
While revenue estimates have continued higher, you saw in the table above that EPS estimates have leveled off in recent months. There are a couple of reasons for this. First, as the company noted on the conference call, it spent heavily on promotions and advertising in Q1. Obviously, the marketing campaign is working since the company is generating plenty of revenues. The second item to point out is that the cold winter caused the company's energy costs to be higher than expected. Finally, I'd like to point out that the company did not buy back any shares during Q1 as part of its buyback plan. Some analysts might have been looking for some share repurchases, which may have cost a penny or two on the bottom line. The company reiterated its 2014 EPS forecast of $6.00 to $6.40 at the Q1 report, so analysts are at the upper end of that range. I'll have more on the company's growth later on.
Balance sheet is fine:
Another item that investors love is a strong balance sheet. While Boston Beer doesn't have a balance sheet that rivals Apple's (AAPL), the company still is in solid financial shape. In the table below, I've detailed some key balance sheet numbers over the past few years. Dollar values are in thousands, and the most recent balance sheet can be seen in the 10-Q filing linked above.

*Liabilities to assets ratio.
Let's start with the cash position. It is down a bit over the last year or two as the company has spent heavily on capital expenditures and executed a share repurchase plan. Over the last 12 months, the company spent about $15 million on the buyback and has spent several times that in capex. You can see how much the property, plant, and equipment balance has risen in the past two years. At the end of Q1, the company had a little over $25 million left on the current buyback plan. Also, the company has a $150 million line of credit with no amount outstanding on it, so that could be drawn upon if cash is needed.
Additionally, there should not be any concerns over the decline in the current ratio. Working capital is basically flat over two years, so the decline in the current ratio just means current liabilities have risen at a percentage faster than the rise in current assets. As long as working capital stays mostly flat, I won't be worried. Additionally, the debt ratio has actually come down. If the company needs to borrow some funds for future expansion or for the buyback, there is plenty of financial flexibility here.
Reinvesting in the business:
I showed above how revenues continue to come in well ahead of analyst estimates. The company's products are selling well, and the company will continue to invest in its future, as detailed by the following statements on the conference call.
Projects at the breweries to add capacity in preparation for peak volumes later this year are starting to be commissioned and we expect most to be fully operational during the second quarter. Compared to this time last year, we will have significantly increased our brewing, packaging and shipping capabilities and our tank capacity at our Pennsylvania Brewery and our Cincinnati Brewery.

Given the opportunities that we see, we expect a continued high level of brand investment and capital investment as we pursue growth and innovation. We are prepared to forsake the earnings that maybe lost as a result of these investments in the short-term, as we pursue long-term profitable growth.

So we certainly have put plans in place and contemplated in the capital that we have is capacity to support the business this year. And if the growth rates are at the lower end of what we talk about and then maybe even lower still next year, we might define next year except for some peak week contracting that we might need to do. Ultimately, we have to decide when the timing should be for the next big leap, we've just been through two years of very big leaps in different areas of the brewery. Last year, it was in the packaging side, this year it's on the tank side and in the ability to produce the liquid, but we have to decide when the next big leap is and that we won't really - don't really have to make some firm decisions on much before Q3.
So for this company, it is about the next big thing. Last year, the company spent heavily on the packaging side of the business, and this year it was on the tank side. In Q1, production was running at about 95% of capacity. The company has more capacity coming online during Q2, which will help the business during peak times later in the year.
The statements above reflect the growth strategy of this company, and investors should appreciate that. This isn't a company that is parking cash on its balance sheet and letting it sit there to earn minimal interest. This is a company that's using its cash to grow the business across all lines (packaging, tanks, etc.). While short-term profits may be dinged a little, it's all about the long-term. The company knows that production needs to increase, and I wouldn't be surprised in the next couple of years if Boston Beer looks for more production space. It looks like the company will need it. This isn't a small niche craft brewer anymore. This company is on the verge of being a billion dollar sales company.
Valuation and competition comparison:
When looking at this space, the beer industry is very extensive. This isn't a name that has a Coke-Pepsi relationship, where you have two companies that are extremely similar. Additionally, a lot of names in this space are either private companies or are not traded in the US. Of the names that do trade in the US, you have Craft Brew Alliance (BREW), a very small company. You also have the larger names like Molson Coors (TAP) and Anheuser Busch InBev (BUD). Boston Beer has a market cap a little under $3 billion, compared to BREW which is around $210 million. TAP has a market cap around $12 billion, and BUD is around $178 billion.
So it is hard to compare these names exactly to each other as if they were true equals. In the table below, I've detailed current growth estimates from analysts for 2014 and 2015 as well as valuations based on Friday's closing prices and those analyst estimates.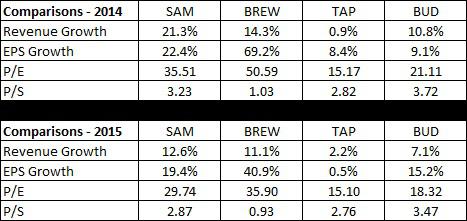 There are a couple of numbers that stand out immediately. First, Boston Beer has the highest revenue growth rate of these names. Second, Boston Beer has the second highest EPS growth rate. Only Craft Brew Alliance has a higher EPS rate, but that is a very small company that had less than $2 million in net income during 2013. When a company is barely profitable, it can be very easy for earnings growth rates to appear high. In terms of overall growth, Boston Beer offers the best package of these four names.
When it comes to valuation, it's hard to compare these names. On price to earnings, you might think that Boston Beer is overvalued when compared to the larger names. When compared to BREW, Boston Beer appears to be fairly valued. On price to sales, the argument is even tougher to make. Going out to 2015, Boston Beer is fairly valued compared to TAP, undervalued compared to BUD, and way overvalued compared to BREW. Right now, if you were to combine all of the growth and valuation numbers into a blender, I think Boston Beer is fairly valued to slightly undervalued, and that's because it offers the most growth. Additionally, the valuation has certainly improved since the last time I looked at this name in August 2013. At that point, the stock traded at 3.57 times 2014 expected sales and 35.90 times expected 2014 earnings.
So how do analysts value the stock? Well, the average price target is $253, with a range of $244 to $260. That equates to about 40 times 2014 earnings, or a little more than 3.6 times sales. Analysts believe this name has double digit upside, considering the stock closed Friday around $225.
Support at the bottom end of the range:
Recently, Boston Beer shares have pulled back, which presents an opportunity to investors. The shares are trading near their lower bollinger band, which is usually a level of support for the stock. The chart below shows Boston Beer over the past six months along with the bollinger bands.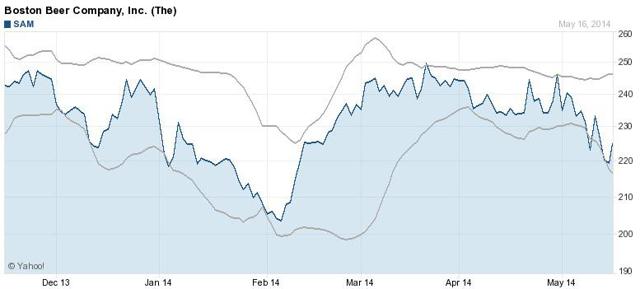 (Source: Yahoo Finance)
The stock closed around $225 on Friday after hitting an intra-day low of $215.70 on Thursday, its lowest point in a couple of months. The stock seems to have found some support near the lower bollinger band, and I think that is where investors can look for an entry point. With markets on edge, it wouldn't take much for this stock to pull back to $215 again.
What is Boston Beer really worth?
Before I detail my own personal valuation for the stock, let me reiterate why I like this company. First, the company has been a strong grower in the past, and that growth is expected to continue in the future. The balance sheet is in solid shape, and the company continues to invest in itself, along with having a share repurchase program. Additionally, this name provides more growth than more established peers, and analysts believe the name has considerable upside. I'll detail my valuation model in a minute.
There is one other quick point I must make. I know that I will be asked if this name is a takeover target. While I do believe a larger name could try to scoop up the company, I don't see this firm selling out. I believe that Boston Beer wants to remain it its current place, where it tries to grow on its own. It's possible that this firm could go private, but it would have to be a sweet offer for management to accept in my opinion. If this name were to be bought out, I think you would see at least the standard 20%-30% premium paid, so that would provide a nice gain for investors. With a market cap of under $3 billion, it's not a tremendously large acquisition. However, with a company that believes you should "take pride in your beer", I don't think this company goes away anytime soon. There are times where a company is not a takeover target because nobody wants to buy it, and there are times where it is not a target because it doesn't want to be sold. In this case, it is the latter.
Let me now discuss what I think Boston Beer is worth. I will first remind you what the stock currently trades for, based on Friday's closing information:
Price of $225.11, market cap of $2.90 billion.
2014 P/E of 35.51, P/S of 3.23.
2015 P/E of 29.74, P/S of 2.87.
For 2014, I think a reasonable base P/E to work with is 35, and for P/S I'll use 3.30. I'm giving the P/S value a bit more just because the company does better in terms of beating revenue estimates. When all is said and done, I think the 2014 revenue number will show more upside compared to current expectations than the 2014 EPS number will.
That being said, for the best case in 2014, I think a P/E of 40 is appropriate and a P/S of 3.60 works as well. That's around where analysts have their average targets, so those numbers are not that crazy. Since growth is expected to be less in 2015, my 2015 best case values are equal to the current values for 2014. The table below shows the results of my valuation model, based on current analyst estimates and a best case scenario for both 2014 and 2015. The top half is based on price to sales, with the bottom half focused on price to earnings.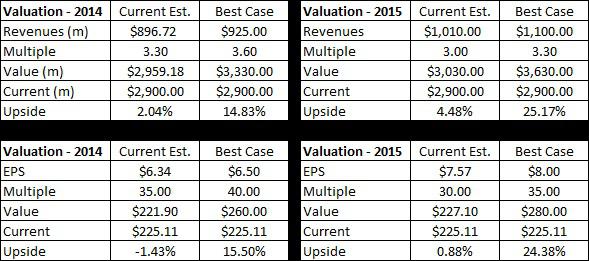 I know there's a lot there to look at, so let me discuss the basics. If Boston Beer just hits current analyst estimates, I see about 0.3% upside (average between the two models) for this year and about 2.7% of upside through 2015. Obviously, given this company's recent history, I would think that current estimates will prove to be low. Thus, in my best case scenario, I see about 15% upside through 2014 and roughly 25% upside through 2015. If this company hits its marks, I think those numbers are very doable.
Final thoughts:
Boston Beer shares have pulled back recently, and that gives investors a nice chance to evaluate the name again. The company continues to deliver strong top line growth, which should push the company's revenue number over $1 billion next year. The company continues to heavily invest in the business as it looks to fill its production needs, and the balance sheet is strong. While the valuation looks high at first glance, it is certainly worth the growth you are getting. With the company continuing to beat estimates, this stock is ready to rebound. Should the company continue on its current path, investors could see 25% returns through 2015.
Disclosure: I have no positions in any stocks mentioned, and no plans to initiate any positions within the next 72 hours. I wrote this article myself, and it expresses my own opinions. I am not receiving compensation for it (other than from Seeking Alpha). I have no business relationship with any company whose stock is mentioned in this article.
Additional disclosure: Investors are always reminded that before making any investment, you should do your own proper due diligence on any name directly or indirectly mentioned in this article. Investors should also consider seeking advice from a broker or financial adviser before making any investment decisions. Any material in this article should be considered general information, and not relied on as a formal investment recommendation.