Introduction
Illinois based Gogo Inc. (NASDAQ:GOGO) is the current market leader in the burgeoning wireless internet aviation technology industry. It has contracts with 9 major airlines to supply their wireless technology on board each airline's entire fleet. After going public in June 2013 at a price of $17, its share price rose 46% to end the year at $24.82, but this year, US telecoms giant AT&T (NYSE:T) announced that it intends to work with Honeywell (NYSE:HON) to enter the industry. Due to Gogo's small market capitalization of just $1.1bn, investors dumped Gogo's stock, assuming that when a much larger firm entered the market, Gogo would quickly lose its market share.
This article will analyze the threat of AT&T to Gogo, and discusses Gogo's outlook.
How Much Of A Threat Is AT&T To Gogo?
When AT&T announced that they planned on entering the aviation wireless telecoms industry, the share price of Gogo dropped 28% in just one day. Investors' trepidation is understandable, given that AT&T is a $190bn company. However, I believe that this response by shareholders was an overreaction.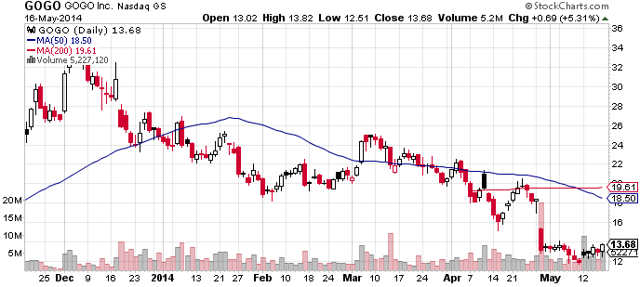 Gogo was founded in 1991 in Itasca IL, and currently serves over 2000 commercial and 6000 business aircraft, including all of domestic mainline Delta Air Lines flights, almost all of Delta's regional jets, and all Virgin America flights. Its wireless internet service allows passengers to connect to the plane's internet service. This is currently available in domestic US flights, but Gogo is expanding overseas.
Gogo uses three types of technology for its services:
· Air-To-Ground (ATG) - Gogo's ATG network has 160 cellular towers across the US and Alaska, and is expanding into Canada. The towers point towards the sky, as opposed to down to the ground as with conventional cell phone towers. This signal is picked up by the Gogo antenna on the underside of the plane. This service can offer up to 9.8 Mbit/s per aircraft.
· Ka and Ku Band Satellites - Gogo was named as a service provider for Inmarsat's Global Xpress Ka band satellite service in November 2011. Gogo also has agreements in place with Luxembourg based SES, which will provide coverage over the US, Atlantic Ocean, and Europe, and with Luxembourg based Intelsat for coverage in the Atlantic and northern Pacific oceans, as well as routes over Central and South America, Asia, Australia and parts of Africa.
o The Ku band service will allow for airlines to have connectivity services outside of the United States in the near term, until the Inmarsat Ka band service becomes available. Ka band allows for higher bandwidth communication
· Gogo Ground To Orbit - This technology uses satellites for receive only, and Gogo's Air-To-Ground network for the return link to the ground. This offers speeds of around 60 Mbit/s per aircraft traveling within North America. Virgin America will be the launch partner of this service.
AT&T is currently developing its own wireless service for airlines with Honeywell, although it isn't operational yet. Both firms forecast that the 4G service will be available in the US in 2015. Therefore, Gogo still remains relatively unrivalled. Being in this position, Gogo has several distinct advantages. Firstly, they have the opportunity to build relationships with airlines in the US, before other operators have a service available. Airlines will obviously prefer to stick to using just one operator, so once their fleet begins to be equipped with Gogo's technology, the airline will be unlikely to change. Secondly, it's very complicated to equip these communications systems on an aircraft. Therefore, if a company is currently using Gogo's service, it wouldn't change to another provider, unless the price difference was substantial or the service was much better.
Gogo CEO, Michael J Small addressed this competition in the Q1 conference call, stating that the threat isn't as great as investors initially thought. This is because almost all of Gogo's US customers have exclusivity contracts that won't expire before at least 2020. Also, Gogo's Ground To Orbit service and Ku band services will be faster and available much earlier than the proposed AT&T service.
From a Valuation Perspective
Gogo released its 2014Q1 earnings on the 12th May, and reported strong numbers. First quarter revenue of $95.69m was up 35.2% YOY, and net losses fell by 16.6% YOY.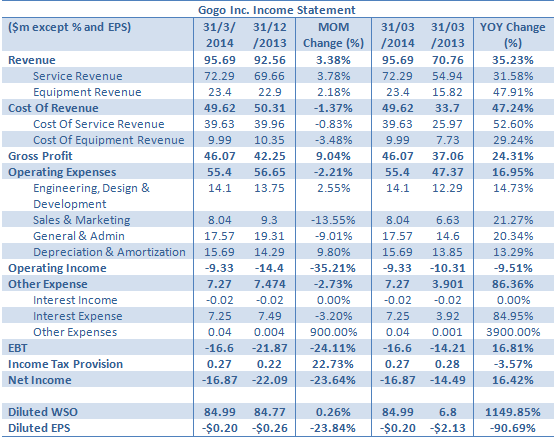 The geographic split of Gogo's revenues gives a clear indication of where its main problem lies. Its commercial aviation business outside of North America recorded a loss of $16.89m in the first three months of the year. This cancelled out the strong returns of the business aviation segment.

The number of aircraft online has risen to 2,056, from 2,032 on the 31st December 2013, and from 1,878 on the 31st March 2013, and the monthly average revenue per aircraft rose to $9,199. What is encouraging from Gogo is that the key operating metrics are improving.

The company has $219.57m in cash and equivalents on its balance sheet, which has fallen from $312.15m a year ago. However, the company's long-term debt has been relatively unchanged over the same period at $238.01m. If the company continues to fail to make a profit, it will likely see its balance sheet cash fall, which highlights the pressure on Gogo's management to make a profit.
Across the industry, its debt ratios are in line with the industry average, as is the gross margin. This perhaps highlights the need for Gogo's management to also focus on cost-cutting. However, after establishing the infrastructure and deals with satellite providers, this should begin to show on forthcoming income statements.
An Optimistic Outlook
Looking at the segment breakdown for Gogo's revenue, the rest of the world is the company's biggest problem, but it is also its greatest opportunity. The number of commercial aircraft outside of North America is expected to grow from 13,000 to 30,000 between 2012 and 2032. This is comparable to the North American region growth from 4,000 and 6,000 during the same period.
Gogo has started its expansion into the international market, firstly with Delta Airlines announcing in 2012 that it will offer in-flight internet service on its long haul international fleet of more than 150 aircraft, and in 2013 Japan Airlines announced that it will offer the service on its domestic fleet of 77 aircraft.
An additional source of future revenue is in the Gogo Text & Talk app, which provides in-flight cell phone calls, and text messaging, which is being officially launched on commercial jets in 2014.
An obvious concern to investors is Gogo's difficulty in posting a profit. Revenue growth is very strong, with a CAGR of 51% since 2010, but this isn't being transferred into profits. However, Gogo is addressing this by entering into exclusive spectrum licenses and long-term contracts with airlines. This will provide the company for a high barrier of entry into the industry. In addition, the rapid increase in connectivity speed should increase the connectivity take rate into double figures.
Although current competition in the industry is unable to rival Gogo, as AT&T is a huge company, with established wireless technology, it should be able to produce an equal service, and should be able to beat Gogo on price. This presents a risk for Gogo investors. However, with the length of the vast majority of airline contracts having at least 6 years until expiry, Gogo has the opportunity to fully capitalise on this time, given its market share of approximately 80%. Likewise, if, as stated, the Gogo technology is quicker than the proposed AT&T technology, then airlines would have less reason to switch from Gogo to another supplier.
A second point that should be of slight concern to investors is an antitrust lawsuit filed against Gogo. Plaintiffs have accused the company of running a monopoly within the in-flight WiFi market. The basis of the lawsuit is that Gogo has entered into long-term contracts with most major airlines, making it unreasonably difficult for these airlines to back out of these contracts. The reason why Judge Edward Chen hasn't dismissed the case is because Gogo has such a substantial market share, so there are high barriers to entry. However, the plaintiffs have made some factual errors during the case, such as claiming a deal between Gogo and Southwest Airlines, although these two firms were never linked. Also, Judge Chen disputed the idea that an airline's entire fleet has been locked up, and doubted the 85% market share.
A Potential Takeover Target?
Gogo also presents another interesting investment opportunity. As the market leader of a growing industry with a lot of growth potential, despite having a market capitalisation of just $1bn, Gogo can be seen as an ideal acquisition target by a larger telecoms firm. Major US telecoms firms have large amounts of cash on their balance sheets, as can be seen in the table below. AT&T have already announced that they are developing their own technology, but if the industry is profitable, and telecoms firms have the transferable technology and skills to enter the industry, it would seem reasonable that acquiring the current market leader would be an effective way of entering the market, particularly if the market leader has a relatively low market capitalisation.

Gogo would make an attractive acquisition target because of the business that it conducts with 9 leading US airlines. Given the high barriers of entry in the industry, it would be reasonable to assume that a large firm would seriously consider collaborating with or acquiring Gogo.
After weakness in the airline industry over the past few years, consolidation in the industry has had a positive effect on earnings and equity returns. So as more airlines consolidate their operations, and share flight routes, it would be more beneficial for the consolidated group to use the same wireless service. Likewise, with international cooperation between airlines, such as the Star Alliance, SkyTeam and One World, having one service benefits both the airlines and the passengers. Therefore, given that Gogo has established relationships with a variety of airlines across the US, they are in a prime position to be the market leader overseas.
Summary
Gogo is currently in an incredibly strong position in an industry that is poised to see huge growth. It has struck valuable deals with satellite providers and airlines that not only allow it to offer a strong service to a large majority of the market, but the exclusivity and length of such deals give the company a 'moat' in which to fend off competitors for the next few years at least.
Gogo has made great strides into making its service available around the world, and along the world's busiest flight routes, which should help it cement a strong hold of the international airline market. The overseas market is also the greatest risk to Gogo, as it is the predominant reason in the firm posting losses, which it can't sustain. This will be true test of Gogo's long-term success.
Disclosure: I have no positions in any stocks mentioned, and no plans to initiate any positions within the next 72 hours. I wrote this article myself, and it expresses my own opinions. I am not receiving compensation for it. I have no business relationship with any company whose stock is mentioned in this article.