There are many speculative aspects of the 3D printing space. Despite the fact that most pure play 3D printing companies experienced 50% decreases YTD, P/E ratios remain in the triple digits. In this article I will discuss a 3D printing stock that I don't believe to be nearly as speculative.
Arcam AB (OTCPK:AMAVF), a company based out of Gothenburg, Sweden, has continued to see a decline in the price of its shares over the last few weeks. The stock traded below $22.50 after the release of Stratasys's (NASDAQ:SSYS) Q1 earnings report for 2014. On May 15, after Exone (NASDAQ:XONE) released its disappointing earnings report, Arcam shares traded as low as $21.09. I believe that Arcam represents one of the few opportunities to pick up shares of a 3D printing company that is both technically oversold and fundamentally undervalued.
Even after a 17% decrease in share price upon its earnings release, Exone remains overvalued. As fond as I am of 3D Systems (NYSE:DDD) and Stratasys, I do not have any reason to believe that they will have nearly as high of a growth rate as Arcam AB during the next few years. I believe that a 70% growth rate is not only sustainable but possibly a low estimate for the next two years. One major reason I believe Arcam will have a short-to medium-term growth explosion is their creation of value in the field of orthopedic implants.
3D Printing in the Medical Field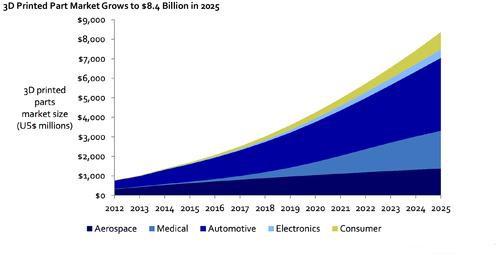 Source: Lux Research.
According to an article written last year, the medical industry is expected to be the second largest market for 3D printing. Arcam's other market, aerospace, is projected to be the third largest market. By 2025, I believe there is a strong chance that Arcam will also find its way into the automotive industry. Since last year, analysts' proportion estimates have mostly remained the same, except for a recent increase in the estimated share in the consumer market.
Baby Boomers
The youngest of the baby boomers turn 50 this year and the eldest are turning 68. Major surgeries are often inevitable for elderly people, especially as technology is keeping our grandparents alive and active into their nineties. According to a U.K. medical publication, the number of hip replacement operations will increase by 30% over the next 40 years.
According to a 3D printing blog post from February, Arcam machines have used titanium powder to produce 30,000 hips. This represents a 2% share of the global market. Currently, there are about a million hip implants per year. In the future, we can only expect to see more people getting hip, knee, and shoulder implants. I also believe that the market share for Arcam's Q10 printers and titanium powder will continue to take a larger market share. Once the learning curve is overcome, EBM is likely to become the most economically efficient method for orthopedic implants.
Below is a picture of EBM Trabecular Structures printed by Arcam's Q10 from Arcam.com.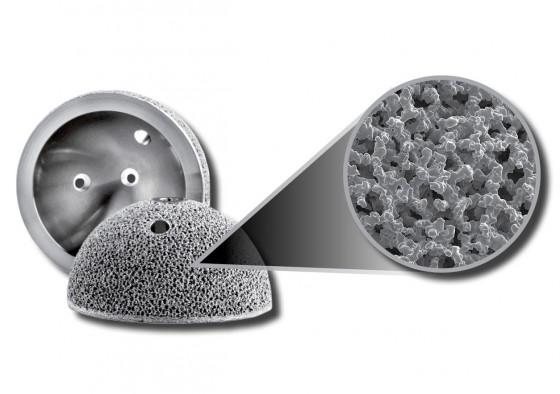 Arcam EBM Delivers Superior Quality in Orthopedic Implants
Quality orthopedic implants that involve standard printings such as press-fit implants can be mass produced. This even includes parts like the ones shown in the picture above. The benefit of being light-weight doesn't just apply to the aerospace industry. You, your parents, and your grandparents are likely to prefer a new addition to your bone structure that feels light and natural. If you or someone you know has an orthopedic hip implant, chances are that you are familiar with the discomfort.
In addition to complaints of discomfort, there have been thousands of lawsuits stemming from hip and knee replacement failure. The other metal sintering techniques have yielded complaints that include metal breakage, excessive stiffness, loosening of the connection between the bone and the device, and fractures near the artificial joint. Arcam's EBM technology manufactures porous structures that work with the natural human body to either eliminate or mitigate all of the aforementioned setbacks.
Risks, Questions, and Concerns
1. Arcam AB Trades on the OTCPK. Unfortunately, Arcam has not decided to upgrade to a major U.S. market listing, thus making the pink sheet route the only way to invest with U.S. currency. Fortunately, Arcam is listed on the highly regulated Nasdaq OMX (ARCM.ST). In terms of financial risk, there is no direct impact; however, this type of listing historically deters American investments.
2. Terry Wohlers recently expressed that the 3D printing metals industry still has hurdles to overcome. There are still major questions to be answered, such as how to extract metal powder after it is printed. I am optimistic about Arcam because it already has found an industrial niche despite the obstacles in the sector. EBM is currently the best and possibly the only effective method of additive manufacturing for metals; fortunately, Arcam has patented this technology.
3. What if Arcam's medical technology fails and they face lawsuits? Anything is possible with today's legal system. Normally the responsibility would fall on the medical practice, but any time a business's products involve medical procedures there is a level of risk.
4. Arcam is a 3D printing stock. As I have mentioned, I believe Arcam is the most undervalued and oversold 3D printing company. That being said, if the entire sector continues to get punished or if there is a market crash, then I have little reason to believe that Arcam AB shares will resist.
5. My friend told me that all the smart investors only buy shares of 3D Systems and Stratasys. Is this true? Ask your friend if he or she has ever heard of Oppenheimer, Mellon Bank, State Street Bank, or Morgan Stanley. They are four of the five largest institutional shareholders of Arcam. I learned this recently from an investor who knows a lot more than I do about 3D printing.
Conclusion
I feel that Arcam AB can easily have a leading share in both the aerospace and orthopedic implant markets. I believe Arcam doesn't receive enough attention for what it will accomplish in its plethora of implant roles. As our society continues to develop new biotech, we should expect a broader range of applications. We have only scratched the surface of what is possible with EBM, an industry that belongs to Arcam AB.
Disclosure: I am long AMAVF. I wrote this article myself, and it expresses my own opinions. I am not receiving compensation for it (other than from Seeking Alpha). I have no business relationship with any company whose stock is mentioned in this article.
Disclaimer: Before investing in any security, it is wise to do your own research.