The following is a list of stocks in rally mode, i.e. trading above 50-day and 200-day moving averages. Options traders and short sellers all expect these rallies to end.

On the other hand, if you're a contrarian, you might perceive the bearish consensus as a buy signal.

For each stock, we'll list the Put/Call ratio, and include an analysis of the short float. Options data sourced from Schaeffer's, and short interest data sourced from Finviz.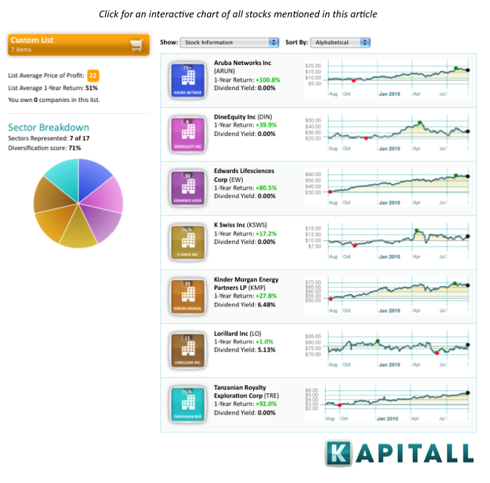 The list has been sorted by short ratio.

1. DineEquity, Inc. (NYSE:DIN): Restaurants Industry. The stock is 0.08% above its 50-day SMA, and 3.92% above its 200-day MA. Short float at 21.4%, which implies a short ratio of 13.13 days. Put/Call ratio at 1.52 (4,194 call open interest vs. 6,394 put open interest).

2. K-Swiss Inc. (NASDAQ:KSWS): Apparel Footwear & Accessories Industry. The stock is 3.03% above its 50-day SMA, and 8.83% above its 200-day MA. Short float at 6.27%, which implies a short ratio of 12.57 days. Put/Call ratio at 4.12 (2,024 call open interest vs. 8,343 put open interest).

3. Aruba Networks, Inc. (NASDAQ:ARUN): Computer Peripherals Industry. The stock is 2.05% above its 50-day SMA, and 29.89% above its 200-day MA. Short float at 24.52%, which implies a short ratio of 11.9 days. Put/Call ratio at 3.95 (10,430 call open interest vs. 41,153 put open interest).

4. Tanzanian Royalty Exploration Corp. (TRE): Gold Industry. The stock is 8.16% above its 50-day SMA, and 26.69% above its 200-day MA. Short float at 2.56%, which implies a short ratio of 7.78 days. Put/Call ratio at 2.71 (8,851 call open interest vs. 23,952 put open interest).

5. Lorillard, Inc. (NYSE:LO): Cigarettes Industry. The stock is 4.12% above its 50-day SMA, and 3.5% above its 200-day MA. Short float at 6.87%, which implies a short ratio of 6.88 days. Put/Call ratio at 1.79 (10,908 call open interest vs. 19,536 put open interest).

6. Kinder Morgan Energy Partners LP (NYSE:KMP): Oil & Gas Pipelines Industry. The stock is 0.95% above its 50-day SMA, and 8.29% above its 200-day MA. Short float at 2%, which implies a short ratio of 6 days. Put/Call ratio at 2.91 (5,908 call open interest vs. 17,168 put open interest).

7. Edwards Lifesciences Corp. (NYSE:EW): Medical Appliances & Equipment Industry. The stock is 1.96% above its 50-day SMA, and 16.27% above its 200-day MA. Short float at 4.92%, which implies a short ratio of 5.77 days. Put/Call ratio at 2.42 (8,335 call open interest vs. 20,212 put open interest).

Disclosure: No positions