We are surprised at how strong natural gas prices have remained, as well as the continued support traders have had for the United States Natural Gas ETF (UNG), which has historically been a disappointment for investors. So long as prices remain strong, this should not be too much of a concern, but with drill programs picking up and dry natural gas production set to increase in many plays this summer, we think that prices will become an issue sooner rather than later.
This is not to say that we are not bullish the energy plays, which we are, but when looking at the big picture, we always like to try to identify the potential pitfalls. In the energy complex, natural gas pricing stands out, in our opinion.
Chart of the Day:
Coffee prices remain strong after having gone on an impressive run this year. The iPath DJ-UBS Coffee TR Sub-Index ETN (NYSEARCA:JO) has been our recommendation for how investors could play this commodity in light of the recent news that America is going to help Central American farmers whose Arabica crops are being ruined by coffee rust, a fungus that could ruin anywhere from 15-40% of future crops in the next few years. Although affecting the high end of the market, this could keep coffee prices in bull market territory moving forward.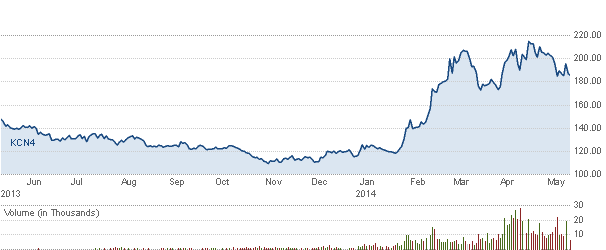 Source: CNBC
Commodity prices are as follows (at time of submission):
Gold: $1,295.90/ounce, up by $2.50/ounce
Silver: $19.375/ounce, up by $0.046/ounce
Oil: $102.96/barrel, up by $0.94/barrel
RBOB Gas: $2.9717/gallon, down by $0.0018/gallon
Natural Gas: $4.513/MMbtu, up by $0.10/MMbtu
Copper: $3.1675/pound, up by $0.0205/pound
Platinum: $1,472.50/ounce, up by $6.40/ounce
GE's Problems In Europe
Although General Electric (NYSE:GE) announced a deal to acquire the power division of France's Alstom recently, many expected the French government to launch a search for another bidder in order to keep an American company from taking over one of their "national champions." The deal was written in a way that allowed for others, specifically aimed at Germany's Siemens (SI), to look over the books and decide if it wanted to pursue a deal, and it is looking more likely that this will take place.
France ultimately has final say, and we have seen the government make some horrible decisions for even small sub-$1 billion deals that kept foreigners from buying assets with no cash flow and high burn rates. Right now it appears that Alstom is still in favor of General Electric's heavy cash deal and far less excited about a possible deal with Siemens where Alstom would receive operating assets (train signaling) in exchange for its power business.
What is clear right now is that General Electric's deal is relatively clean and simple. Any type of a deal with Siemens is complex and a hodge-podge of agreements that are meant to sweeten its offer and make it more appealing to the French government and Alstom's board. There is also the possibility that it leads to Alstom's nuclear assets being sold to another French company, Areva (OTCPK:ARVCF), in order to maintain France's dominate position in that area.
The Bigger Get Bigger
If Areva were to get French backing to purchase Alstom's nuclear assets, then it would add considerable scale to its product offering in delivering the full array of services needed to bring a plant online. This would drive it further away from its mining of uranium, and could lead to the possibility that it strikes supply deals with Canada's Cameco (NYSE:CCJ) to source uranium for clients in certain locales moving forward. It is a long shot, but one has to remember that Areva has not had the best of luck branching out into new geographic areas and could seek to stick to areas it knows. This would be good news for Cameco and Denison Mines (DNN), as those companies continue to develop properties to bring into production in an area Areva has historically operated in -- Canada's prolific Athabasca Basin.
Cameco is back at its yearly lows, but consolidation in the nuclear supply chain and industry are good news and could provide a slight bounce.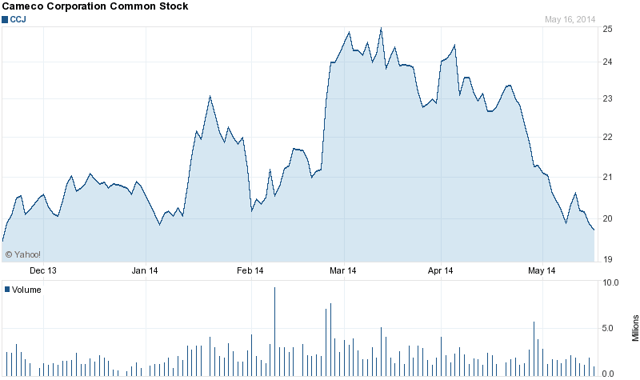 Source: Yahoo Finance
Areva could also go the route of keeping all of the riches to itself, but after its recent missteps and the need to receive a bailout from the French government, we think that it seeks partners in future deals to deliver material to customers.
Disclosure: I have no positions in any stocks mentioned, and no plans to initiate any positions within the next 72 hours. I wrote this article myself, and it expresses my own opinions. I am not receiving compensation for it (other than from Seeking Alpha). I have no business relationship with any company whose stock is mentioned in this article.
Editor's Note: This article discusses one or more securities that do not trade on a major U.S. exchange. Please be aware of the risks associated with these stocks.