Thanks to terrible weather, many names in the retail space have been underperforming. We most recently saw this with the giant of the space, Wal-Mart (NYSE:WMT) which disappointed investors with its most recent earnings report.
Other, smaller companies have also seen weakness lately, and especially so in the drug store space. These companies have not only been hit hard by the weather, but also intense competition for drugs and supplements among a variety of companies which is dragging down one of the more famous names in the space, GNC Holdings (NYSE:GNC).
GNC in Focus
GNC focuses on health and wellness products for its sales, specifically in the vitamin, mineral, and supplement segments. The company has over 8,600 locations around the globe and it has become pretty ubiquitous in strip malls and the like across the U.S.
While this has been a solid business for GNC for quite some time, the company has run into a bit of trouble lately. The stock has lost over 37% of its value in just the past six months as heavy competition and lower demand have rocked shares of this retail name. And worst of all, the pain may just be getting started as evidenced by the most recent earnings report for GNC.
Last Earnings & Outlook
In the company's most recent report, it just missed analyst estimates of 76 cents a share, posting earnings of 75 cents instead. This follows up a miss in the previous quarter as well, suggesting that GNC is having great difficulty in meeting analyst expectations.
If that wasn't enough, GNC also slashed its full year guidance, cutting about 10 cents a share off of the previous company-given estimate. In other words, the heavy competition and weak growth could continue, meaning that more sluggish trading could be ahead for GNC.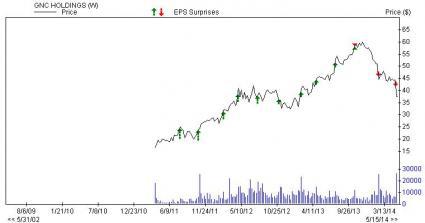 Estimates Coming Down
As you might expect given the bearish outlook from the company, analysts have been cutting their full year estimates for GNC too. In fact, 10 estimates have gone lower in the past month for GNC's current year earnings, while not a single one has gone higher.
This has pushed the consensus estimate down to just $3.05/share from $3.22/share 30 days ago, while investors have also witnessed a similar trend for the current quarter and next year time frames too. For these reasons, GNC has fallen to a Zacks Rank #5 (Strong Sell), meaning that we expect this company to continue its underperformance streak this summer too.
Other Picks
Unfortunately, the retail drugs industry doesn't have a great rank as it is in the bottom 25% at time of writing. Meanwhile, one of its main rivals, Vitamin Shoppe (NYSE:VSI), only has a Zacks Rank #3 (Hold) and has just marginally better prospects for its near term outlook.
There is one solid looking choice in the retail drug space though, Rite Aid (NYSE:RAD). This stock currently has a Zacks Rank #1 (Strong Buy), and recently saw a huge earnings beat. Given this, RAD might be a better choice for investors seeking to make a retail play at this time, and particularly so when compared to the struggling GNC.
Want the latest recommendations from Zacks Investment Research? Today, you can download 7 Best Stocks for the Next 30 Days. Click to get this free report (email registration required)