If you're totally new to investing, you might not know that there are two retail juggernauts that dividend growth investors like to compare: Wal-Mart (NYSE:WMT) versus Target (NYSE:TGT). They are very similar, although at a glance, you can still see some differences.
Wal-Mart
P/E = 15.90
P/B = 3.26
Yield = 2.50%
Market Cap = $250B
ROE = 21%
Target
P/E = 19.10
P/B = 2.40
Yield = 2.90%
Market Cap = $37B
ROE = 12%
Note that TGT's P/E is up and ROE is down because of a recent "bad patch" of results that I pointed out back in January (i.e., data breach, Canada rollout). As a quick aside, over a 5-year period, it's been down around a P/E of 12 and up through a P/E of 20.
You might look at that as a sign of more troubles coming, or you might see those snafus as short-lived, giving you a buying opportunity. In any event, those specific catalysts are not my focus here, because I've covered them previously.
What I'm going to focus on here is my "Super Dividend" ranking methodology to help you see how things look right now for dividend growth investors. You'll see how TGT stacks up against WMT, but also the universe of dividend-growing companies.
Quick History on Methodology
Back in 2013, I wrote several articles based on David Fish's Dividend Champion Spreadsheet. Month by month, I was separately ranking Dividend Champions, Contenders and Challengers. To understand this ranking methodology fully, take a quick peek at this article: Super Dividend Champions (October 2013), because I go through everything in detail.
I've taken David's spreadsheet for May 2014, and I've rank-ordered everything (Champions, Contenders, Challengers) according to their Chowder, Tweed, Yield and so on. So, you can see the universe of stocks ranked in one simple view.
Choosing the Data
I'm using these 10 columns of data from David Fish's spreadsheet, and the 10th column ("S") is an equal-weighted sum of the data. I'm assuming that no column is more important than any other column.
I'm also providing the shorthand for the column labels. For example, "C" is for Chowder, "T" is for Tweed and so on. This will make cross-referencing easier for you.
Chowder ("C")
Tweed ("T")
Div. Yield ("Y")
EPS % Payout ("E%")
Past 5 Years' Div. Growth ("G")
A/D Ratio ("AD")
Payback Years ("PB")
Price Above Low ("L")
Confidence Factor ("CF")
Number of Years Paying Dividends ("NY") ***
Summarized Data ("S")
*** "NY" is a new column I added, because I'm now comparing all Champions, Contenders and Challengers, and I believe that number of years is something that requires consideration and weight. Furthermore, I'm multiplying the number of years paying and I'm multiplying by 10 to get a better-fitting number in relation to all the other numbers in the chart. TGT has paid out for 46 years, so it gets a score of 460 for the "NY" column.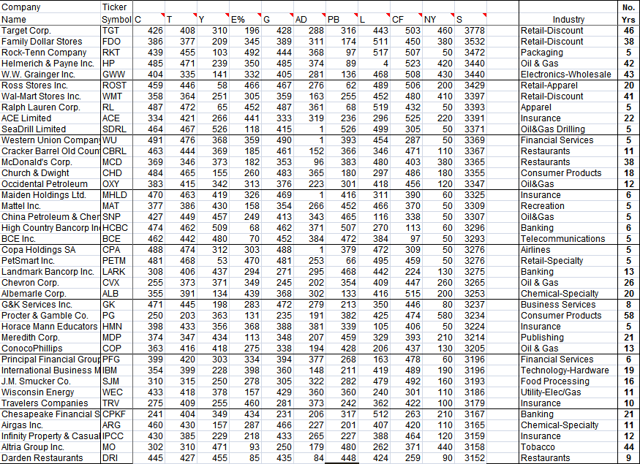 You can see based on this ranking methodology that TGT is #1 and WMT is #7 out of the whole universe of Champions, Contenders and Challengers; that's 525 companies, by my count.
What Happened in 15 Days?
At the start of May, TGT was trading at $61.75, but as of 16th May, it was trading at $58.64. And at the start of May, WMT was trading at $79.71, but as of 16th May, it was trading at $77.01.
When prices drop, that generally increases my interest level in a company if I'm looking to invest or increase a position. In terms of my ranking methodology, companies gain position as their price drops, because yield goes up, price above low improves (i.e., gets cheaper) and so on. Price drops are good; more value for less money invested.
I've deliberately set this ranking system up so that I'm getting more and more value as prices drop, because I enjoy getting a bargain. I want more value for every dollar I invest.
In any case, the point is that both Target and Wal-Mart have very likely kept their relative positions. I'm guessing TGT is still #1, and I'm betting that WMT is #7 or higher. Price drops have stabilized their positions or improved them.
Retail Sector Being Punished Right Now
As long-term investor, I look for strong companies that are getting pounded hard with short-term problems. And when other investors are negative, I'm likely to sing a little song and do the happy dance, as long as the companies I'm researching have strong moats, future growth prospects and the like.
So, when I see articles with screaming headlines like RETAIL STOCKS SUCK – AND NO, IT'S NOT THE WEATHER, I smile. I love the negativity. I embrace it.
I'm seeing comments about the weather. I'm hearing about unemployment. I'm hearing about fierce online competition from retailers like Amazon (NASDAQ:AMZN). But really, this is all noise to me.
It's Not Target or Wal-Mart, It's Target and Wal-Mart
If we look at AMZN versus WMT or TGT, I see a company with a P/E of 470 and P/B of 13.40. I see Return on Equity that's all over the map over the last 10 years, and which currently stands at 4.2%, if I'm reading things right. Compare that to TGT's currently "crushed" ROE of 12%.
Pure growth investors like the AMZN story, and will invest accordingly. However, you don't hear dividend growth investors or value investors talking about AMZN. But, I digress.
My point is that the entire sector is being punished now, and that's a good thing for long-term investors. And, at the high level, it really doesn't matter if you "pick" TGT or WMT. They are both highly-ranked compared to the universe of other dividend-paying stocks, and they have been for many months.
Indeed, back in October 2013, when I compared just the universe of Dividend Champions, TGT was #1 and WMT was #5. So, you've had time to load up on these beasts.
And you haven't seen AMZN there at all. You won't see AMZN there for many years, in fact, because it pays no dividend, and even if it starts, it won't have any real track record for years.
Does that make AMZN a "bad" stock? Hardly. It just means that AMZN doesn't make sense in relation to TGT and WMT, and it won't make sense to dividend investors and value investors.
Sidebar One: Warren Buffett and Wal-Mart
In the 1st quarter of 2014, Warren Buffett added another load of Wal-Mart stock, and now holds over 58 million shares. WMT is about 4.2% of Berkshire's stock holdings, and it's his 5th-largest holding, behind WFC, KO, AXP and IBM. While not a huge addition, it's yet another vote of confidence in the company. More importantly, it's an indicator that the company is still a fair deal, according to Buffett.
Sidebar Two: Family Dollar, Ross Stores and PetSmart
Because retail "sucks" right now and Mr. Market is keeping prices down, it might be worth your time to look into the other retail stocks ranking highly on my Super Dividend chart above.
Family Dollar (NYSE:FDO), Ross Stores (NASDAQ:ROST) and PetSmart (NASDAQ:PETM) are all in the top 30 out of all longer-term dividend-paying stocks. FDO has paid out for 38 years, ROST has paid out for 20 years and PETM is just getting started, with a 5-year record.
Back in October 2013, PETM wasn't in the top 40 of Dividend Challengers. However, ROST was #15 out of all of the Dividend Contenders back then, and FDO was #15 out of all the Dividend Champions.
My point is that if you're a dividend growth investor, you might want to look into these other retail players given their past rankings, current rankings and the pain right now in the retail industry. (Bonus: Chowder has a great write-up on ROST).
Wrap Up
I believe TGT's price reflects the problems it is facing, and then some. Plus, the market seems to be overly negative on retail. It's keeping TGT's price down. But, I'm seeing TGT's 46-year dividend streak, its long-term fundamentals, its adequate growth record and the damage it's repairing with the data breach and Canadian growth.
I've already got a reasonable position in TGT, otherwise I would likely buy right now. Instead of adding more to TGT, I'm likely to make my first investment into WMT. I've still got some more due diligence, but it's looking pretty good to me right now. I believe that there's still plenty of value in this behemoth.
In short, I don't think you can go wrong investing in either TGT or WMT right now. So, if you can't decide in one or the other, then consider buying both. From an investment opportunity point of view, both Wal-Mart and Target are winning right now. While Mr. Market pounds on these companies and the retail industry, some investors will see value, fair yields, dividend growth and a bright long-term future.
And lastly, if you're feeling more enterprising, or you want to expand into retail beyond TGT and WMT, then definitely dig into FDO, ROST and PETM. I'm going heads down on those three companies in the near future, because there appears to be an opportunity in retail right now, and these are dividend payers with some history I can appreciate.
Disclosure: I am long TGT. I wrote this article myself, and it expresses my own opinions. I am not receiving compensation for it (other than from Seeking Alpha). I have no business relationship with any company whose stock is mentioned in this article.
Additional disclosure: I may initiate a position in WMT and PETM in the next 72 hours.