Earlier this year, Coca-Cola (NYSE:KO) announced its plan to buy 10 percent equity stake in Keurig Green Mountain (NASDAQ:GMCR), adding legitimacy to the do-it-yourself beverage category. Rising demand for customization of beverages and greater convenience among customers has fueled this impressive revenue growth for SodaStream (NASDAQ:SODA). SodaStream aims to lift the do-it-yourself beverage segment into a mainstream alternative to commercial carbonated beverages, as consumers look to shift from sugary high-calorie drinks. SodaStream has disrupted the home-crafted beverage segment by introducing soda maker units, giving consumers more control over their beverage consumption. I continue to believe in the potential of this innovation, but before investing, I need to value this company, and understand what the key growth drivers are for this business.
A typical characteristic of disruptive business in its early stages can include expectations of smaller target markets and products that may not appear as attractive as existing products. These expectations unintentionally create space at the bottom of the market for a new disruptive competitor to emerge. Before assessing value of a company, it is critical to understand the size of the potential market which the company intends to serve as it grows.
Market Opportunity in United States
To estimate the total market available for soda makers and related accessories in United States, we can use existing penetration of coffeemakers in U.S. households as a proxy. According to Green Mountain, 90 million of the 120 million households own a coffeemaker. Since Soda Stream markets its soda makers as a premium brand, households earning $65,000 or more (52 million households) are considered as the target market for its products. Management identifies 8.5 million active users in United Sates, leaving an untapped market potential of 40.5 million households (after adjusting for churn). Average beverage consumption per person in U.S. has declined to 170 liter per year and CDC estimates more than half (52 percent) of it is consumed in the home - creating a total opportunity of 1.5 billion consumable units (using median household size - 2.61 in US) and 160 million units for Co2 cylinder refills.
Before starting with our value analysis, it is critical to identify the major investment themes which symbolize primary growth drivers for SodaStream's business in future.
Operating Leverage
The investment community continues to cite the lack of scalability in SodaStream, restraining the company from competing with popular brands entering the do-it-yourself beverage category. While I agree with investor concerns, investors should not overlook operational capacity for which the company is aggressively investing. One of the most overlooked pieces is Sodastream's decision to self-manufacture packaging components for its products. Choosing to self-manufacture early in their growth cycle will provide a cost leadership advantage to SodaStream as it grows. Growth in household penetration will help in driving operating margins higher -an aspect much-overlooked by the investment community.
Platform & Consumables Penetration
In this article, I contend that SodaStream's entry into the do-it-yourself beverage category through its carbonation platform is still in its early stages with plenty of room for growth. By launching an innovative soda maker platform, SodaStream has not only disrupted the dormant beverage industry struggling with health concerns, but has also matched consumer demand for diversity. It has built a strong emotional bonding with its 8.5 million active user base. Soda maker platforms have created a huge opportunity for converting the beverage industry struggles into structural tailwinds for the do-it-yourself category. As consumers embrace sparkling flavored products as an easier alternative to sugary carbonated drinks, empowering consumers with an ability to personalize their drinks will be key in expanding household penetration. Broadening its consumable portfolio to include high quality liquid enhancer products is drawing interest from hesitant consumers as well. The recent partnership with Samsung to add SodaStream's sparkling water dispenser in Samsung's refrigerators not only promotes the brand, but broadens the customer base for its consumables products as well.
One of the most debated issues is the cumbersomeness associated in exchanging Co2 refills for the consumers. Many believe this could possibly inhibit household penetration, but I think presence of a strong retail distribution footprint will unlock this puzzle for the company. We can draw parallels from consumers exchanging propane tanks across the country in an easy and quick way.
Brand Awareness & Retail Distribution
Settling a strong retail footprint in the United States through partnerships with major retailers creates a strong leverage for the company, which promotes brand awareness as well. On their recent earnings call, management reported unaided brand awareness grew at a double-digit pace, and aided awareness rose by 84 percent year-over-year. Later this year, the company plans to increase its presence across new channels and doors including grocery and drug retailers. Also, the company engages with its active consumer base through social media to better understand the consumer's opinion of their products, and what improvements and flavor offerings consumers would be more receptive to in future.
Valuation
Cost of Capital: Even though SodaStream belongs to the beverage industry group, it is heavily exposed to the retail environment -a business risk which should be considered in computing its cost of capital. Also, weighting the revenue by operating regions helps in capturing country-specific risk which SodaStream faces. Considering the aforementioned risks, I estimate of cost of capital for SodaStream at 11.81 percent.
Growth Expectations: For the next 5 years, I project compounded annual revenue growth of 14 percent (lower than 28 percent growth assumed in analyst estimates). I believe the operating leverage will help in expansion of operating margins up to 17 percent (275 basis points expansion in 10-year) in future.
Investment Risks: Key risks to my target price include: macro deterioration, increased platform competition, and doubt associated with future growth. I performed a sensitivity analysis to various revenue growth rates, operating margins and discount rates to understand the risks to my valuation price. The table below highlights the target price sensitivity to variables mentioned above.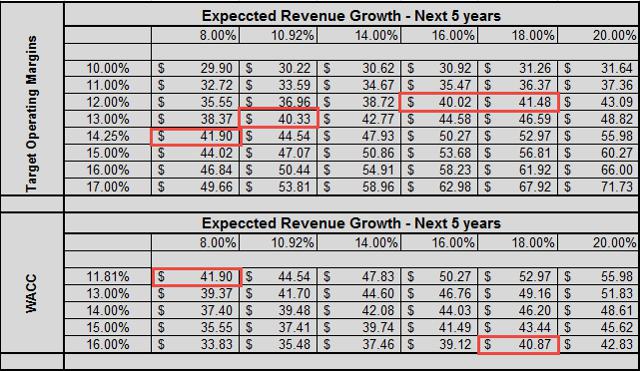 Conclusion
Future growth in SodaStream is fairly priced at 10.5 times last twelve months earnings, whereas at current market prices stock is undervalued by at least 17 percent.
Disclosure: I have no positions in any stocks mentioned, and no plans to initiate any positions within the next 72 hours. I wrote this article myself, and it expresses my own opinions. I am not receiving compensation for it (other than from Seeking Alpha). I have no business relationship with any company whose stock is mentioned in this article.