Stocks have had quite a run up over the past 5 years. Over this time, earnings have grown, balance sheets have become stronger, and the economy has expanded (although not as much as many would like). While this may justify rising stock prices, earnings multiples have grown at the same time, making stocks increasingly expensive. When price out paces fundamentals, eventually a period of consolidation, or even a correction, becomes necessary. Almost 5 years removed from the end of last NBER recession, that time may be approaching as The Federal Reserve continues its taper.
| | | | |
| --- | --- | --- | --- |
| | Current | Mean | Median |
| P/E | 18.74 | 15.51 | 14.54 |
| Shiller P/E | 25.27 | 16.52 | 15.91 |
Valuations may help put things in perspective. With a trailing twelve month PE ratio of more than 18, the S&P 500 may not be extraordinarily expensive, but the fact remains valuations are clearly above average. The Shiller PE tells the same story of a stock market that is expensive but not terribly so.
| | | |
| --- | --- | --- |
| | 2008 | Current (estimate) |
| Price/Book | 2.00 | 2.62 |
| Price/Sales | 0.87 | 1.68 |
For the duration of this bull market, price has risen faster than the fundamentals may justify. Book value and revenue have failed to keep up with the rise in prices as illustrated by increasing price to book and price to sales ratios. The following charts present not only the rise in P/E and Shiller P/E ratios since the market bottom in 2009, but also their historical values over the long term. While these ratios may not be reaching extremes, it is evident they are above average and towards the top of their historical ranges.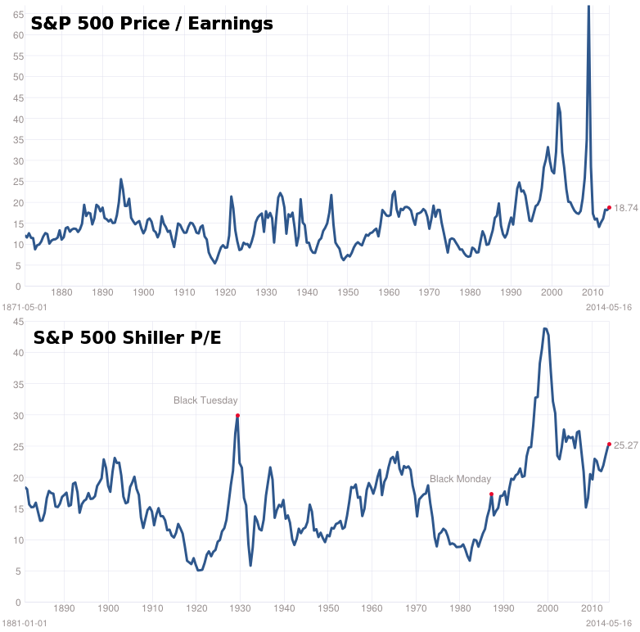 Image Source: Multpl.com
The current valuation of the stock market may warrant caution among investors. It should also be noted that it has been almost 5 years (or 60 months) since the end of the last recession and, as Wikipedia states;
From the trough of the recession of 1945 to the late-2000s recession, there have been eleven periods of expansion, lasting an average of fifty-nine months.
Another recession may simply be due as the economy continues to move through the business cycle. It is also not unusual for The Federal Reserve to tighten monetary policy heading into recessions. While interest rates remain close to zero and are likely to for some time, the slowing of asset purchases by The Federal Reserve is a tightening of monetary policy that is analogous to a rise in interest rates. Typically, tighter monetary policy and rising rates are negatives for the stock market.
On top of the above reasons for apprehension, some sectors and indices which exhibit a tendency to lead stocks have begun to underperform the broader market. While the S&P 500 continues to set records, other sectors have failed to confirm these new highs with highs of their own. Most notably, the Nasdaq, technology stocks, and small caps have failed to set new highs along with the S&P 500, as seen in the chart below.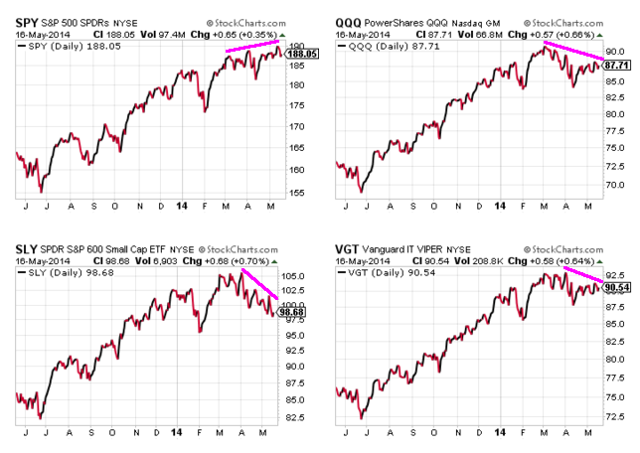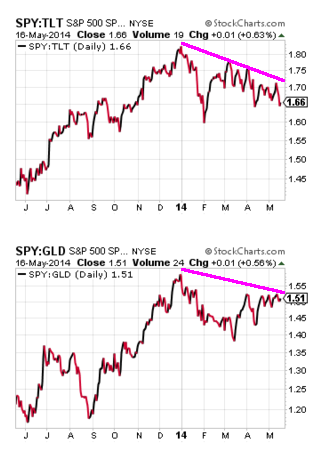 In Addition, the S&P 500 has underperformed safe haven assets such as Treasuries and gold in 2014. The charts to the right show the price of the SPDR S&P 500 ETF Trust (NYSEARCA:SPY) divided by the price of either the iShares Barclays 20+ Year Treasury Bond ETF (NYSEARCA:TLT) or the SPDR Gold Trust (NYSEARCA:GLD) respectively. When the line moves up, SPY is outperforming, but as can be seen, the trend in 2014 is downward. These pieces of evidence point to a market that is scaling back on risk as investors abandon high beta and risky assets in favor of safe ones. However it remains to be seen whether the market is preparing for a decline or just keeping itself in check.
On the purely technical side, while the long term upward trendline remains intact, some indicators have begun to drift downward as the price action continues upward. This is a negative sign as these indicators have a tendency to turn before prices do. This divergence between leading indicators and price should be seen as a warning light. It is not a predictor, sure sign, or confirmation that something has or will go wrong, but rather a signal that extra caution may be necessary.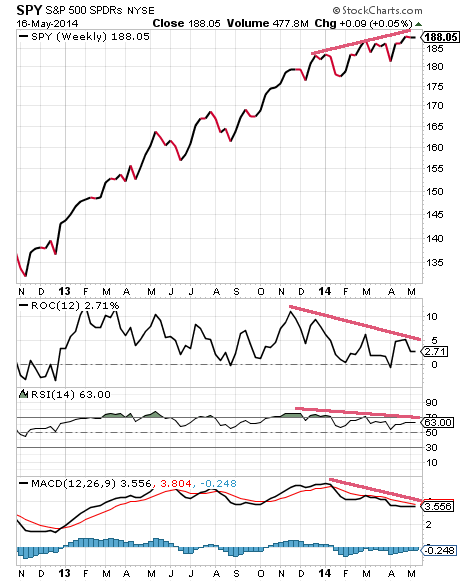 While none of these individual pieces of evidence are particularly damning, when viewed together they present a case for caution with regards to the stock market. It remains unclear if the stock market merely needs to pause and get its legs back under itself or if some market shock will knock it off balance and cause it to fall flat. What is pretty clear, however, is that if you were unfortunate enough to miss the current uptrend and are looking to get back into the market now, you should not expect gains in the next 5 years to be comparable to the 5 years prior.
Disclosure: I am long VGT. I wrote this article myself, and it expresses my own opinions. I am not receiving compensation for it (other than from Seeking Alpha). I have no business relationship with any company whose stock is mentioned in this article.
Additional disclosure: While not long in SLY or SPY, I hold similar Vanguard funds.