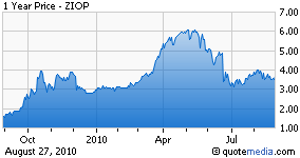 Ziopharm Oncology (NASDAQ:ZIOP): Update
Recent price: $3.50
Shares Outstanding: Approx. 49 million.
Market Capitalization: Approx. $171million
Cash (as of 6/30/10): Approx. $73 million
As summer ends, it is time for an update on Ziopharm Oncology, a NYC based small molecule cancer drug developer. Much has happened to this little company (some good; some bad) over the last year. Before we jump into specifics, let's do a quick review of the company's three drug candidates (see website for more complete descriptions.)
Pipeline Summary
Darinaparsin (ZIO-101 or Zinapar) is novel organic arsenic being developed for the treatment of various hematologic and solid cancers. Darinaparsin is being developed with the goal of avoiding potentially toxic side effects experienced by some patients currently receiving treatment with Inorganic arsenic (such as arsenic trioxide) and potentially expanding the application of this class of agents to a wide array of cancer indications.With ZIO-101(Darinaparsin), Ziopharm is looking to supplant the existing standard of arsenic treatment (Arsenic Trioxide) by offering doctors and patients a better drug and potentially far lower overall treatment costs.
Palifosfamide (ZIO-201 or Zymafos) is a proprietary stabilized formulation of isophosphoramide mustard, the active metabolite of ifosfamide. Ifosfamide is an alkylating drug used to treat diverse cancers including testicular cancer, sarcoma, and lymphoma. Palifosfamide delivers only the cancer fighting component of ifosfamide without the two toxic metabolites of the parent drug that cause the debilitating side effects of "fuzzy brain" (encephalopathy) and severe bladder toxicity. Continuing on the theme of lower treatment costs with fewer side effects, ZIO -201 takes a similar approach in attempting to improve on the performance of an existing treatment agent (ifosfamide) by isolating "the warhead" of the incumbant drug and reducing collateral damage to healthy cells/systems.
Indibulin (ZIO-301 or Zybulin) is a novel, unique targeted tubulin binding agent which targets both mitosis and seeding. The drug is being developed with Dr. Larry Norton of Memorial Sloan Kettering, a world renowned breast cancer specialist.
Recent Events
12/4/2009- Ziopharm Oncology Inc. announced a public offering of 15.5 million common shares and warrants to buy 7.7 million shares in a public offering. The deal was priced @ $3.10 per unit and netted the company approximately $45.2 million.
5/27/2010- The company sold 7,000,000 shares @$5.00 per share. The net proceeds to the Company from this offering were $32.8 million. I believe this offering took many Ziopharm shareholders by surprise given the robust state of the company's balance sheet at the time of the deal. Since many were looking for a partnering deal at this juncture, the stock traded down on the news of this unexpected financing round.
6/21/2010- The Company announced that the FDA turned down its request for a special protocol assessment (SPA) for the proposed PICASSO III Palifosfamide trial in Sarcoma. Ziopharm was shooting for progression free survival (PFS) as a primary endpoint but the regulators seem to be currently less willing to grant approval on this surrogate endpoint and are tilting toward the more traditional overall survival (OS) criteria. The shares reacted to the news as expected since the lack of an SPA has potentially lengthened the approval timeframe (more below).
In light of these events, Ziopharm has undergone a major transformation over the last year. The company has gone from being a cash starved micro-cap issuer in desperate search of a partner and emerged as a well capitalized company with much more control over its own destiny. Why did Ziopharm choose not to partner? It's anyone's guess, but my gut tells me that the terms offered by Big Pharma were simply not attractive enough and management chose to take the short term pain (dilution) now in return for greater potential down the road. Whatever their thinking, with $70 million in the bank as of the end of Q2, ZIOP now has the ability to rapidly move all 3 drugs forward in a variety of disease settings.
Upcoming Trials
Palifosfamide- With its expanded balance sheet, ZIOP is planning to engage in several trials over the next several months. In ZIO-201, the company has decided to push ahead with the PICASSO III (Sarcoma) trial without the SPA and is currently enrolling patients at approximately 150 centers in North America, Europe, South America, Australia, Israel and Korea. The study is a randomized, double-blinded, placebo-controlled trial designed to enroll approximately 424 patients with metastatic soft tissue sarcoma in a front line setting (treating patients who have never been treated with chemotherapy for metastatic disease). PICASSO III is designed to evaluate the safety and efficacy of palifosfamide administered with doxorubicin compared with doxorubicin administered with placebo, with no crossover between arms. Progression-free survival (PFS) is the primary endpoint for accelerated approval, with overall survival (OS) as the primary endpoint for full approval. In a nutshell, I believe the use of dual endpoints indicates that accelerated approval is still possible but in no way guaranteed.
ZIOPHARM is also exploring the use of Palifosfamide (ZIO-201) in other disease settings. The Company expects to initiate a Phase I trial of palifosfamide in small cell lung cancer (SCLC), with Lawrence Einhorn, M.D., Lance Armstrong Professor of Oncology at the Indiana University Simon Cancer Center, in the fourth quarter of 2010. If successful, this safety and tolerability study will be followed by a randomized Phase II study. Ziopharm is also continuing to explore oral delivery of ZIO-201 with Stamford University. A Phase I (oral dosing) trial is expected to initiate in the fourth quarter of 2010. Additionally, ongoing pre-clinical studies are being run in various pediatric diseases such as sarcoma and brain cancer as well as an early stage breast cancer program under the direction of Dr. Larry Norton.
Dariniparsin- With cash in the bank, Ziopharm has finally re-initiated enrollment in a Phase I trial of its oral formulation of darinaparsin (ZinaparTM or ZIO-101) in solid tumors. Management also plans to initiate a Phase I trial of IV delivered darinaparsin used in combination with "CHOP," (a therapeutic regimen commonly used in the treatment of lymphomas) to establish safety and tolerability of the combination for subsequent use in a pivotal randomized trial for the front-line treatment of peripheral T-cell lymphoma (PTCL) with an estimated worldwide market potential of $250-500MM .
Indibulin (ZybulinTM or ZIO-301) -Ziopharm is currently enrolling patients in a Phase I/II study in metastatic breast cancer (triple negative subset) which is being conducted at Memorial Sloan-Kettering Cancer Center.
As you can see, Ziopharm has laid out a very aggressive calendar for clinical trials. The good news is that if even only a few of these trials pan out, management may find itself in the enviable position of having "multiple shots on goal" for drug approval. That said, there is no free lunch in biotech. The costs of even a small trial are significant, and having PICASSO III running concurrently with several smaller trials will eventually deplete ZIOP's robust cash reserves unless additional funding can be obtained. How this story ends is anyone's guess but here are a few potential outcomes.
Scenario #1- Go it Alone (AKA The Brett Favre throw deep into triple coverage and pray strategy) – Will Ziopharm forge ahead and try to finish off the PICASSO III trial on its own while retaining full rights to the drug? In this scenario, if ZIOP moves into the results phase of PICASSO with no partners it will be gambling on landing on the right side of a binary outcome. Two companies recently took this tack with Poniard losing its wager and Dendreon emerging as a big winner. Even if the PICASSO III trial didn't fail outright, but the FDA simply called for additional confirming studies, ZIOP could once again find itself with a tenuous cash position and a long approval timeline on its lead drug. Odds: 15 to 1
Scenario #2- Partnering to spread the risk- While Ziopharm has indicated that it has no desire to give up North American/European rights on its lead compound Palifosfamide, it could still choose to pursue the middle ground and sell the Asian rights to this drug. Another option would be to try to partner one of the earlier stage programs in an effort to further bolster the balance sheet while not subjecting investors to (yet another) financing round. ) Odds: Even Money
Scenario #3- A Corporate Transaction- The third scenario is surprisingly likely to be based not on progress in the PICASSO trial, but rather advancements being made in one either of the programs associated with the other two drugs, or perhaps the proposed palifosfamide SCLC (an estimated $400MM worldwide market) trials. A small biotech with a late stage program (PICASSO III) and potentially holding full ownership rights to multiple early and mid stage trials may prove to be a tempting takeover target. With a breast cancer trial, a proposed SCLC trial and results coming in from the ZIO-101 oral program, 2011 will likely be a very interesting year for Ziopharm shareholders. Odds: 10 to 1
The Big Boys Move In
On a final note, the recent financing rounds have tilted the ownership structure of the company quite dramatically. A year ago the major holders here were primarily early stage VC firms such as Essex Woodlands and others. Recently, the stock has been on the radar of several traditional mutual fund investors including Fidelity, Vanguard and TIAA-CREF as well as some new VC backers such as the Baker Brothers and QVT (please see table below). I am not sure if this change in ownership will influence the outcome, but I feel better holding my shares with the knowledge that Fidelity has likely done some very thorough due diligence prior to buying 14% of the company.
At 40% off the recent highs, I believe ZIOP may be an interesting speculation on its own merits for risk tolerant investors. Ziopharm may also offer additional upside to investors if the company ever manages to negotiate a partnering transaction or if at some point, ZIOP is the subject of a potential takeover transaction.
| | | | | | | | |
| --- | --- | --- | --- | --- | --- | --- | --- |
| Institution Name | Shs Held | Shs Chg | %Chg | | %Out | %Port | Rpt Date |
| Fidelity Management & Research | 7,004,398 | 4,263,238 | 155.5 | | 14.3 | 0.0 | 06-30-10 |
| QVT Financial LP | 3,490,400 | 204,400 | 6.2 | | 7.1 | 0.7 | 06-30-10 |
| AWM Investment Company, Inc. | 2,013,973 | 0 | 0.0 | | 4.1 | 0.9 | 06-30-10 |
| BlackRock Institutional Trust Company, N.A. | 1,700,999 | 1,627,378 | 2,210.5 | | 3.5 | 0.0 | 06-30-10 |
| Baker Brothers Advisors, L.L.C. | 1,045,000 | 400,000 | 62.0 | | 2.1 | 0.3 | 06-30-10 |
| Millennium Management LLC | 1,009,791 | -218,438 | -17.8 | | 2.1 | 0.0 | 06-30-10 |
| State Street Global Advisors (US) | 724,265 | 713,665 | 6,732.7 | | 1.5 | 0.0 | 06-30-10 |
| SuttonBrook Capital Management, L.P. | 700,000 | 700,000 | 100.0 | | 1.4 | 0.7 | 06-30-10 |
| Visium Capital Management | 479,300 | 479,300 | 100.0 | | 1.0 | 0.1 | 06-30-10 |
| Vanguard Group, Inc. | 452,658 | 373,664 | 473.0 | | 0.9 | 0.0 | 06-30-10 |
| Pyramis Global Advisors, LLC | 321,100 | 321,100 | 100.0 | | 0.7 | 0.0 | 06-30-10 |
| TIAA-CREF | 321,077 | 321,077 | 100.0 | | 0.7 | 0.0 | 06-30-10 |
| Northern Trust Investments, N.A. | 320,399 | 302,058 | 1,646.9 | | 0.7 | 0.0 | 06-30-10 |
| DWS Investment GmbH | 307,468 | -112,694 | -26.8 | | 0.6 | 0.0 | 06-30-10 |
| Henderson Global Investors Ltd. | 293,034 | -7,886 | -2.6 | | 0.6 | 0.0 | 06-30-10 |
Disclosure: Author long ZIOP