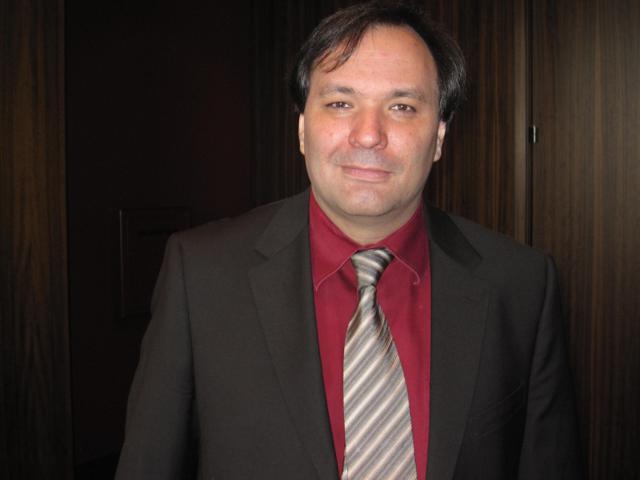 Andres Carbacho-Burgos is a senior economist at Moody's Analytics. Previously, he was an economics professor at Texas State University.
Harlan Levy: What does the latest data tell you about the U.S. economy?
Andres Carbacho-Burgos: My guess that consumer confidence will be improving now more than in the first three months of the year. That's because of a lot of purchases, hiring decisions, and sales decisions were pushed back during the winter months and are just starting to gain steam again.
The data we have indicates that the economy will resume the moderate upward trend of mid-2013 before it started slowing down at the end of last year.
We expect Gross Domestic Product growth for this year to come in at around 2.6 percent, and to improve substantially in 2015 to around 3.9 percent.
That looks very optimistic on paper, but you have to remember our approach has been that once an economic recovery gets underway, you also get an acceleration in labor force participation, along with stronger hiring, which would mean faster GDP growth in one or two years after recovery takes off.
HL: Should the Federal Reserve be happy with slightly higher inflation and a better job market, and are you?
ACB: Yes. I'm with those economists who would say that it's the labor market that is the area of concern for the Fed, and what the Fed needs to do is to encourage hiring. That means not just bringing down the unemployment rate. It also means increasing the employment-to-working-age-population ratio. In terms of monetary policy, that may mean having a lower time trend with interest rates. That may mean necessarily a temporarily higher rate of inflation than what we're seeing now.
HL: A large number of Republicans in Congress say we should be terrified of inflation and want federal action to control it. Are they way off base?
ACB: Yes. I can't give political pronouncements, and the most I will say is that the position of worrying about inflation would be more plausible if the economy were in 1970s conditions, when we had a combination of supply-side energy shocks and the economy operating near capacity in some of those years.
Right now the economy is operating very much under capacity, and the employment-to-working-age-population ratio is way below trend.
So there's no reason to think there will be wage inflation or general overall inflation if the Fed were to pursue a somewhat looser monetary policy.
HL: What do you see happening with jobs?
ACB: Roughly, for total industry employment we expect 1.9 percent growth this year and 2.5 percent growth next year. In other words, a slight acceleration of job growth.
For 2014, we expect job growth to be in excess of 200,000 per month. For 2015, we expect the recovery to be fully underway, and we expect closer to 300,000 jobs per month. If we saw 300,000 jobs per month perpetually, that would be too good to be true, but for the first year or year and a half when a recovery accelerates, that's a plausible number.
HL: What's your assessment of housing and housing starts?
ACB: Housing starts have slowed down over the past five to six months for a couple of reasons. First, there's the bad winter weather and a related slowdown in home sales.
Secondly, because a lot of construction has gone to multi-family homes instead of single-family homes and also because the initial burst of rapid house price growth has started to slow down. House price growth is slowing because in many metro areas house prices are no longer undervalued. That reduces demand pressure.
HL: What's happening with the stock market's extreme gyrations, way up and then way down, and not only last week?
ACB: We don't try to explain the stock market on a daily, weekly, or monthly basis, because the stock market tends to be too volatile. But we do forecast a couple of stock market indicators on a quarterly basis. Right now, we would say that the stock market is doing well overall; in fact, much better than the overall economy by most measures because most companies have very good earnings at the moment relative to costs, especially labor costs.
What's been happening over the past several years is that productivity has kept increasing, but wages have increased only minimally, and energy costs have been controlled. As a result, corporate profits have done quite well, and that has filtered down to the stock market.
But that has not led to a burst of business investment yet. The one exception is construction of multi-family homes, which has started to take off.
HL: If the 10-year bond yield can be a gauge of jitters over stocks, the U.S. economy geopolitical risk and deflation, what do you see happening now at its current rate and recent direction down?
ACB: Bond market yields, especially for Treasurys, have fluctuated almost as much as stocks over the past two years. In mid-2013 bond rates went up, including the 10-year Treasury, because the Fed announced it would taper mortgage-backed securities and bond purchases.
In the past eight months, Treasury yields have slowed down and are holding at about 2.7 percent for the 10-year, because, first, there was increased uncertainty about the economy due to the fiscal stalemate in Washington, and then because of the recent slowdown of hiring over the past three to four months.
But we predict that as the economy reverts to a moderate recovery and as that recovery accelerates in 2015, that the Treasury rate will continue to increase and will breach 4.5 percent by the end of 2015, and that's very close to its long-term trend rate.
Usually, as bond rates rise to that long-term average, it's because of a tightening economy. Workers are being hired. There's more labor force participation, and the economy is getting closer to full capacity. For that reason, the Fed has to make borrowing more expensive to keep inflation under control.
HL: What are strong sectors and weak sectors?
ACB: The strongest sectors have been education and health care, because you have the millenials entering college, and reduced labor force participation means more people tend to go to school.
Health care is doing very well and expanding because health care is the least sensitive to the business cycle, and also because we see the start of retirement of the baby-boom generation. As that generation gets older, that means increased consumption of health care services.
Portions of the economy doing less well are leisure and hospitality industries, especially casinos. For most casinos in the U.S., they're lucky if they're holding their own on overall activity, including slot machine revenues. They're also faced with a combination of a slow economic recovery and increasing competition.
The other sector that has not recovered is business investment, including commercial construction. That's despite a high earnings-to-cost ratio, vacancy rates are still above long-term trends, so there's no incentive for businesses to expand space capacity or production capacity.
HL: How worried are you about deflation in Europe, which seems to be in bad shape?
ACB: The problem in Europe is not deflation per se, but, rather, a fiscal and monetary regime that is preventing any rapid recovery in the southern European countries -- Spain, Italy, and Greece in particular. This problem is starting to spread to France because in order to keep the bond market happy, the government has had to drastically cut spending in its forthcoming budget.
Overall, growth in the French economy will stay very slow in the coming year. That means that the eurozone as a whole will be a one-country act with Germany providing most of the growth, while almost of the other eurozone economies are barely growing. The United Kingdom is doing better because it doesn't have financial obligations that are euro-denominated, so its monetary and fiscal policies have more flexibility. And it's not tied to the euro. We're somewhat more optimistic about a recovery in the U.K. than in the eurozone.
HL: What do you see happening with Ukraine and Russia and potential harm to the U.S. and global economies?
ACB: In terms of geopolitics, anything could happen. The worst-case scenario is that violence in Eastern Ukraine escalates, leading to both additional economic sanctions against Russia and the possible shutdown of Russian natural gas exports to Europe via Ukrainian pipelines.
This would be a double shock because it would increase financial insecurity in Europe and energy prices, and would be a drag on European economy growth.
HL: How concerned are you about China's economy?
ACB: Not too much, at least not in comparison to Russia and the eurozone. The bad news is that China is still suffering indigestion from a property price bubble, and many of its banks have a lot of bad loans on their balance sheets.
The good news is that the Bank of China and the Chinese government have not hesitated to provide strong bail-out guarantees, and the Chinese economy still has sufficient expansion potential and a large stock of foreign currency reserves so that will help any bail-out from being inflationary.
Disclosure: I have no positions in any stocks mentioned, and no plans to initiate any positions within the next 72 hours. I wrote this article myself, and it expresses my own opinions. I am not receiving compensation for it (other than from Seeking Alpha). I have no business relationship with any company whose stock is mentioned in this article.