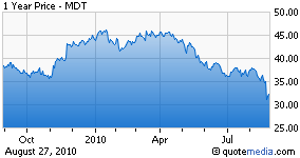 Company Overview: Medtronic, Inc. (NYSE:MDT) develops, manufactures, and sells device-based medical therapies worldwide. Its Cardiac Rhythm Disease Management segment offers cardiac pacemakers, implantable defibrillators, cardiac resynchronization therapy devices, atrial fibrillation products, leads, ablation products, electrophysiology catheters, information systems, diagnostics and monitoring products, and patient management tools. The company's Spinal segment offers thoracolumbar, cervical, and interbody spinal devices; bone growth substitutes; and devices for vertebral compression fractures and spinal stenosis. Its CardioVascular segment offers coronary and peripheral stents and related delivery systems, endovascular stent graft systems, distal embolic protection systems, perfusion systems, positioning and stabilization systems, products for the repair and replacement of heart valves, and surgical ablation products, as well as balloon angioplasty catheters, guide catheters, guidewires, diagnostic catheters, and accessories.
Prognosis: The stock has dropped over 30% since it highs earlier in the year with recent downside momentum triggered by declines in key businesses that were worse than modest expectations during its last earnings report. It is now in bargain territory.
Valuation: MDT is selling for approximately 9.5 times this year's consensus earnings and 8.5 times next year's projected earnings. It is selling at roughly 9 times operating cash flow. It also sports a decent 2.8% dividend yield. Its valuation is at a five year low measured by P/E, P/S, P/CF or P/B.
Catalysts: There are several factors that we believe should provide support for a higher stock price in the near and medium term:
It is rolling out several new products in the spinal and cardiac rhythm management arenas

Margins should improve as cost optimization efforts continue to bear fruit

Recently acquired emerging technology to treat atrial fibrillation and transcatheter heart valves should provide new growth prospects

Company should continue to experience strong growth in emerging markets
Recommendation(s): Given its solid revenue streams, decent dividend yield, strong cash flow and low valuation; we feel stock is currently undervalued. In our opinion, the stock should be trading at a more reasonable rate of approximately 13-14 times this year's projected earnings of around $3.40. This is at the very low end of its historical valuation. Our target Price is $44-$48, up from the current price of $32.28.
Disclosure: Author long MDT