Alright, we finally got the breaking news event! DirecTV (NYSE:DTV) is now owned by AT&T (NYSE:T) assuming the two companies get by regulatory approval. In this particular article, I want to get into the nuts and bolts assembly of the deal, and move onto answering all of the questions that readers had presented in my previous article.
Also, AT&T's CEO sounds extremely confident that it will go through regulators in light of recent trends in telecom and communications.
Summary of the deal:
AT&T bought out DirecTV for a value of $95 per share (basically $48.5 billion).
The deal comprises of $28.50 per share in cash, and $66.50 per share in AT&T stock.
The number of shares that DirecTV shareholders will receive from AT&T is contingent upon the fair value of the stock when the deal was closed.
The number of shares that DirecTV shareholders will receive is between 1.724 and 1.905 and will equate to $66.50 in value.
Finally, AT&T used $14.55 billion in cash to close the deal, which significantly addresses the concern of having enough cash left over for fiber to the premises build out.
In this article I'm going to answer the questions asked by Seeking Alpha readers. A huge portion of Seeking Alpha's success comes from the active participation from readers. I thank you all, for actively debating the merits of the deal. I have read everything you said.
"How does AT&T plan on providing the Internet option to the large number of DirecTV customers (like me) that live far outside AT&T's wireline territory?"
DirecTV uses satellite technology, and while it's expected to become a legacy technology, the technology is sufficient for HD content to the box, along with wireless internet speeds that can stream 1080p content. Admittedly download speeds on satellite trails cable, and fiber but given the cost constraints, it's unlikely that competitors in the space with leading edge technology will attempt to expand their coverage map to rural areas.
Satellite is extremely cost competitive and allows for broader coverage than cable and fiber.
According to DirecTV:
As of December 31, 2013 we provided local channel coverage to markets covering 99% of U.S. television households, 99% in HD.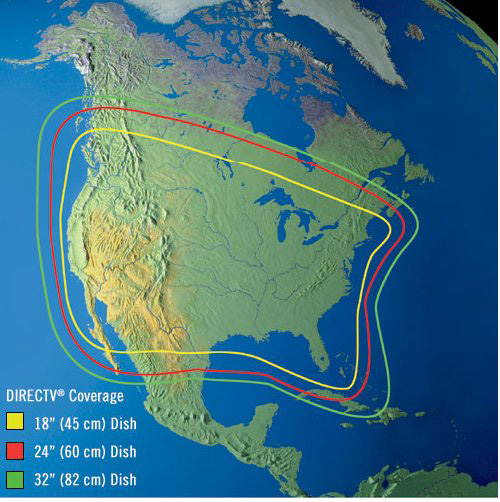 Source: KVH Industries
As you can tell, DirecTV can reach pretty much any household in the United States. AT&T's network on the other hand is still transitioning to next generation 4G LTE.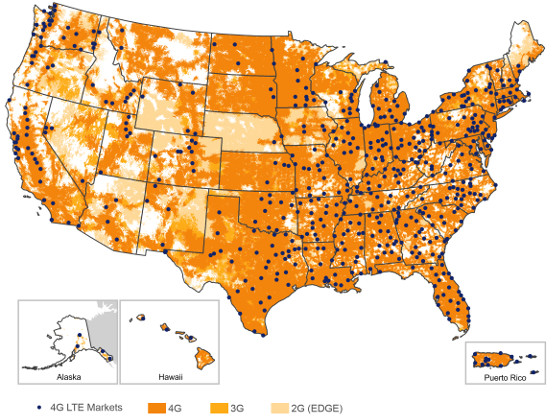 Source: AT&T
As you can tell, AT&T's coverage map of 4G technologies is fairly comprehensive covering 280 million people. The population pockets where DirecTV and AT&T overlap is extremely advantageous for bundling mobile plans with internet and television.
DirecTV will merge with AT&T U-Verse. This combined entity will allow AT&T to rely on legacy technologies as it gradually transition households to next-generation technology.
"Do you think the market is going to initially like this deal or do you expect to see a pullback next week?"
Well after a formal announcement, AT&T's price fell, and because DirecTV's share price is hinged to the value of AT&T's based on the structure of the deal, both stocks have declined. Short-term price tends aren't very relevant.
Investors that were buying into the news are likely to liquidate. However that liquidation isn't likely to impact the long-term return of AT&T by much, and since DirecTV shareholders are also AT&T shareholders, the longer-term trajectory of the combined entity is where the focus should be rather than the short term.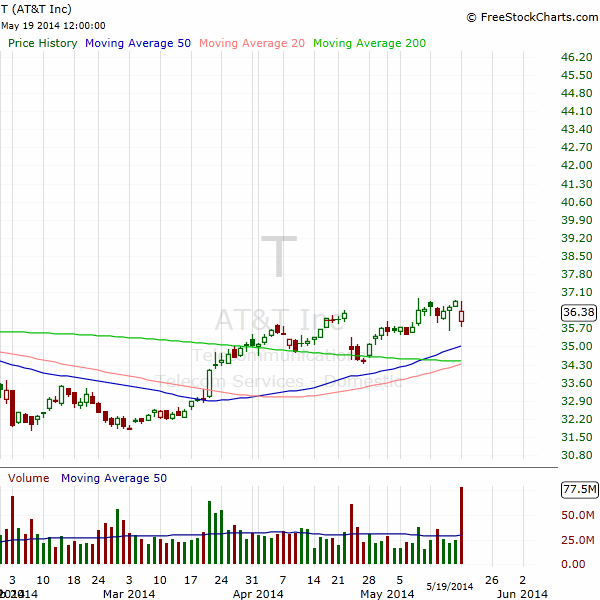 Source: FreeStockCharts
AT&T is supported by the 20-day, 50-day, and 200-day moving average. The three averages are trending higher indicating a strong up-trend.
The deal looks accretive to shareholders as a result of potential efficiencies that will have a direct impact within the current and next fiscal year. Furthermore, the company has indicated that it can generate in excess of $1.6 billion in cost savings, which is $100 million below the $1.7 billion in cost savings that I had anticipated in my previous article:
I believe that profit margins can improve significantly from current levels. Currently, DirecTV's profit margin is 8.6%, whereas AT&T's profit margin is 14.26%. Assuming, some overlapping function can be removed, DirecTV's net profitability may reach 15%. To do this would require significant cost savings. To do this successfully would require SG&A costs as a percentage of revenues to decline from 31.8% to 24%. This is certainly attainable assuming administrative costs, and subscriber acquisition costs can be reduced by $1.7 billion (basically 40% over previous year). This will in turn generate a 14.7% net profit margin.
AT&T believes they can generate cost efficiencies through a reduction in content-related costs that can be shared at scale between DirecTV and AT&T U-Verse, paired with other efficiencies that may come from consolidating the business. When it comes to costs on this scale, there are various areas where AT&T's upper level management can adjust operations to lower variable costs.
Overall this is a good sign for AT&T shareholders, and will result in pass on cost savings, especially where AT&T wants to expand its combined 4G LTE and fiber-to-the-premise coverage. Having both networks in place and at a lower average cost will squeeze other competitors in the space.
"AT&T only has 23% penetration of the country today because they don't have facilities across the country. How will they provide internet access in the middle of Verizon or Century Link territory?"
Verizon (NYSE:VZ) is vulnerable as it recently took on significant debt to buy back the remainder of its mobile business away from Vodafone. This is discussed in further detail by Michael Blair, a SA contributor that I respect.
At the present moment AT&T has the unique ability of offering a comprehensive service offering composed of 4G LTE, TV and internet to 90% of the United States population. The back-end infrastructure certainly supports the transition to a large bundled package, and it can lead to erosion in market share for other competitors.
AT&T will have the most complete sales channel, and infrastructure to support mobile, TV, and internet in the United States. Rural areas may be more difficult to expand into, but it's more likely to happen with AT&T than with other providers. Overall, I anticipate postpaid/prepaid subscriber gains to accelerate over the next five years.
A reader is concerned by the deal: "Fiber installation is doubtful, Since DirecTV customers located all through US in urban/suburban/rural, would require massive CAPEX for fiber. With the $50 billion spent on the DTV buyout, leaves that much less available to do that."
AT&T addresses that problem in its formal announcement of its acquisition:
AT&T will use the merger synergies to expand its plans to build and enhance high-speed broadband service to 15 million customer locations, mostly in rural areas where AT&T does not provide high-speed broadband service today, utilizing a combination of technologies including fiber to the premises and fixed wireless local loop capabilities. This new commitment, to be completed within four years after close, is on top of the fiber and Project VIP broadband expansion plans AT&T has already announced.
The CEO of AT&T, Randall L. Stephenson details his plans for capital spend in 2014:
Well, obviously investment is priority number one. And we've set a direction and made a commitment to our VIP build. And 2014 is our peak year. It's our peak year on LTE deployment. It's our peak year on fiber deployment and our IP broadband extension, and we're committed to finishing that especially in light of as I said the competitive dynamic changing with Comcast and Time Warner. So we want to get that finished in 2014. So that's about a $21 billion capital spend this year.
In other words, AT&T will be on track to complete its major infrastructure build out by the end of the year. AT&T will finish fiber to the premises over a four-year time frame, and it will include the 15 million who live in more rural locations. AT&T's cash needs are more intensive this year, so the company has cut back its share buybacks in 2014.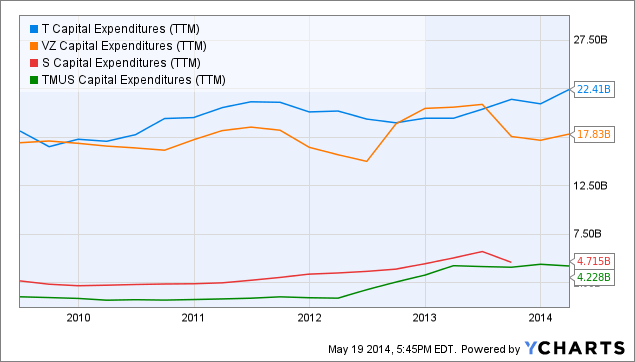 Source: YCharts
AT&T's capital expenditure spend is well ahead of competitors in the space. AT&T has spent more to build a more robust network, and it's why I've been arguing fervently that Sprint (NYSE:S) and T-Mobile (NASDAQ:TMUS) need to consolidate into a larger entity.
Conclusion
This acquisition assuming it gets by regulators will be a defining moment for the United States communication industry, as it will allow AT&T to become the most cost competitive player in the space, and will consolidate the industry even further.
AT&T is now nearing the completion of its next generation mobile network, and its next frontier is to connect America with fiber to the premises. If I had to choose a horse to bet on, I would bet on AT&T at the present time.
However, if the deal doesn't go through, my optimism towards AT&T will dampen. DirecTV can turn AT&T into a resurgent growth story, and without DirecTV it's a safe dividend stock with low upside potential. In my previous article I assumed cost synergies, paired with postpaid subscriber growth could push the stock price to $55. Without these added synergies, AT&T has fewer options for gaining subscribers against other telecoms.
Disclosure: I have no positions in any stocks mentioned, and no plans to initiate any positions within the next 72 hours. I wrote this article myself, and it expresses my own opinions. I am not receiving compensation for it (other than from Seeking Alpha). I have no business relationship with any company whose stock is mentioned in this article.