Shares in Procter & Gamble (NYSE:PG) are currently trading at $79.96, which is pretty much the same as 12 months ago. However, a recent dividend increase to $0.64 has pushed the dividend yield up to a very respectable 3.22%. In this article, I will be trying to determine whether or not now is a good time to buy shares in P&G.
Income and revenue growth
Over the past decade, Procter & Gamble has seen its revenues go up from $51.4 billion in 2004 to $84.2 billion in the most recent fiscal year. Analysts expect this number to continue increasing, with average estimates for FY2015 standing at $86.3 billion.
The best year in terms of EPS for Procter & Gamble was 2009, when earnings per share reached $4.26. This level hasn't been reached in any of the years thereafter, but analysts expect the company to get quite close this year, with an average estimate of $4.20. For next year, analyst expectations stand at $4.53.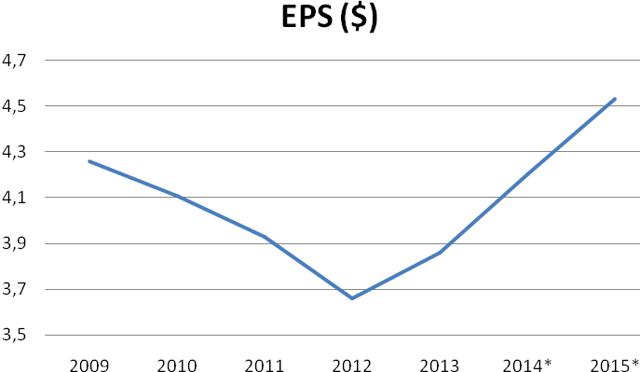 *=analyst estimates
Balance sheet
Procter & Gamble has $28.13 billion in current assets and $32.12 billion in current liabilities, giving it a current ratio of 0.88. The quick ratio (current ratio minus inventories) stands at 0.65. These numbers should increase shortly as P&G has announced the sale of its IAMS, EUKANUBA and NATURA brands to Mars Petcare, a move that will bring Procter & Gamble $2.9 billion in cash. P&G currently has $9.75 billion, or $3.60 per share in cash and cash equivalents.
Returning money to shareholders: Share repurchases and dividends
P&G's payout ratio has gone up quite a bit in recent years, as can be seen in the next graph. The payout ratio (NYSE:TTM) currently stands at 62%, which I consider to be quite high. At these levels, there doesn't appear to be a lot of room to continue with dividend increases that are higher than the increase in EPS. However, as I stated earlier, earnings per share are expected to go a lot higher. If analyst expectations for EPS in fiscal year 2015 are correct, P&G could raise the dividend another 4 cents, to $0.68, whilst keeping the payout ratio at 60%.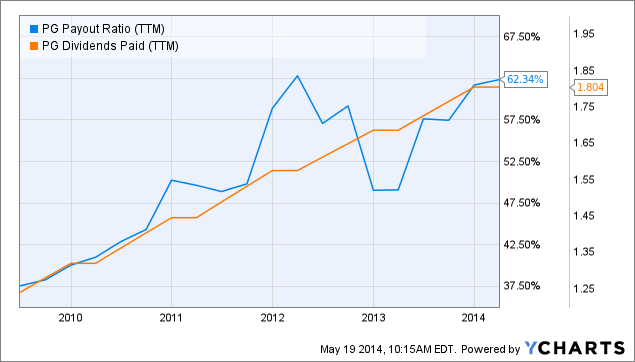 PG Payout Ratio (TTM) data by YCharts
Procter & Gamble buys back huge amounts of its own shares. Share repurchases are a great way to return capital to shareholders, as a lower number of outstanding shares will increase EPS even if net income remains the same. In 2007, P&G had 3.4 billion shares, far more than the 2.7 billion shares outstanding today.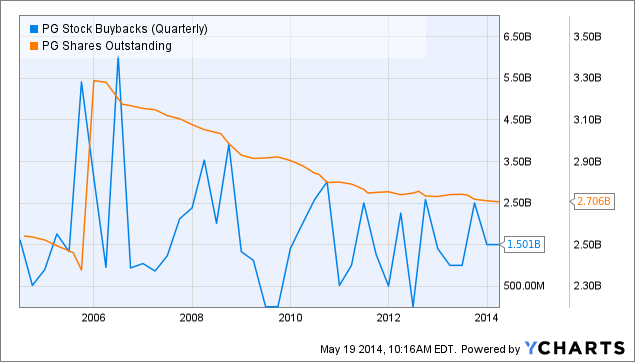 PG Stock Buybacks (Quarterly) data by YCharts
Valuation
Procter and Gamble is currently trading at a price to earnings ratio of 21.4, which is quite a bit higher than its 5-year average of 18.8. However, looking at analyst expectations for fiscal year 2015, we find the forward p/e ratio is only 17.7. The industry average p/e ratio stands at 22.1.
On a price to sales basis, P&G appears to be slightly more expensive than it used to be. The 5-year average p/s ratio stands at 2.5, compared to the current p/s ratio of 2.8. At the current market cap of $216 billion, sales would have to grow to $86.4 billion for the p/s ratio to drop back to 2.5. Fortunately, analysts expect P&G to reach this level by 2015.
Conclusion
Procter & Gamble appears to be somewhat overvalued at first sight. Both the price to sales and price to earnings ratios have grown above their 5-year averages. However, I feel this slightly higher price can be justified by strong growth expectations. Furthermore, since the recent dividend increase, the dividend yield stands at 3.22%, meaning investors will be paid to wait. The recent sale of several of P&G's pet food brands will give the company more cash to distribute to its shareholders, allowing the company to repurchase more of its own shares.
Disclaimer
I am not a registered investment advisor and do not provide specific investment advice. The information contained herein is for informational purposes only. Nothing in this article should be taken as a solicitation to purchase or sell securities. Before buying or selling any stock you should do your own research and reach your own conclusion. It is up to investors to make the correct decision after necessary research. Investing includes risks, including loss of principal.
Disclosure: I have no positions in any stocks mentioned, and no plans to initiate any positions within the next 72 hours. I wrote this article myself, and it expresses my own opinions. I am not receiving compensation for it (other than from Seeking Alpha). I have no business relationship with any company whose stock is mentioned in this article.