Year-to-Date 2014, Caterpillar (NYSE:CAT) stock has trounced the averages, rising over 18% including dividends. In January, pundits were calling for the heads of senior management. In early February, and the stock trading at $92.50, Seeking Alpha editors published an article I wrote about CAT suggesting the stock was a good contrarian play based upon fundamental and technical markers, as well as overly negative sentiment.
Now sitting at $106 a share, is the stock overvalued?
A Few Fundamentals
The Overarching Story Line
Caterpillar is a global titan, with no true industry peers. Primarily, the company operates via 3 segments: the easily-recognizable yellow construction / earthmoving equipment, heavy mining machinery, and industrial engines. CAT competes with others in each segment, but no one rivals Caterpillar in all 3 lines. This appears to get lost on some investors, as they fail to see a trio of businesses, and instead focus upon weakness in one segment, or one region while overlooking the rest of the sprawling enterprise. In 2014, Caterpillar expects the Construction Industries and Energy / Transportation divisions to grow 10%. Resource Industries is expected to contract by 20%.
Prodigious Cash Flows
Even though 2013 earnings cratered, Caterpillar generated record cash flows. As reported via the 2014 first quarter release, the trend remained unabated. Year-over-year operating cash flow was up 33%, though slowing payables contributed to the gain. This is part of a concerted management effort to rein in expenses and control cash. SG&A expenses have come down significantly. YoY, SG&A as a function of revenue was clipped 9.8% from 10.5%. CEO Doug Oberhelman summed it up in these prepared remarks from the April earnings release:
We understand we don't control the economy and have instead focused on what we can improve. We're lowering costs, improving cash flow and driving value for our customers through the continued deployment of our lean manufacturing initiatives.
Stabilizing Revenues?
Year-over-year first quarter total sales stabilized. This is aligned with the company's current 2014 forecast whereas revenues are projected to reach $56 billion, plus or minus $5 billion. YE 2013 sales were $55.6 billion. If the company can match last years' total sales while Resource Industries is falling 20%, it will demonstrate the other segments are picking up considerable slack.
Margins Matter
Even in 2013, gross margins were not materially down versus heyday years. This year, gross margin ticked up to 28.7%, a recent high. More important, operating margin popped. This reflects management's efforts to control costs and improve efficiencies.
Inventories Aligned
Last year, Caterpillar worked off bloated inventory. A business downturn caught management and dealers flat-footed (once again). It took the organization much of 2013 to work off excess company and dealer inventory. Currently ~$13 billion, corporate inventory is now aligned with forward expectations. Likewise, dealer inventory is generally in check.
Buybacks and Dividends
Recently, Caterpillar directors authorized an enormous share repurchase plan, now underway. It has materially reduced the number of shares outstanding and should continue to do so. The YoY first quarter comp shows a 4.8% reduction.
The dividend yield is 2.25%; strong for an industrial sector corporation. The payout was raised 11% into the teeth of last years' downturn. I view both the buyback and dividend as strong signals of management's confidence in the business.
Analysts Crank Up Estimates
I look at closely at consensus analyst estimate revisions. If analysts are revising current year and next year EPS estimates, tilting up or down, it pays to watch it. Post 2014 1Q earnings, Caterpillar is seeing many Wall Street analysts all raising expectations at once. Here's a clip from Zacks.com; you can find other supporting data sources:

Note the magnitude of upward revisions for the current year and next year. I find this quite bullish.
Yes, But What About Valuation?
All the aforementioned information tells a good story, but continues to beg the question: Is Caterpillar stock overvalued at $106 a share?
F.A.S.T. graphs can compile years of data to illustrate historical perspective. First, here's a 12-year chart plotting Caterpillar price (black line), operating earnings (green shaded area), and normalized average P/E (blue line).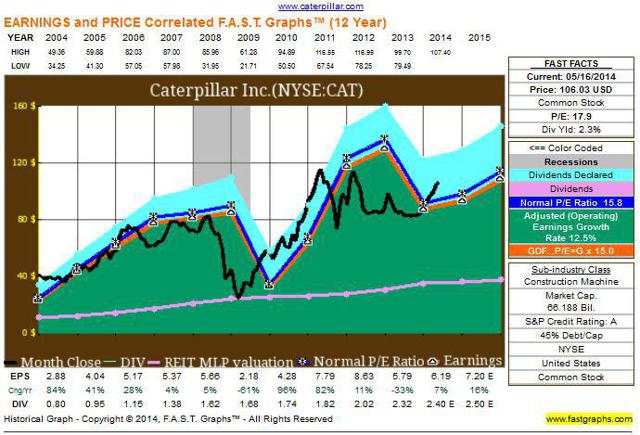 Based upon 2014 expected earnings of $6.19, the shares appear a bit above fair value. However, using 2015 projected EPS, the stock is about 8% undervalued. Do I believe the estimates? Maybe these are a bit aggressive.
Recall we noted Caterpillar is generating a lot of cash. Likewise, Free Cash Flow (Operating Cash less Capital Expenditures) is exceptionally strong. Historically, let's check how the stock is doing as a function of price and operating cash: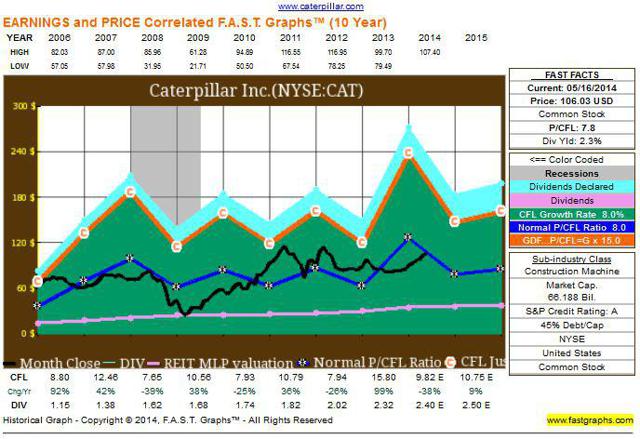 Here we see it appears the stock is overvalued. 2014 OCF is estimated to be $9.82 a share; a big reduction versus 2013 results. To be fair, this should be expected given last years' cash flow was unusually high as a result of inventory liquidation. Hence why earnings dove but cash flow clocked in at a record high.
Going forward, investors must ask themselves 2 basic questions:
First, macro data suggests the heavy construction equipment and industrial engine businesses are trending up; alongside general economic improvement in the Americas, Europe, and Middle East/Africa. In particular, a pickup in non-residential construction would bode very well for Caterpillar, given its large U.S. footprint. In addition to, and despite apparent Chinese economic softness, CAT equipment sales have continued to grow there. The rest of Asia has been weak, though Japan has shown some green shoots.
Do you buy it?
Second, mining equipment sales are awful. Revenues have been cut in half, and are projected to drop even further this year. It's baked into the current forecasts. At some point, however; this business segment will bottom. It always does. Mining is very cyclical and has the propensity to reverse quickly.
Will Resource Industries bottom out in 2014 to form a base, then begin to improve?
My Take
The stock is at fair value. Further capital appreciation is largely based upon earnings improvement that hasn't manifested itself yet. I contend analysts have a tendency to overshoot to the upside and downside in a herd-mentality fashion.
I believe cash flow will normalize itself, remaining strong; that doesn't change my aforementioned thesis.
I envision continued strength in construction equipment sales, headed by North America, Latin America and Europe. Caterpillar's Energy and Transportation segment sales should also see steady growth. On the other hand, I suggest a rebound in Resource Industries is more than a year away.
Sans a significant mining up-cycle, the stock looks topped about $115 a share. That's up ~8% from here. It would also put the shares near their all-time high.
Without more compelling forward data, I do not plan to add to my existing position, nor would I start one if I held no CAT stock. For those, like me who hold shares, continuing to sell short OTM call options against part of the position appears a prudent hedge.
Please do your own careful due diligence before making any investment. This article is not a recommendation to buy or sell any stock, it is for information purposes only. Good luck with all your 2014 investments.
Disclosure: I am long CAT. I wrote this article myself, and it expresses my own opinions. I am not receiving compensation for it (other than from Seeking Alpha). I have no business relationship with any company whose stock is mentioned in this article.
Additional disclosure: Long CAT stock; short calls versus part of the position.