The health-care industry is undergoing many changes, from government reforms to groundbreaking drug development. Because I am frequently asked about this industry, I am devoting this month's commentary to the forces shaping health care today and what those changes mean for investors. In speaking with members of Wellington Management's experienced Health Care Team, it is clear the three main drivers of this complex, dynamic industry are the aging population in the developed world, the growing middle class in emerging markets (EM), and scientific innovation. Underlying these changes are three key questions: How will costs be contained, what is the impact of health-care reform, and who will the winners and losers be?
Aging Population in the Developed World
A recent United Nations report stated that the percentage of people in developed countries over age 65 will rise from 17% today to 24% by 2035.1 Aging populations put significant pressures on health-care systems. According to the National Institutes of Health, in the U.S. approximately half of lifetime health-care spending occurs after age 65 (Figure 1). For the health-care industry, this means two things: More people will seek more (and more expensive) health-care services, so demand and volumes will rise, but the strain on public spending will likely necessitate cost controls throughout the industry. Private-sector health-care companies will need to implement efficiencies, create scale, and maintain market power in order to succeed. Those who fail to do so will be challenged.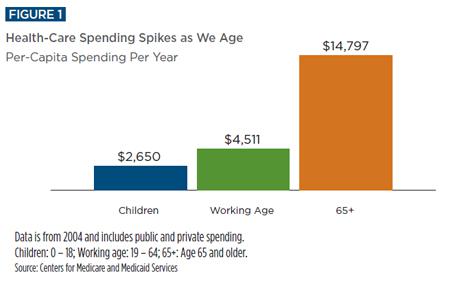 Growing Middle Class in the Developing World
Another important and largely positive trend for the health-care industry is the globalization of services across EM. Higher health-care spending is strongly linked to income level: According to the World Health Organization, high-income countries spend an annual average of more than $3,000 per capita on health care, compared to just $30 per capita in low-income countries. Across EM, the middle class is growing, and we expect those consumers to drive volume growth in therapeutic drugs and medical services by 10% a year for the next several years. China will be a particularly important factor. The Brookings Institution estimates that China's middle class will increase from approximately 10% of the population in 2009 to over 70% by 2030.
Scientific Innovation and Drug Discovery
After years of low research and development (R&D) productivity and concerns about patent expirations, the pace of innovation in the biopharmaceutical industry has picked up sharply, with new, approved drugs entering the market at an accelerating rate (Figure 2). This highly productive R&D cycle could lead to substantial value creation and be a major tailwind for the industry.
One of the most exciting areas of pharmaceutical science is immuno-oncology, a new approach to cancer treatment using a new class of cancer drugs. Beyond conventional chemotherapy, which aggressively attacks cells whether they are cancerous or not, and more recent targeted therapies, which focus on the precise cellular mutations that lead to cancer in each particular tumor, immuno-oncology enhances interactions between the immune system and cancer cells. Specifically, immuno-oncology uses drugs to boost the body's natural ability to kill cancer cells by activating the immune system to recognize the foreign aspects of a tumor and "receive permission" from the body to attack those cells. Immuno-oncology and other exciting new fields are still in nascent stages. While challenges lie ahead, a greater understanding of the biology involved should provide many new opportunities. Our health-care team does an enormous amount of research in an effort to understand the intricacies of the various programs that biopharmaceutical companies are pursuing.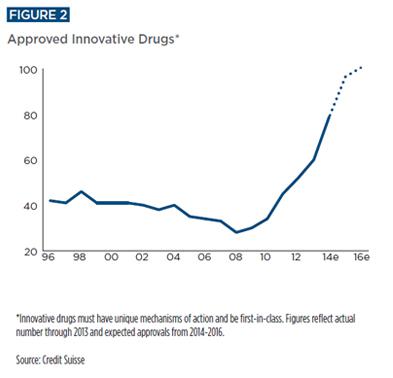 The Impact of U.S. Health-Care Reform
Rising health-care costs have been increasing as a share of U.S. GDP,2 and are likely to rise further as baby boomers age (Figure 3). In 2013, the U.S. government spent a total of $3.5 trillion, of which approximately 17% went to Medicare and 8% to Medicaid. Those are massive numbers, and they represent key long-term risks to the U.S. economy and financial markets. The Congressional Budget Office projects the budget deficit will shrink to 2.6% by 2015 but then increase to 6.5% by 2038, and it expects spending on the major health-care programs to increase from 5.6% to 8.1% of GDP over the same period.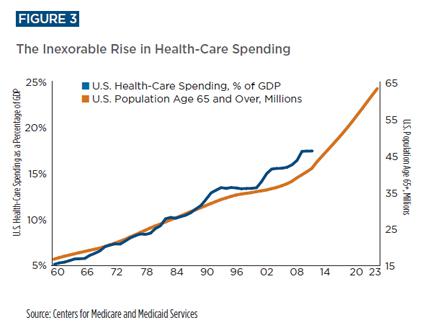 The social costs of an expensive, inefficient health-care system are high as well. Although the U.S. spends more than any other developed country on health care (Figure 4), our outcomes appear to be worse. The National Research Council has found that Americans of every age-except those over 80 years old-have higher mortality rates than other developed countries.3 Finally, fully 15% of the country does not have health insurance (Figure 5).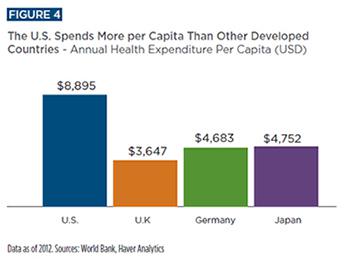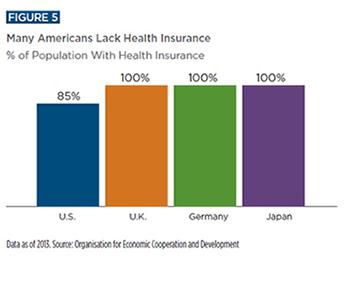 While its ultimate impact won't be known for years, necessary reform is underway. The Patient Protection and Affordable Care Act (ACA) has three main objectives: expand health-insurance coverage, improve the quality of health care for consumers, and limit health-care costs. To fund increased access to insurance, the ACA decelerates the growth of Medicare payments, levies taxes on individuals, and imposes new fees on insurance, pharmaceutical, and medical-technology companies. While the ability of ACA to control costs is still debatable, the law directly addresses access to coverage, with insurance exchanges and an expanded Medicaid program already reducing the number of uninsured Americans.
Many experts believe that the current fee-for-service system, in which hospitals and providers are paid for each test or service they provide, is partially responsible for the steep rise in medical costs, as providers are effectively incentivized to perform more tests and services, whether they are necessary or not. However, over the past several years we've seen a powerful trend developing as financial risk and cost-reduction incentives are shifted from payers (including health plans, employers, and government entities) to providers and consumers. We are optimistic that these shifts will keep costs down and move the system away from fee-for-service and toward a fee-for-value model.
The ACA accelerates these shifts in a number of ways. It encourages the formation of accountable care organizations (ACOs) that tie provider reimbursements to quality outcomes and cost-reduction efforts. It also penalizes hospitals for excessive re-admissions, expands Medicare and Medicaid anti-fraud and abuse programs, and imposes a 40% excise tax on sponsors of plans deemed overly generous in 2017 and beyond.
We are also optimistic that recent technological advances, including cloud-based computing, big data, and mobile technology will create greater efficiencies. The American Recovery and Reinvestment Act of 2009 (ARRA) provided $19.2 billion in incentive payments for hospitals and physicians who demonstrate "meaningful use" of certified electronic health records (EHRs), the use of which has now expanded dramatically. The hope is that by analyzing health-care data nationwide, policymakers will be able to track the price and effectiveness of medical procedures, resulting in more value-oriented decision-making. While the effects of reform won't be known for many years, the changes will clearly have a major impact on the health-care industry and, by extension, the investing landscape.
Conclusion
Health care is exciting. The industry has become a significant global economic growth driver. Profound changes-including shifting global demographics, scientific innovation, and cost pressures-present challenges and opportunities for providers, consumers, policymakers, and investors. Rising demand, both from an aging U.S. population and larger EM middle classes, is a positive for the industry, although consumers, businesses, and governments will push back as prices climb. In the U.S., consumers will assume a greater share of heath-care costs as public exchanges and individually purchased insurance plans supplant employer-sponsored group coverage. This more consumer-driven system will undoubtedly become more price sensitive. For investors, the ability to identify companies that can adapt to lower cost structures and higher volumes while still retaining pricing power will be key. Overall, understanding health care's scientific, technological, and regulatory complexities will be critical to investors' decision-making process.
Investment Implications
Insurance Companies: While the difficult rollout of the ACA, combined with recent pressures on Medicare Advantage reimbursement rates, has temporarily clouded visibility for health-insurance companies, our specialists believe any disruption will be short-lived. We expect enrollment in ACA exchanges and Medicare and Medicaid to continue to rise, and for system-wide cost pressures to drive demand for the managed-care tools and techniques these companies offer.
Hospital Stocks: We are cautious long term and seek organizations with the ability to gain efficiencies and scale. Over the next two years, the ACA should be a tailwind for hospitals: As more people will have insurance, volumes should rise and bad-debt expenses should decline.
Hospital Bonds: We think not-for-profit hospitals are a unique opportunity in the municipal bond market. These organizations are exempt from federal income taxes and do not pay dividends, so they face fewer external capital commitments relative to the for-profit sector. We find that many hospital credits offer better investment returns given their limited leverage and strong free cash flow. In addition, this subsector comprises a much larger universe of issuers relative to equities. Finally, because there are relatively few analysts covering this subsector, it is less efficient and currently offers a yield advantage relative to similarly rated tax-exempt bonds.
Biotechnology and Pharmaceutical Companies: Prospects here are positive, particularly after the recent pullback. The pace of innovation is accelerating, with advances in genetic science and drug discovery particularly exciting. The ability to receive reimbursement from payers is favorable, especially if the level of innovation over the standard of care is high. Again, ACA should be a tailwind for these industries, as more insured patients should boost drug volume. Notably, ACA prohibits pricing caps on drugs, a change that should support prices. The key here will be to watch valuations carefully and determine which companies have innovative, profitable drug pipelines.
Retail Drugstores: We think drugstores are well positioned, particularly because more people with health insurance will boost prescription drug volumes. In addition, as consumers become more financially responsible for their health-care choices, the convenience and value in receiving basic medical services like flu shots or strep-throat tests at a local drugstore should be a boon for these companies.
Acknowledgments:
Many thanks to my colleagues, Jean Hynes, Ann Gallo, and Adam Kaplan for their insights into the global health-care industry.
1 Source: United Nations World Population Prospects, Haver Analytics, and Wellington Management
2 Gross domestic product (GDP) is a commonly used measure of the economic output of a country.
3 Source: National Research Council and Institute of Medicine, New York Times
Disclaimer: Investors should carefully consider the investment objectives, risks, charges, and expenses of Hartford Funds before investing. This and other information can be found in the prospectus and summary prospectus, which can be obtained by calling 888-843-7824 (retail) or 800-279-1541 (institutional). Investors should read them carefully before they invest.
A Word About Risk: All investments are subject to risks, including possible loss of principal. Risks of focusing investments on the health-care sector include regulatory and legal developments, patent considerations, intense competitive pressures, rapid technological changes and potential product obsolescence, and liquidity risk. Fixed-income investments are subject to interest-rate risk (the risk that the value of an investment decreases when interest rates rise) and credit risk (the risk that the issuing company of a security is unable to pay interest and principal when due) and call risk (the risk that an investment may be redeemed early).
The views expressed here are those of Nanette Abuhoff Jacobson. They should not be construed as investment advice or as the views of Hartford Funds. They are based on available information and are subject to change without notice. Portfolio positioning is at the discretion of the individual portfolio management teams; individual portfolio management teams may hold different views and may make different investment decisions for different clients or portfolios. This material and/or its contents are current at the time of writing and may not be reproduced or distributed in whole or in part, for any purpose, without the express written consent of Wellington Management.
All information and representations herein are as of 5/14, unless otherwise noted.
Disclosure: I have no positions in any stocks mentioned, and no plans to initiate any positions within the next 72 hours. I wrote this article myself, and it expresses my own opinions. I am not receiving compensation for it. I have no business relationship with any company whose stock is mentioned in this article.