Overview
Hasbro (NASDAQ:HAS) and Mattel (NASDAQ:MAT) are the two largest toy manufacturers in the country. Hasbro sells several well known brands such as Transformers, Littlest Pet Shop, My Little Pony, G. I. Joe, Nerf, Playskool, and Monopoly. Mattel also sells a wide range of brands including Barbie, Hot Wheels, Monster High, Matchbox, Little People, BabyGear, and American Girl.
Current Financials
| | Hasbro | Mattel |
| --- | --- | --- |
| Gross Profit Margin (quarterly) | 54.65% | 50.89% |
| Profit Margin (quarterly) | 4.72% | (1.19)% |
| Return on Assets (trailing twelve months) | 7.64% | 13.60% |
| Return on Equity (trailing twelve months) | 21.05% | 27.87% |
| PE Ratio (trailing twelve months) | 22.22x | 15.94x |
| Price to Book Value (trailing twelve months) | 4.47x | 4.30x |
| Revenue (trailing twelve months) | 4.10B | 6.44B |
| Net Income (trailing twelve months) | 324.96M | 854.22M |
Mattel is the larger company with the higher revenue and income. It also is currently priced more attractively and has better returns on assets and equity, while Hasbro has better margins.
The Last Five Years
Looking at the chart below, you can see that Mattel has seen significantly higher revenue growth compared to Hasbro.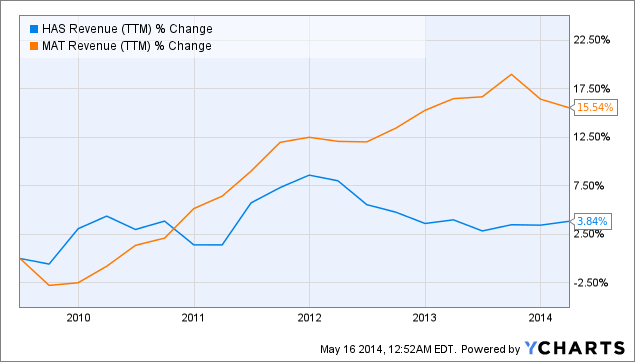 HAS Revenue (TTM) data by YCharts
In terms of earnings, the results are the same.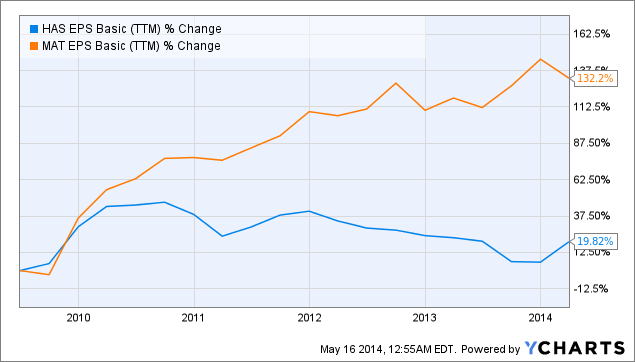 HAS EPS Basic (TTM) data by YCharts
Looking at both trailing and forward PE ratios, Mattel appears to be the more fairly priced stock currently.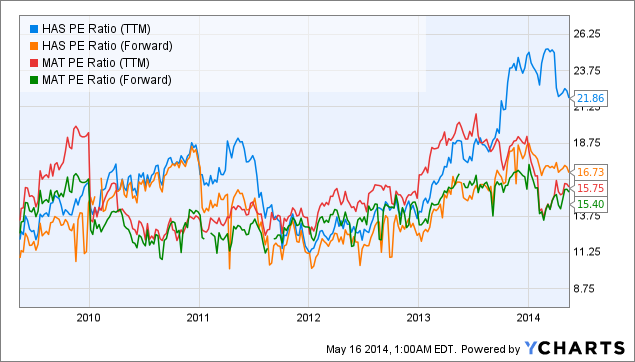 HAS PE Ratio (TTM) data by YCharts
Each company pays dividends yielding over 3%, with Mattel having a slight advantage.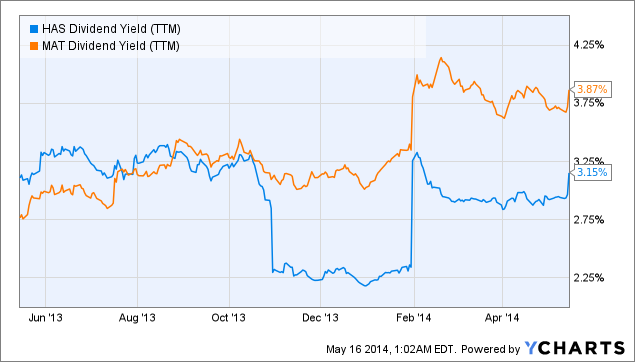 HAS Dividend Yield (TTM) data by YCharts
Based on dividend growth, Hasbro is the winner as it has been able to consistently raise its dividend. Something Mattel has struggled with.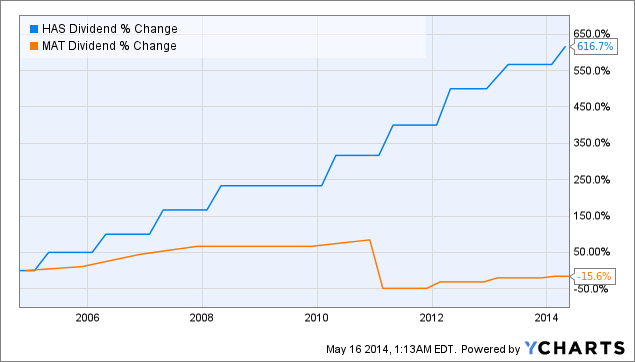 HAS Dividend data by YCharts
The payout ratio of both companies are similar and shouldn't affect dividend distributions in the short term.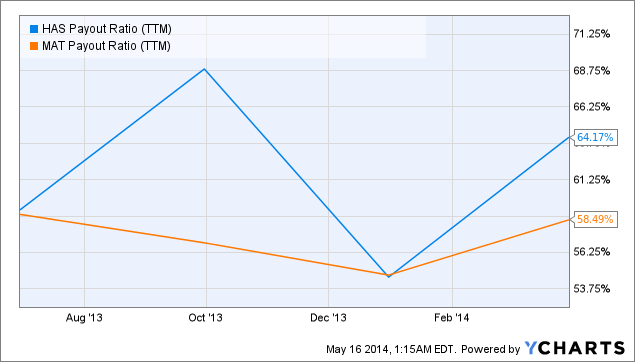 HAS Payout Ratio (TTM) data by YCharts
Going Forward
While Mattel has seen significantly higher revenue and earnings growth over the past five years, it has been Hasbro that has seen the best most recent results.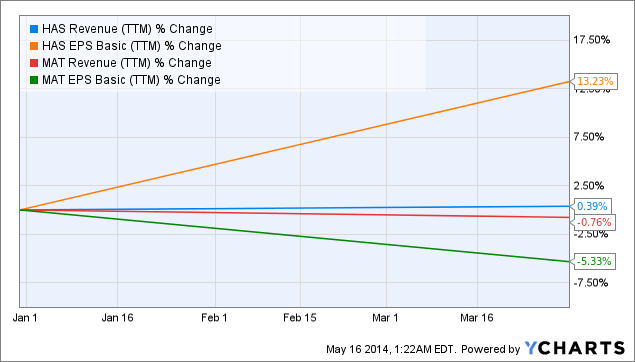 HAS Revenue (TTM) data by YCharts
Hasbro has done a good job at growing their sales through lines associated with popular TV shows and films (for example, My Little Pony and Transformers). Another Transformers film comes out this summer, but I'm not sure how well it will perform. A lot of people have been displeased with the sequels and that showed with the drop in gross for the third film ($352,390,543) compared to the second ($402,11,870).
One of the key factors to Hasbro's recent success has been My Little Pony. It has contributed to substantial growth in the girls toy segment, a segment once dominated by Mattel and Barbie.
Mattel isn't just going away though, as its Monster High brand has been performing well and there are plans for a live action Barbie film which should bring significant attention and a much needed boost to the Barbie brand.
In addition, the recent acquisition of MEGA Brands should help foster continued growth as Mattel's strong product line and partnerships with companies such as Disney should help MEGA Brands be a significant competitor to LEGO.
In 2013, MEGA Brands saw total sales over $400 million and net earnings over $20 million. The company saw its Call of Duty product line equal the best of any prior MEGA BLOKS launch. I believe that adding Mattel's strong management and partnerships will cause the MEGA brands line of products continue to see increased sales which will drive Mattel's future revenue and earnings higher.
Mattel has the ability to create kits, figures, and add-ons related to the company's strongest brands such as Barbie and Monster High. If the company can market these new products well, I could reasonably see doubled revenue/earnings for MEGA Brand products within the next five years.
Conclusion
I think in the short-term Hasbro will continue to outperform Mattel due to the large successes of some of its brands, mainly My Little Pony, along with Mattel's declining revenue from the Barbie brand. However, I think in the long run, Mattel is currently situated to reward long-term investors better.
Mattel, with Sony, have in development a couple of movies that should help spur growth in toy lines that have seen recent revenue declines (Barbie and He-Man). The company's acquisition of MEGA brands should be another positive factor concerning future growth. And the company has strong partnership ties with companies such as Universal and Disney (the company will soon launch toys based on Disney's Marvel and Star Wars properties). And at its current price, Mattel seems to be fairly to somewhat under priced, while Hasbro appears a bit overpriced.
The partnership with Disney should spur growth in Mattel's boy segment as the company is set to release a wide range of die-cast Hot Wheels vehicles related to the Marvel and Star Wars universes.
There has also been speculation that Mattel may win exclusive licensing rights once Disney's current agreements with Hasbro expire in 2017 and 2020. A few articles that discuss this speculation include:
Why Mattel's Earnings Are Better Than They Appear - "The company has a die-cast license for both Marvel and Star Wars, and with Hot Wheels being one of Mattel's line of toys that grew in the first quarter, this could be the first step toward Disney eventually choosing Mattel over Hasbro for the rest of its Marvel-themed toys."
Is Mattel An Attractive Investment Opportunity? - "Marvel's contract with Hasbro will expire in 2017 and Hasbro's Star Wars contract will expire in 2020. When these contracts expire Mattel will be in a great position to acquire these merchandising contracts from Disney mostly due to their successful business relationship."
Mattel's Future May Be Magical - "Once the contracts with Marvel and Star Wars expire with Hasbro, Mattel is in a great position to jump in and take the contracts."
In addition, the upcoming Batman vs Superman and Justice League films should add additional growth to Mattel's DC related toys in the coming years.
I believe both companies will have solid futures, but because of all of the factors I listed above, I recommend Mattel over Hasbro for long-term investors (with the caveat that if you are looking specifically at dividend growth, Hasbro may be the better choice). As always, I suggest individual investors perform their own research before making any investment decisions.
Disclosure: I have no positions in any stocks mentioned, and no plans to initiate any positions within the next 72 hours. I wrote this article myself, and it expresses my own opinions. I am not receiving compensation for it (other than from Seeking Alpha). I have no business relationship with any company whose stock is mentioned in this article.