Overview
In this series of articles, I will be identifying which stocks for various S&P industries are best suitable for income investors, based on dividend growth and yield. For Part 11, I will be taking a look at Restaurant stocks. These stocks include:
Chipotle Mexican Grill currently does not pay a dividend.
When ranking the dividend paying stocks by yield, the order is as follows:
Darden Restaurants - 4.91%
McDonald's - 3.17%
Yum Brands - 1.99%
Starbucks - 1.47%
When ranking them by dividend growth over the past five years, the order is as follows:
Starbucks - 160.00%
Darden Restaurants - 120.00%
Yum Brands 94.74%
McDonald's - 62.00%
Starbucks has the lowest yield out of the group, but has seen the highest dividend growth. Based on just yield and dividend growth, Darden Restaurants appears to be the best choice as it has the highest yield and the second highest dividend growth over the past five years.
You can see from the chart below, that Starbucks has seen the best revenue growth out of this group, while Darden Restaurants has seen the lowest (just behind Yum Brands).
DRI Revenue (NYSE:TTM) data by YCharts
Looking at earnings, Starbucks hasn't been as successful. Starbucks and Yum Brands have seen earnings decline over the last five years, while McDonald's has seen the best earnings growth over this time period.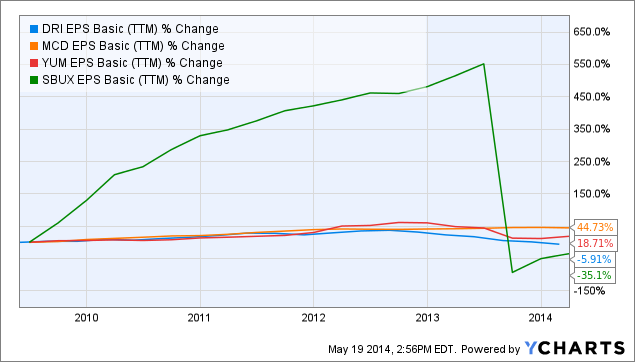 DRI EPS Basic (TTM) data by YCharts
Based on trailing PE, Starbucks is way more expensive than the other stocks in this group, while McDonald's is the least expensive.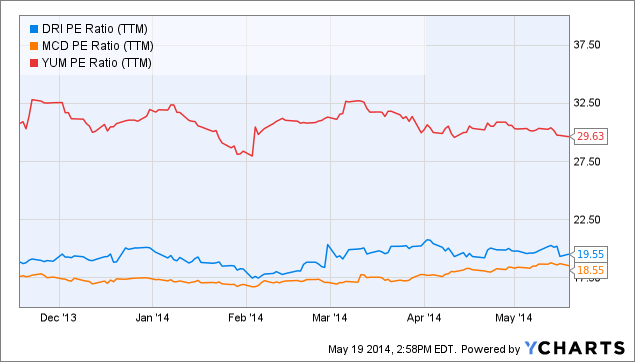 DRI PE Ratio (TTM) data by YCharts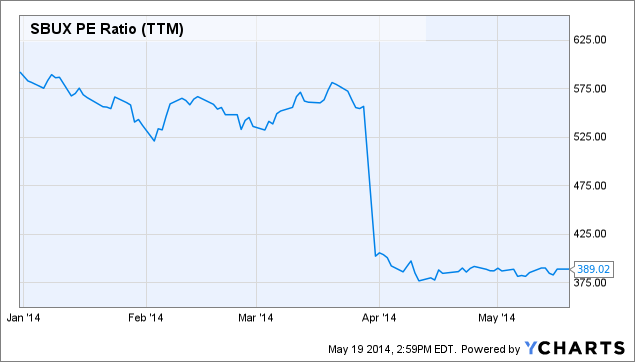 SBUX PE Ratio (TTM) data by YCharts
Based on forward PE, Starbucks looks more fairly priced, but still holds the highest value, while McDonald's remains the more fairly priced stock.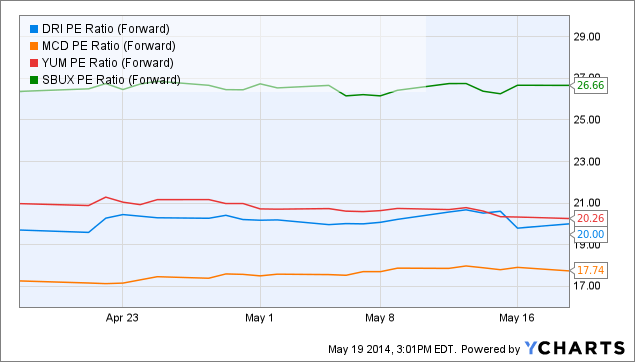 DRI PE Ratio (Forward) data by YCharts
Conclusion
While Darden Restaurants does have the highest yield and the second highest dividend growth, it isn't a stock I can currently recommend due to its poor revenues and earnings. Plus, there is still a lot of uncertainty related to how the company's Red Lobster spinoff and continued rising payout ratio will affect future dividend growth.
Yum Brands has seen less revenue/earnings growth than McDonald's and IMO is currently a bit overpriced. While it does offer a dividend yield a bit higher than Starbucks, Starbucks has seen almost double the dividend growth.
I feel that owning a combination of both McDonald's and Starbucks is a great long term option for income investors. McDonald's is the more attractively priced stock with the best trailing/forward PEs out of this group and it also has seen several years of continued dividend growth, with a current yield over 3%.
Using buyupside.com's dividend reinvestment calculator, I tested how the two company's dividends would compare if they continued on similar patterns as recent past history.
I entered 100 shares of MCD stock at $102 each (total investment of $10,200) and entered it's current yield (3.17%) and its average annual dividend growth rate over the past five years (12.4%). Over the course of 10 years, total dividends paid would equal $6,515.73 ($8,708.96 with dividends reinvested).
I did the same thing for SBUX stock, entering 144 shares at $70.80 each (total investment of $10,195.20) and entered it's current dividend rate ($1.04) and its annual dividend growth rate (32%). Over the course of 10 years, total dividends paid would equal $9,303.32 ($13,758.78 with dividends reinvested).
This shows how long term investors should pay just as much, if not more attention to a stock's dividend growth, rather than focusing strictly on yield. That being said, there is no guarantee that the two companies will have the same or similar dividend growth over the next five years that they displayed over the past five.
McDonald's is fairly priced, maintains an attractive and safe dividend yield, and IMO will continue to see steady, albeit slow revenue and earnings growth in years ahead. The company is also a bit of a defensive stock as it has performed well in the past during recessions.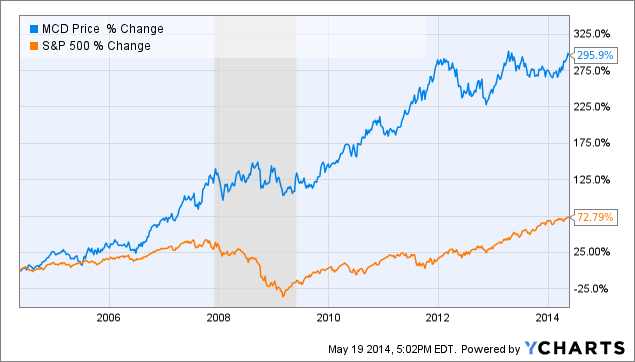 Starbucks, IMO, offers a bit more risk, but its fairly recent price drop from over $80 has brought it to a level I'm more comfortable with. And with the added risk, Starbucks I believe offers a far greater opportunity for growth and returns. I've seen investors recommend owning both MCD and YUM, but IMO, there is not a lot to gain from that. Many of the same challenges and risks that McDonald's faces are shared by YUM, and YUM doesn't have the same level of long term revenue and earnings growth that McDonald's possesses. And in the fact, that YUM doesn't benefit from some of MCD's advantages such as brand recognition and economies of scale, I see no reason to own both, especially considering YUM's current overvaluation.
I believe that Starbucks is a much better complimentary stock worth owning in conjunction with McDonald's as it provides more growth opportunities. As always, I suggest individual investors perform their own research before making any investment decisions.
Disclosure: I have no positions in any stocks mentioned, and no plans to initiate any positions within the next 72 hours. I wrote this article myself, and it expresses my own opinions. I am not receiving compensation for it (other than from Seeking Alpha). I have no business relationship with any company whose stock is mentioned in this article.