Valuation of China telecom sector has been under pressure recently due to two factors. First, the introduction of value-added taxes (VAT) may negatively impact near-term earnings. Second, tower sharing, which may result in lower ROE and slower 4G rollout for the big three telcos. However, I view these factors as long-term positives for the Chinese telcos, which I would explain below. I would long China Telecom (NYSE:CHA) and China Unicom (NYSE:CHU), and short on China Mobile (NYSE:CHL).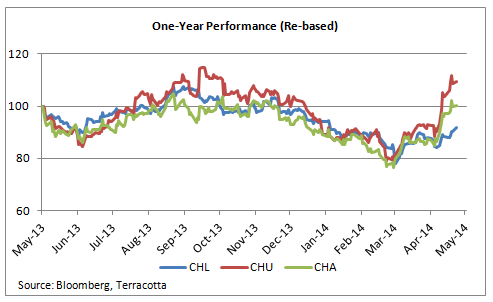 Tower sharing will allow China to achieve its SOE reform goals and encourage private sector investment. In particular, tower assets could be attractive investments for the private sector given their highly cash generative profiles, increasing smartphone usage, and high margins due to low operating expenses. I expect China to implement the tower sharing initiatives soon. Tower sharing helps to increase efficiencies and reduce wastage of resources. In late April, all three telcos confirmed that they are in discussion regarding the formation of a joint TowerCo which would result in lower network construction. As recently as last week, Shuhe Huang, Deputy Director of SASAC, the government entity that holds shares in all three telcos, reaffirmed the state's view that hybrid ownership is a critical component of SOE reform and that the process should be expedited.
In my view, China Telecom and Unicom will be the key beneficiaries of the reform in that both telcos will enjoy greater network coverage on China Mobile's infrastructure.
For China Telecom, 4G handsets will drive the next leg of growth as network compatibility will attract high-end customers. Management also guided the combined 3G and 4G net adds would be more than 34m, implying solid 4G subs growth going forward.
For China Unicom, superior 3G data experience will continue to fuel net adds and I expect the upgrade to HSPA+ (3.75G) standard to maintain the solid growth profile. Moreover, the adoption for HSPA+ devices far outweighs the TD-LTE devices favored by China Mobile. I expect an enhanced ecosystem to help China Unicom to expand its market share in 2H14 and FY15.
China Mobile will likely to see headwinds as it continues to lose voice and data subs to Unicom and Telecom. Handset subsidies as well as poor customer retention will also weigh in on margins. Finally, depreciation on investments from 2008 will rise materially, weighing down on earnings. My sector preference is to buy China Telecom and China Unicom, and short China Mobile.
Disclosure: I have no positions in any stocks mentioned, and no plans to initiate any positions within the next 72 hours. I wrote this article myself, and it expresses my own opinions. I am not receiving compensation for it (other than from Seeking Alpha). I have no business relationship with any company whose stock is mentioned in this article.