ImmunoGen (NASDAQ:IMGN) is a Waltham, Massachusetts based biotechnology company. On Friday August 27th, 2010, their collaborative partner Genetech, a member of the Roche Group, received a Refuse to File (RTF) letter from the US Food and Drug Administration (FDA) for the accelerated approval of the Bilogic License Application (BLA) for trastuzumab-DM1.
IMGN stock plunged from $8.40 the day before to $5.90 premarket. At the end of the day the stock rested at $5.16; see the chart following for the plunge.
images
Figure 1: IMGN Plunges 35% in Reaction to T-DM1 RTF.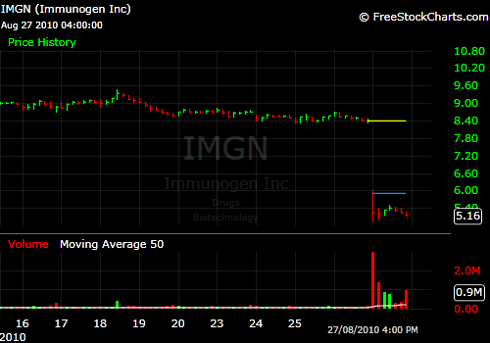 The setback will delay the approval process for T-DM1 until 2012 while Phase III trials are conducted and evaluated. This author was intrigued by the severity of the 35% drop in reaction to this delay and researched whether this was a value opportunity presenting itself.
ImmunoGen is a small sized cancer drug developer sporting a half million dollars market cap prior to the market mauling August 27th. This is how they describe themselves on their website:
ImmunoGen, Inc. develops targeted anticancer therapeutics. Our proprietary Targeted Antibody Payload (TAP) technology and strong antibody expertise form the basis for our development of our own products as well as of our partnerships with other companies.

ImmunoGen, Inc. develops targeted anticancer therapeutics using its expertise in cancer biology, monoclonal antibodies and the creation and attachment of potent cancer cell-killing agents. The Company's Targeted Antibody Payload (TAP) technology uses engineered antibodies to deliver one of ImmunoGen's proprietary cancer-cell killing agents specifically to tumor targets. In addition to the Company's product pipeline, compounds are in clinical testing through ImmunoGen's collaborations with Genentech (a member of the Roche Group), sanofi-aventis, Biogen Idec and Biotest. A marketing application for the most advanced compound using ImmunoGen's TAP technology, T-DM1, was submitted to the US FDA by Genentech in July 2010. Other ImmunoGen collaborative partners include Bayer Schering Pharma AG and Amgen.
Proprietary TAP Technology
IMGN pocesses proprietary TAP Technology which they have licensed out to a baker's half dozen of drug manufacturers. Simply put TAP is "monoclonal antibodies that carry highly toxic payloads" of anti-cancer drugs to the cancer site. Using TAP allows the toxic cancer drugs to be well tolerated by the patients and minimizes the side effects. This TAP Technology is what makes IMGN a possible takeover target as related here in a previous Seeking Alpha posting. Following is an extract from IMGN's website describing their TAP technology:
We created our TAP technology to achieve more effective, better tolerated anticancer drugs. A TAP compound is designed to focus its activity on cancer cells – to kill these cells while minimizing damage to healthy tissue.

A TAP compound consists of: a monoclonal antibody that binds specifically to a target – its antigen – found on cancer cells with a potent cell-killing agent attached. The antibody serves to target the compound specifically to cancer cells and the cell-killing agent serves to kill the cancer cells.

We use our TAP technology with our own antibodies to create anticancer compounds. If an antibody is proprietary to another company and not available for our own product programs, we may outlicense our TAP technology to that company. This enables us to derive a potential economic return not otherwise possible and expands the application of our technology.
Institutional Following
A company such as IMGN should have quite an institutional following. Research into the NASDAQ site provides the following list of institutional holders of the stock displayed following.
Figure 2: IMGN Institutional Holders - 70%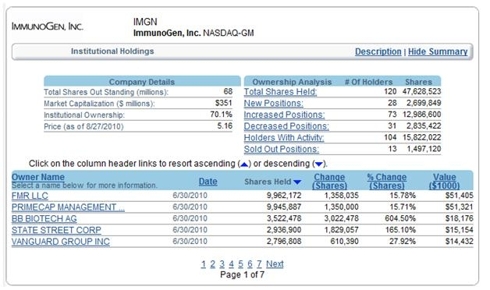 The institutional holders accounts for a significant 70% of the stock. The author imagines that the majority of these holders are longer term will not be that quick to change their mind about IMGN based upon the RTF news release.
Examining the trading pattern during August 27th, as depicted below, the author concludes that there was a fairly significant support base for IMGN.
Figure 3: IMGN Trading August 27th indicating fairly consistent support.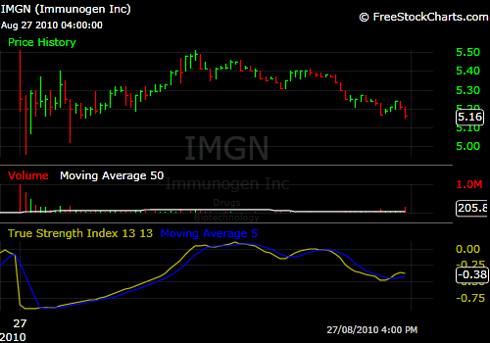 The early panic drop prior to market opening was arrested and the price traded within a relatively tight range during the day. The volatility was quite muted, indicating that a fair portion of the market may be accumulating. The author jumped in mid-day and scooped up a position.
Other Viewpoints
Jiafli in the Immunogen Yahoo Message board writes:
Lets put this in perspective...... 27-Aug-10 02:49 pm

Today's news simply means that fast track to approval will not happen. Basically a phase III trial is required which will delay approval for another year. The drug itself is a scientific breakthrough. I see this as a buying opportounity for the patient investor. Give it 1-2 years and see your investment of $5 today easily double to $10-$11...... No big deal.....When others are panicking be greedy.....
At the Wall Street Outsider, they had this to say about the drop:
8/27/10 IMGN @ $5.20 advancing pipeline with 100 million in cash, temporary setback makes share price plunge, in a couple years will have even more advanced pipeline and Trastuzumab will still make it to market. I also like it as an acquisition target! Wholly owned lorvotuzumab has orphan drug status for small cell lung cancer.
Brian Orelli, Ph.D. writes "Down 35%! This Just Shouldn't Happen" at the Fool.com:
While the delay in getting paid is disappointing, it's not disastrous for ImmunoGen. There's no reason to think the drug doesn't work, and the phase 3 trial needed to be completed in order for the drug to stay on the market after an accelerated approval anyway. Patient investors willing to wait for T-DM1 and for ImmunoGen's partnerships with sanofi-aventis (NYSE: SNY, Biogen ) Idec (Nasdaq: BIIB), and Biotest to pan out can grab ImmunoGen at discounted prices.
Bottom Line
Fundamentally, this author believes IMGN presents good value. Their website states that they are hiring for 26 different positions within the company. Business is still moving forward after this RTF disappointment. This is not a one trick horse company.
In all fairness, I am writing this partly to justify to myself, why I took the plunge and picked up a position of IMGN during the Friday August 27th slaughter. You, the reader, may not have such an opportunity Monday, after the weekend, as the stock price may have moved. On the other hand, the market may still be slow to react to the bargain that is presented here with IMGN down 35%. This is where you may stand to profit by recognizing the value, where others have been quick to discard. The author firmly believes that IMGN stock will recover 90% of the previous value within 30 days.
Disclosure: Author is long IMGN