You know these guys, right?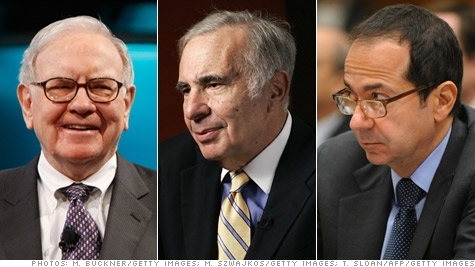 That's Buffett, Icahn, and Paulson — three of the most legendary investors in the game.
But do you know what they all have in common besides being multi-billionaires?
They each added to energy positions in the last quarter.
What are billionaires buying?
At the end of each quarter, fund managers have 45 days to report their activities to the SEC. That deadline just passed for the second quarter, and here's what we learned...
Buffett, whose net worth is $47 billion, is long ConocoPhillips, General Electric, Nalco Holding, NRG Energy — either on his own or through Berkshire.
Here's how the holdings break down:
And here's what Paulson, the $12 billion-dollar-man who helped Goldman create securities that were designed to fail is buying:
Exxon Mobil (NYSE: XOM): 9.17 million shares

Mariner Energy (NYSE: ME): 10 million shares

Apache Corp. (NYSE: APA): 3.4 million shares

Mirant Corp. (NYSE: MIR): 18.2 million shares

Deven Energy (NYSE: DVN): 3.3 million shares

Smith International (NYSE: SII): 2 million shares

Cheniere Energy (NYSE: LNG): 7.46 million shares
Icahn, the poorest of these fellows with only $10.5 billion, is equally bullish on energy, Here are the energy stocks he's into:
Why?
Well, the simple answer is rising prices for both oil and electricity.
With peak oil approaching, they know demand is about to outpace supply, and the companies able to access the increasingly hard-to-get nectar are going to be worth a pretty penny.
And with increased regulatory pressure on coal, utilities are adding more and more megawatts from renewables and natural gas.
The utilities you see these guys buying — NRG, Mirant, Constellation — are at the forefront of this transition.
It's pure fundamental analysis...
World needs lots of energy; there's not enough of it; the price is going to rise.
They aren't getting caught up in — and trying to react to — the market minutia we hear about on a daily basis: unemployment, housing numbers, consumer price indices, etc.
They're simply making bets on the certain future of energy.
That's what we help you do each and every day with articles like those below.
Before you read those, I'll leave you with this recent quote from John Hofmeister, former Shell Oil President:
I think over the next 5 to 10 years we will peak in the production of what's called conventional or easy oil. We will not in anyway peak relative to the resources left in the earth. But the resources left in the earth will be higher risk and higher cost to produce, which will increase the cost basis on which ultimately gas prices are set.