Twitch.tv has quietly captured the gaming subculture and has been a key impetus in the recent explosion in popularity of competitive online video games. In October 32 million viewers tuned into Twitch and other live streaming platforms to watch the League of Legends season 3 world championships broadcast live from a sold out Staples Center in Los Angeles. Here's what you need to know about Twitch.tv and why we may look back at Google's (NASDAQ:GOOG) (NASDAQ:GOOGL) unconfirmed $1 billion acquisition of the live streaming platform as a steal in the not too distant future.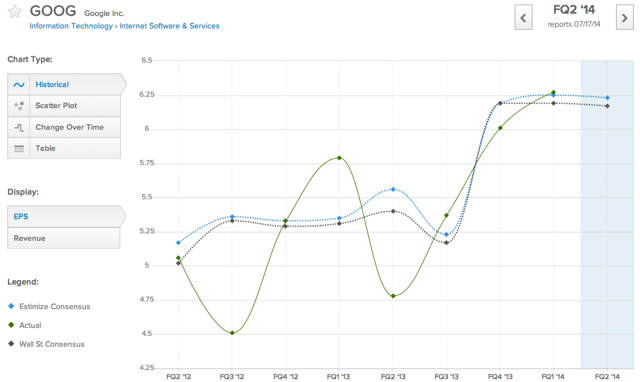 (Click here for chart details)
Streaming video content is a battleground right now for the likes of Netflix (NASDAQ:NFLX), Hulu Plus, Amazon Prime Instant Video and HBO Go. Twitch will likely never cater to as broad of an audience as a streaming TV or film platform like Netflix, but Twitch completely dominates the gamer audience in the United States and Europe specifically. Twitch formerly competed with a company called Own3d.tv in Western markets, but video game live streaming has largely become a one-horse race since Own3d declared bankruptcy back in January 2013. Twitch has now accumulated 45 million unique monthly viewers.
Twitch now touts 45 million viewers and 1 million broadcasters. You can think of Twitch as a content network with 1 million channels, but the majority of engagement comes from the top several hundred streamers who have become e-celebrities. One of the important differences to highlight between Twitch and other content platforms is that Twitch streams live content and interaction between broadcasters and viewers is highly encouraged.
One of the most successful subcategories of online streamers on Twitch are the "pro gamers." Many of the top tournament players on League of Legends, Dota 2 and Starcraft 2 routinely hit 20,000 live concurrent viewers. These players are widely followed by their fans and often live stream their training sessions providing insight and coaching or colorful and humorous commentary. Think about how popular it would be if we could watch our favorite athletes provide master classes in real time and field the best questions from the crowd. That is essentially what Twitch is offering gamers.
One of the two ways Twitch makes money is by streamers selling premium subscriptions to their channel where revenue is split between the streamer and Twitch. Engagement, particularly with paying subscribers, is one of the ways that Twitch separates itself from the pack of online content platforms. The e-celebrities on Twitch commonly provide giveaways, exclusive content and additional chat features and privileges to entice viewers to subscribe. Subscription sales are a nice piece of the Twitch puzzle, but what makes Twitch even more attractive to Google is how well Twitch can benefit from Google's core competencies and how well Twitch falls in-line with the branding strategy of new YouTube executive Susan Wojcicki.
Google owns YouTube, one of the biggest sources of traffic on the web. Susan Wojcicki was appointed to the head of YouTube to figure out a better way to monetize YouTube's traffic. Twitch has discovered a robust way of making money through content which YouTube has been trying to emulate lately. There are two reasons why the Twitch formula is potentially extremely profitable and why Google is trying to learn from them and maybe acquire them as well.
The first reason why Twitch is a compelling acquisition target in the content space is because it avoids all costs associated with generating content. Traditional video content like TV shows and movies often cost millions of dollars to produce. Having a gamer live stream him or herself playing is virtually free. Sure there are costs associated with hosting the website and net neutrality may be a risk down the road due to Twitch's huge use of bandwidth. I'm sure the team at Twitch would feel a whole lot more comfortable fighting a net neutrality battle against the broadband companies if they had the firepower of Google at their backs. According to Sandvine in March 2014 Twitch accounted for 1.35% of all traffic on the web. But the real point here is that Twitch, like YouTube, can get its content for free and that's a huge advantage compared to traditional content models.
The other factor that YouTube has been trying to mimic lately is how players on Twitch have immense individual brand power. Twitch.tv is just as much about telling the narrative of the individuals as it is about watching them play video games. On Twitch can you watch a high school student go from playing 2-3 hours per day after he finishes his homework to competing on the Staples Center stage for a million bucks, and experience all the highs and lows along the way. Some of these players have real star power among their audience.
The top earning streamers can reportedly make several hundred thousand dollars per year and the popularity of online streaming has gotten so high that clothing and computer peripheral companies are starting to endorse the streamers. Gamers are getting paid like golfers to wear a certain brand's baseball cap while they live stream video games from their basement. It's not surprising that YouTube's latest ad campaign in cities across the US focuses on the stories behind YouTubers' individual channels. Telling the stories of individuals through their content on the web has proven to be a potent new source of audience capture and engagement.
With Google, things almost always end up pointing back to data and targeted advertisements. Twitch is no exception to the rule. Google could help Twitch make more money by serving ads based on the individual data that Google already captures. Whether Google ends up acquiring Twitch or simply tries to emulate the company with its latest YouTube marketing strategy, Twitch seems to have unlocked an exciting and potentially majorly profitable new content strategy. Get free content, cultivate and highlight stars, encourage real time engagement between viewers and broadcasters, and watch the money roll in.
Disclosure: None.