Last week I mentioned that barring any additional intervention (monetary or otherwise) stocks would roll over. That is precisely what happened with the S&P 500 falling to test MAJOR support around 1,040 twice.
We looked about ready to fall off a cliff until Friday when Fed Chairman Ben Bernanke stated in his speech that the Fed stands ready to do whatever is needed to fight the financial crisis. It wasn't a direct monetary intervention, but in these desperate times verbal intervention is good enough, and traders gunned the S&P 500 higher back into the gap created by the Monday/Tuesday sell-off.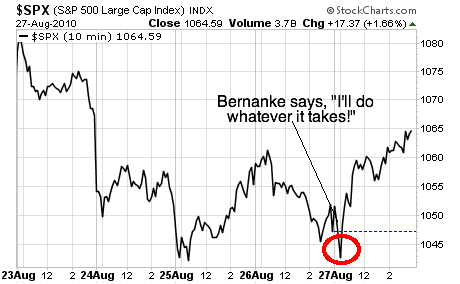 The Big Picture below shows just how crucial the 1,040 line is for stocks. If we had taken it out then the next stop would be 1,020, and then 1,000 or even sub 1,000 in short order: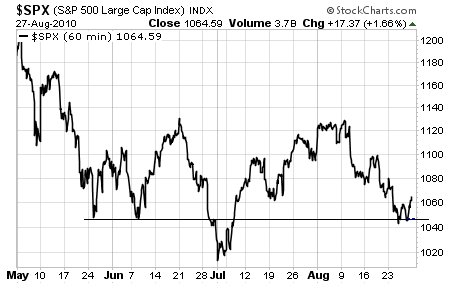 I think we'll be hitting those lines relatively soon. However, it may take some work to get there. As you can see, since breaking out of their bearish rising wedge pattern the week of August 9, stocks have entered a clear down trend channel. Friday's late day rally brought stocks right up to the upper trend-line which has acted as resistance before.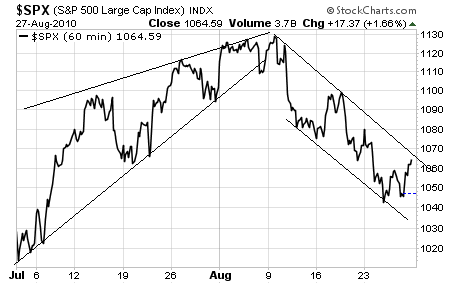 Judging from this pattern I would expect stocks to roll over again this week and re-test 1,040 before ultimately heading lower. The upper trend line of this trading channel has acted as stiff resistance before. We've also got major overhead resistance at 1,070 and 1,080 (see the red lines below).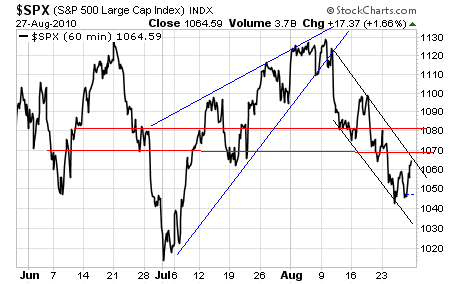 However, an alternative scenario would be for stocks to rally to break above the upper trend-line and test the 50-DMA (1,084), much as they did following the Flash Crash in early May.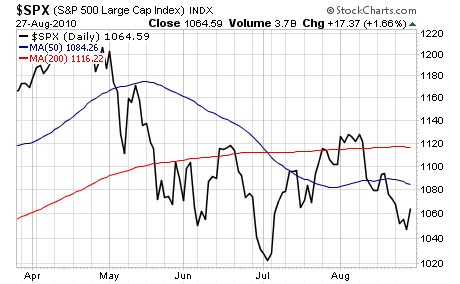 Indeed, it is not uncommon to see stocks mount a final rally to "kiss" their 50-DMAs before rolling over to new lows. As I write this, the S&P 500 futures are rallying and look to have just broken the upper trend-line of the downward trend channel, which indicates this final rally and "kiss" scenario might be how we start out the week.
Regardless, the BIG PICTURE scenario is that stocks are heading downward and that this latest upward move is a dead cat bounce if anything. We have a clear Head and Shoulders pattern with a downside target of 975 on the S&P 500. As I write, stocks are literally on the neckline for this patter. A break down here would mean a new wave of heavy selling (similar to early May) bringing the S&P 500 down to 1,000 in a hurry.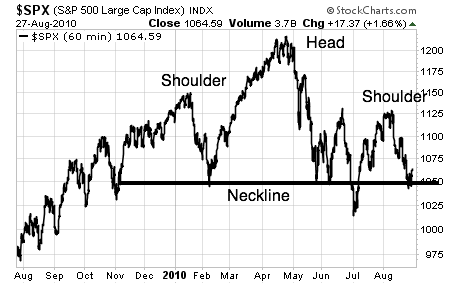 Thus, in the intermediate and long-term, I believe stocks will be down sub 1,000 on the S&P 500 within a month or so. However, in the near term, for this week, I expect continued weakness with perhaps some choppy action between 1,070 to the upside and 1,040 to the downside. A break above or below either level would indicate something larger has begun.
In the case of a break above 1,070, then we will likely rally to "kiss" the 50-DMA at 1,084 before this dead cat bounce rolls over and we break the massive neckline on the H&S pattern.
In contrast, a break below 1,040 would give a clear cut of the neckline on the H&S pattern which would mean 1,020 then 1,000 on the S&P 500 in a hurry.