Bankrate Incorporated (NYSE:RATE) is an internet information provider that generates and publishes personal financial content for people to use online. It has a large variety of services and products ranging from instrumental calculators to advice to guides. The company was founded in 1993, in Palm Beach, Florida.
One concept I find interesting about the stock market is that its participants gauge or value what a business is worth and price it accordingly (not arbitrarily). This is done through a variety of methods, and despite that the market is not perfect at doing such a task, it is pretty efficient overall. Bankrate, a well-established and a firm known by Wall Street, fits into this category. It is priced relatively correctly based on historical financial information.
Moreover, since major indexes like the iShares Russell 2000 Index (NYSEARCA:IWM) and SPDR S&P 500 (NYSEARCA:SPY) have progressed sideways for the last several months, investors are now becoming very choosy; it's certainly a "stock picker's year."
Statistics
If we look at Bankrate's price history, it has reached a high of $25 and low of $10; this gives us an average of $17.50, about 17% above the current trading level. Usually starting in May, the stock experiences prolonged selling until the beginning of June. However this year, it started a month earlier in April, likely due to the block selling by Ben Holding SARL, causing shares to slide almost 25%. With that said, the current pps looks attractive sitting below the historical mean and awaiting the month of June.
Fundamentals
Since 2011, margins and earnings have risen sharply due to increased sales and minor cutbacks in spending. In February, the company beat estimates on both the top and bottom line, pushing shares 20% higher. The last quarter earnings report showed no significant change in share price, showing net neutrality.
Using a dfcf analysis with the most recent figures of 89mm with 28% cagr suggests a value of $24 a share. If we undercut projected growth to a multiple of 20, then there exists approximately only 13% upside, or $17 per share. Below is the cash growth timeline:
| | | | | |
| --- | --- | --- | --- | --- |
| | 2013 | 2012 | 2011 | 2010 |
| Cash OPs | 105 | 77 | 48 | 31 |
| CAPEX | 11 | 14 | 6 | 4 |
Totals assets have continued to grow and debt to equity ratio remains at a low range of 0.35.
The Chart
In one of my previous articles, I discussed a little trading strategy, and it covered an entrance tactic that I developed myself called "slow sell-off and subsequent gap." It states that prolonged selling followed by a measured move should stop around the short consolidation time frame represented by the green circle. This is essentially the time to enter your position.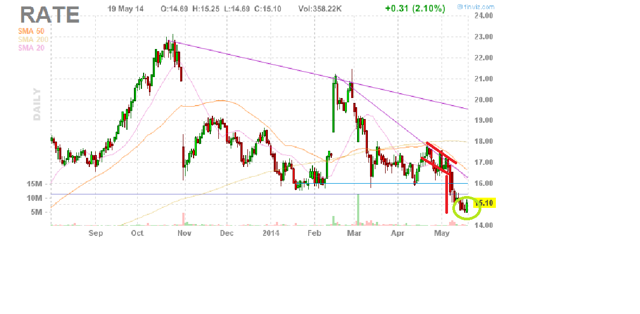 End Point
Bankrate is a safe place to put your money, however it seems to have a better function of being swing-traded instead, net-long, of course. The only visible concern is the somewhat excessive insider selling which may require further investigation. Even though technical indicators are bearish, I think $15.10 is a good area to initiate a small position. Conclusively, I wouldn't extend too much capital here, however, a gap fill back to $17 would not be in the least bit surprising.
Disclosure: I have no positions in any stocks mentioned, but may initiate a long position in RATE over the next 72 hours. I wrote this article myself, and it expresses my own opinions. I am not receiving compensation for it (other than from Seeking Alpha). I have no business relationship with any company whose stock is mentioned in this article.