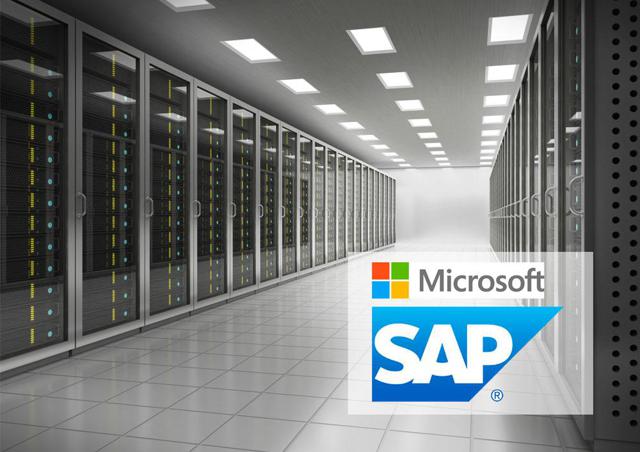 I have had a very interesting life. I started out 18 years ago as a consultant working with an ERP package called PeopleSoft.
More than a decade later, I became a blogger who focused almost exclusively on Microsoft (NASDAQ:MSFT) and now, I teach online business skills to universities, businesses and consumers for a living.
I have had a chance to look at business, online business and technology with many different lenses and it's been quite the ride. That's partially why I am absolutely convinced that Microsoft needs to purchase ERP software giant SAP (NYSE:SAP) as soon as humanly possible.
If you read Seeking Alpha, I assume you know what ERP software is, but I'll recap just in case.
Enterprise resource planning [ERP] is business management software-usually a suite of integrated applications-that a company can deploy in order to get an integrated, real-time view of their core business processes and efficiently manage that data throughout every stage of their business.

-Definition mine
The three titans of ERP right now are:
Oracle (NYSE:ORCL)
Microsoft
In that order.
An aside - Salesforce (CRM) is a giant but is technically not an ERP application because the above definition doesn't really apply. It falls into the CRM (Customer Relationship Management) category.
Anyway, here are the 8 reasons why I think Microsoft should acquire SAP.
Microsoft is a business software company
If you look at Microsoft as a company, you will quickly see that it is an enterprise software company that dabbles in the consumer space.
Despite creating Windows, the most popular consumer software on Earth, the company is simply better at successfully creating business software (Azure, Office 365, Windows Server, Dynamics etc).
It seems to stumble with consumer-related efforts Windows, Xbox, Windows Phone, Surface etc.
The companies have a good and close relationship already
Microsoft and SAP work closely together already.
Microsoft Corp. MSFT -0.20% and German business software maker SAP AG SAP.XE -0.54% are expanding their partnership in enterprise cloud computing, mobile devices and other areas, the companies said Monday.

The move, the companies said, aims to increase customer access to SAP's business software and applications in cloud computing and on Microsoft mobile devices.
It has hardware/software synergies
Once again, the WSJ:
Microsoft's cloud platform Azure is expected to support several SAP business applications by the end of the second quarter, including SAP Business Suite software, SAP Business All-In-One solutions, SAP Mobile Platform, and others.

Customers and developers will be able to deploy various preconfigured SAP products directly to Azure using the SAP Cloud Appliance Library tool, the companies said.
Oracle could hardly complain
The other large company (Oracle) in the ERP space would have no grounds for complaint or appeal to the DOJ. Oracle has gobbled up software companies like Pacman over the past decade, including its former competitor - PeopleSoft.
Windows/ERP integration
As someone who has worked with ERP tools before, I think that Microsoft could perform some really amazing integrations if SAP were a Microsoft company.
The union would allow Microsoft to be creative and make SAP work closely with Windows, Office, Skype and all the other assets it has. The sky would be the limit for the amount of value it could create.
Microsoft can afford it
With its stock trending upward and a market cap of $328 billion, we should all be able to agree that Microsoft can afford the acquisition. SAP is also a very profitable company, so it wouldn't be hard to justify.
It simply wouldn't be a radical acquisition
It would make sense from a business perspective.
With More than 253,500 customers in 188 countries, it would cement Microsoft as a powerhouse in the ERP space and would allow Microsoft to penetrate even deeper into the enterprise.
Not only would the additional customers be nice, but deeper Windows and Office integration with both SAP and Dynamics would not hurt.
SAP is far more robust than Microsoft's own ERP toolset - Dynamics
With a 42-year history, SAP is hands down the most mature/complicated and/or sophisticated ERP tool on the market.
As a (former) ERP industry professional, I can attest to the amount of respect we had for the company and its products. SAP is known for creating the most detailed, complex and powerful ERP software on the planet.
The bottom line is, Oracle has shown that large scale ERP company consolidation is possible and can work. I believe that Microsoft would be wise to follow suit.
Let me know what you think in the comments below...
Disclosure: I have no positions in any stocks mentioned, and no plans to initiate any positions within the next 72 hours. I wrote this article myself, and it expresses my own opinions. I am not receiving compensation for it (other than from Seeking Alpha). I have no business relationship with any company whose stock is mentioned in this article.
Disclaimer: I am the CEO of Learn About The Web Inc. (learnabouttheweb.com). Learn About The Web™ is an online business education platform dedicated to providing universities and businesses with the tools required to credibly teach online business. I teach and discuss online business companies (including Microsoft) frequently. I also own several Microsoft related online properties like Eye On Windows (eyeonwindows.com) and Windows 9 Update (windows9update.com). I also own a PeopleSoft related web property (peoplesoft-planet.com).