AFLAC (NYSE:AFL) has passed ModernGraham's Defensive Investor requirements, so now I am interested to know more about AFLAC's management of its company, its people, community relations, and corporate governance. A growing number of investors are examining a public company's ESG performance data to make to more informed investment and business decisions. This growth complements Ocean Tomo's finding in their Intangible Asset Market Value Study that there is a "value gap" between physical and financial accountable assets reflected on the S&P 500's balance sheet, which comprises less than 20% of the true value of the average firm. This "value gap" is a complete inverse compared to how the S&P 500 was valued in 1975, when more than 80% of a company's business value represented tangible assets.
ESG performance disclosures valued by the capital markets attempt to address that value gap by measuring the environmental, social and governance "intangibles" related to individual company performance and industry sectors. ESG metrics help stakeholders understand risks and opportunities related to a company's environmental footprint, its social responsibility towards people (employees, customers, local communities), and internal governance.
Analysis of AFLAC's ESG performance. The chart below compares AFLAC's 2012 ESG performance disclosures in 11 categories to the industry average, and to the 2012 U.S. based industry group leader (Allstate (NYSE:ALL)) for ESG disclosers. Bloomberg Professional's equity service platform is the source of the ESG metrics in the chart (read more below). "NA" in any column means the information is not available. The third column provides aggregate ESG Disclosure Scores (ESG score) that range between 0 (no disclosure) and 100 (full disclosure).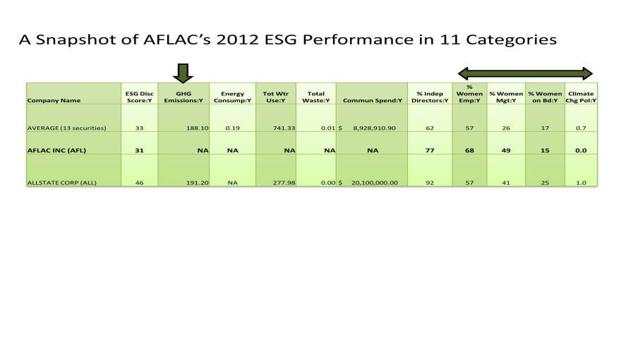 AFLAC's ESG score of 31 is slightly below the industry group average of 33 -- but the industry average for the insurance sector is lagging in ESG disclosure as a whole. The best 2012 ESG discloser score for a U.S. based supplemental health and life insurer is Allstate, with an ESG score of 46. It is evident that AFLAC's ESG disclosure score is below average because it has not yet provided key ESG metrics of Total GHG, Total Energy, Total Water and Total Waste for its operations, whereas some industry leaders have.
Beyond AFLAC's need to account for its basic environmental footprint, the 2012 ESG data shows that 67% of AFLAC's workforce are women, well-above the industry average of 57%. So, why are only 26% of AFLAC's women in management, and only 15% are on the board? With nearly 70% of AFLAC's total workforce being women, these metrics raise questions about gender parity when it comes to AFLAC's executive leadership and internal governance.
Last year, the Sustainability Accounting Standards Board (SASB), developed a voluntary ESG accounting standard for publicly traded insurance companies to report on material sustainability issues. The standard can be downloaded from SASB's website. Key ESG issues that arose from this process have to do with property and life insurers evaluating their risk due to extreme weather related events. Current ESG metrics indicate that AFLAC has not yet developed a position on climate change and underwriting.
It will be interesting to watch how this guidance is implemented by insurance companies in the 2014 reporting season.
Lesson: Public companies (and the private companies who do business with them) need to recognize that best practices for sustainability disclosures include standard ESG aggregate data like what is presented above. When companies in an industrial sector first disclose sustainability performance, aggregate ESG scores reflect the level of disclosure. Once ESG disclosures are mature for an industry sector, intensity and productivity metrics can be calculated as proxies for operational and management efficiency. Companies that do not disclose ESG data at all risk being eliminated in a competitive situation because of the appearance of risk and lack of transparency and accountability. For a more detailed explanation of ESG data as a game-changer, read this white paper.
Where does this data come from? Since 2009, Bloomberg's Professional equity platform has provided corporate financial and ESG performance data to the capital markets. Corporate ESG data is typically released through annual corporate sustainability reports. Bloomberg Finance dashboards now contain public corporate financial and ESG performance data, and this information is available to subscribers via nearly 400,000 Bloomberg terminals installed in investment and financial institutions throughout the world, including Fortune 500 CFO offices, academic settings, and public libraries. Anyone with access to these terminals has access to the information.
Disclosure: The author does not currently hold a position in AFLAC and has no intention of changing that position within the next 72 hours.