With earnings season winding down last week, we wanted to provide an update of the S&P 500's valuation based on trailing earnings. Although the official earnings season has come to an end, there are still a handful of S&P 500 companies that have yet to report (including Lowe's (NYSE:LOW) on Wednesday. According to S&P, with 94% of companies having reported, the S&P 500 is on pace to post $27.38 in operating earnings for the first quarter of 2014. That represents an increase of 6.2% from Q1 of 2013, and puts the trailing 12 month EPS for the index at $108.91. Based on the current level of the S&P 500, that works out to a trailing P/E ratio of 17.31.
The chart below shows the long-term historical P/E ratio for the S&P 500. At a current level of 17.31, the trailing P/E ratio is nearly two points above its historical average (15.35: red line). While the market is "expensive" compared to its long-term historical average, compared to short-term time frames, the market's valuation is more mixed. Over the last 25 years, the S&P 500's average P/E ratio (18.90) is more than 1.5 points above the current valuation, but compared to just the last decade the current P/E ratio for the S&P 500 is modestly above average (16.95).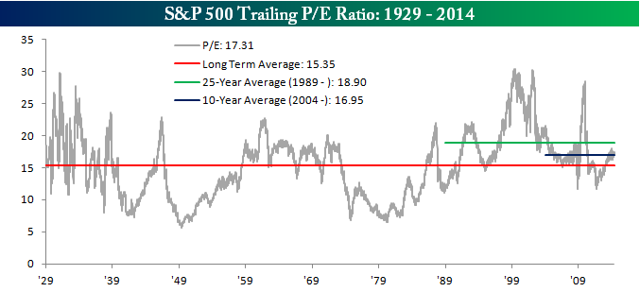 Looking ahead to the rest of 2014, analysts are currently forecasting operating earnings of $119.71 for the S&P 500. If, and this is a very big if, those earnings estimates were achieved and the S&P 500 does nothing between now and year end, that would translate to a P/E ratio of 15.71 times earnings, which would still be above the historical average. Granted, you can't just view P/E ratios in a vacuum and need to take other factors into account (like other alternatives), but all else being equal, equity valuations are not on the cheap side of the spectrum. They're also not that expensive either, though.