Sensient (NYSE:SXT) has had a good year, up over 34% over the last 12 months. Much of that is the result of the successful restructuring of its Color Group over the last several years, which has given a boost to revenue and earnings. With that largely behind it, it is now focusing on its Flavors & Fragrances Group to do the same.
I think it probably would have performed even better, but concerns over the new, young CEO Paul Manning weighed some on the company, as has its battle with hedge fund FrontFour, which fought to place several of its preferred directors on the board.
On the operational side, investors have been looking for improved margins at the company, and it has successfully taken steps to do that. When it completes the restructuring of its Flavors & Fragrances Group, it'll do even better in generating revenue and earnings.
After that, it will likely target its Corporate & Other segment, which entails Asia-Pacific and some of its Flavor operations in Latin America.
source: Yahoo Finance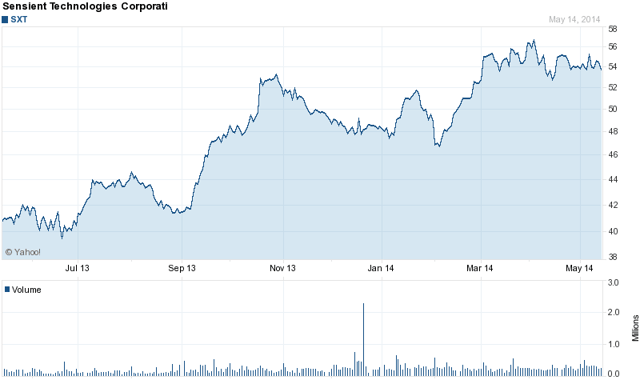 Color Group Transformation
Over approximately the last five years Sensient has engaged in the restructuring of its Color Group, which is now completed. As a result of the initiative, the company has been able to save $12 million annually.
Also during the same period of time the unit has outperformed the competitors in this segment, becoming the market leader.
Revenue has also gone up too, coming in at $133.6 million in the first quarter of 2014, up from $129.5 million in revenue generated in 2013 in the same reporting period.
With margins coming under pressure in the past for the Color Group, this is the particular area that needs to be watched in order to confirm how successful the restructuring has been.
In that regard it has done well, rising from 20.6% in the first quarter of 2013 to 22% in the first quarter of 2014; an increase of 140 basis points. Driving most of that performance were ingredients for cosmetics and digital inks.
The combination of increased revenue and margins bodes well for the ongoing transformation the company is going through. If it can do the same with its other two units, it should propel the company to sustainable, long term growth. It must be understood there that the Corporate & Other segment is much smaller than the other two segments, and so at this time wouldn't have as much impact on the top and bottom lines of the company.
Even so, if it takes a couple of years to transform its Flavors & Fragrances Group, that will give it time to grow, and then it could be a much larger and stronger performer.
For an idea on how the company has improved margins since 2009 when it launched the restructuring of its Color Group, at that time operating margins as of the third quarter for the year to that point were 13.6%. That means the company has grown its margins between 1% and 2% per year in the Color Group over the last 5 years.
Now that the company has proven it can successfully execute its restructuring initiative, it points to the high probability of success with its Flavors & Fragrances Group.
The challenge now is how much more room Sensient has to improve margins in the Color Group. I think it's going to struggle to boost levels as it has over the last five years, to it's going to rely largely on the performance of its Flavors & Fragrances Group, since revenue will only move up at best at an incremental pace.
Flavors & Fragrances Group
After completing its restructuring of its Color Group in 2013, Sensient started to restructure its Flavors & Fragrances Group.
This unit of the company has struggled with margins, as back in the third quarter of 2009 it generated operating margins of 15.5%, while in its latest quarter Sensient generated margins of 14%.
The good news is it has started to turn that around, as the 14% represented an increase in operating margins of 80 basis points over the same quarter in 2013. Leading the way was Natural Ingredients and North American Beverage businesses, which both grew in the double digits for the quarter.
Revenue in the unit was slightly down, coming in at $213.4 million. Last year in the first quarter it generated $215.8 million in revenue.
Operating income improved from $28.4 million in the first quarter of 2013 to $29.9 million in the first quarter of 2014.
If Sensient is as successful with its restructuring of its Flavors & Fragrances Group as it was with its Color Group, these numbers will continue to improve. It shouldn't take as long to do so either, with it expected to be completed in 2015.
Impressively, it is projected to generate cost savings in a range of $20 million to $25 million annually once it's completed.
This should boost not only margins in the unit, but also significantly increase its earnings, even if growth were to remain flat - which is unlikely.
The specifics of the changes are the consolidation and/or elimination of specific manufacturing facilities, as well as optimizing production.
By next year the company should not only benefit from the $12 million in annual savings it already enjoys, but will add at least another $20 million in cost savings starting in 2015.
It appears the acceleration of savings will make a strong impact on margins and earnings within the next year. With the Color Group increasing revenue, if Flavors & Fragrances is able to do the same, it will put the company in good position to grow its top and bottom line years into the future.
After restructuring charges are removed from the results, the company will be poised to really take off. Overall pretax charges are estimated at $90 million, with the $53 million of that being taken in the first quarter.
With my outlook for Sensient's Color Group being slightly up, Flavors and Fragrances is where earnings growth must be looked for. Over the next year it looks good for this unit of the company, which will at minimum keep it level or slightly better in earnings.
The problem lies in how long the Color Group can maintain its margin improvement. It looks like it's going to wind down, which means Flavors & Fragrances will have to carry a heavier load. It think it can because of the accelerated pace Sensient has engaged in to restructure the unit.
Taking that into consideration, we need to look at the product mix of the company, as that is where the revenue growth will come from.
Product Mix
No company has strong long-term success if all it does is cut costs, as those costs must be accompanied by growth to ensure sustainable profitability. Over the next couple years Sensient looks good because of its cost cutting strategy. But to really give its share price impetus, it will have to demonstrate it is able to generate revenue at the same time.
To that end it's making changes to its product mix by introducing higher-margin products. It's also getting rid of low margin business that aren't conducive to its goals. This is especially being done in Flavors & Fragrances.
Combined with its cost cutting efforts, this should propel the company forward. Since Flavors & Fragrances are the largest unit of the company, it should have a more dramatic impact on its results over time.
If the overall effort brings margins up to the level they are in the Color Group, the result will be an additional 7% or more in earnings and an increase in operating income by about $4 million annually. Again, this is primarily in its Flavors & Fragrances Group we're talking about.
This is also assuming it generates the same revenue and operating income it is today. That will be higher in the future, and so those numbers should be considered only a base to work from.
The most likely scenario is the company will boost margins in Flavors & Fragrances in the high teens over the next two or three years, and from there probably zero in on the 20% and higher margins the Color Group is now enjoying.
Nonetheless, with margins in the high teens, because of generating more revenue, it will outperform the Color Group.
Conclusion
Sensient is taking the needed steps to boost margins, increase productivity, and position itself for consistent long-term growth.
It'll take a little time to work down its restructuring costs. But once the elimination of less productive operations is complete, that and the fact restructuring costs will be completed, points to a compelling outlook for Sensient.
I don't see any catalysts that will surprise, as growth will probably be incremental in the years ahead.
But a more streamlined company with growing margins points to a sustainable outlook for Sensient.
There will be some drag on the company from restructuring charges. But when the results show improving margins and added revenue, this company could surprise going forward.
It'll probably take until the middle of 2015 before its starts to show some significant upside, but if it outperforms from quarter to quarter, it may surpass expectations; both in the short and long term.
One thing that continues to be negatively disruptive is hedge fund FrontFour's tenacious grab at landing the directors it wants on the board. Another is shareholders getting more confidence in CEO Paul Manning. As those issues are addressed, it should remove some of the stigma off the company that may be holding it back.
By the middle of 2015 I believe Sensient could test the $60.00 per share mark.
Disclosure: I have no positions in any stocks mentioned, and no plans to initiate any positions within the next 72 hours. I wrote this article myself, and it expresses my own opinions. I am not receiving compensation for it (other than from Seeking Alpha). I have no business relationship with any company whose stock is mentioned in this article.