Much has been written about the marijuana space over the past six months. The legalization of the drug for recreational use in Colorado and Washington has fueled one of the most active, speculative furors in ten years, proving highly profitable for some, yet not so for others. What potential really is there in the industry? Where is it and what are the risks involved? Here's a look at the good, the bad and the ugly of the whole affair.
A Quick Recap
First, let's take a moment to look at how we got to where we are today. In January this year, Colorado became the first state in the Union to legalize marijuana for recreational use since it was declared illegal in 1937. The legalization drew a huge amount of media attention to the potential size of the marijuana industry, attention that used global estimated marijuana use to project double figure billion revenues by 2020, and growth that exceeds the current fastest growing industries such as smartphones. Extremely broad strokes though these predictions were, these shaky, yet huge valuations succeeded in drawing retail investor attention. Initially this came from the regular investment community and subsequently from those who do not generally invest, but could not resist the temptation of the widely reported quadruple digit returns.
The surge in investor demand rocketed the prices of nearly every company associated with marijuana, however tenuous the connection, as the Marijuana Index [MMJ] chart below shows.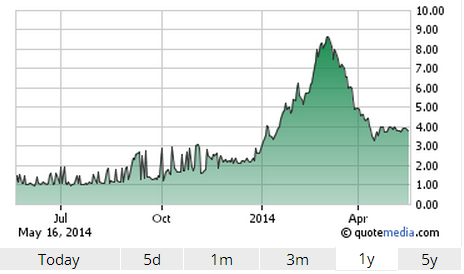 Prices peaked somewhere around the beginning of March, as a combination of profit taking and the return of investor sanity reversed the trend and precipitated a sharp decline throughout the latter half of March and the first week of April. So, what's next? As with any budding industry (no pun intended), some of the MMJ index components will prove sound long term as the market matures. Some, of course, will not.
The Good
First up, and taking the good position on this list, is GW Pharmaceuticals (NASDAQ:GWPH). The company differs from many of the marijuana industry players in that it is NASDAQ listed, and has an approved medical product that is currently on sale and generates substantial revenues. The product, Sativex, a cannabis-based mouth spray for spasticity caused by multiple sclerosis, differs from many of the current cannabinoid treatments in that it is manufactured from a combination of compounds derived from actual cannabis plants, rather than the mono-molecular synthetic product from which many others are made. Sativex is not currently approved in the US, but in-market sales have grown 25% (page 112) from 2012 to 2013 and have skyrocketed since 2009.
The treatment is currently undergoing Phase III trials in the USA for cancer pain, and GW has opened an Investigational New Drug [IND] application for Sativex in the treatment of spasticity. If approved for the former of these two indications, the potential market size for the treatment would be approximately 2.5 million patients.
Strengthening the investment thesis as far as GW is concerned is its second most promising candidate, Epidiolex. Like Sativex, Epidiolex is a cannabis derived product, designed for the treatment of a number of rare pediatric forms of epilepsy. Again as with Sativex, Epidiolex is a natural cannabinoid, and the treatment contains zero tetrahydrocannabinol [THC], the active psychotropic component in cannabis we are all familiar with from pop culture. In November 2013, the FDA granted Epidiolex orphan drug designation for the treatment of Dravet syndrome, and more recently, in May this year, granted the treatment IND status for the same indication. Both of these grants afford GW Pharmaceutical an accelerated and potentially cheaper route to market with the treatment, and the company expects to commence a Phase 2/3 clinical trial in the second half of 2014.
The company's potential, however, is not the sole factor in its high rank here. The main driver behind that decision is rooted in risk. The use of real cannabis in the manufacture of Sativex has led to it being more closely linked to the industry than many other cannabinoid pharmas, but that is about where the similarities end. Many of the companies that comprise the Marijuana Index are yet to generate revenues, and have valuations based solely on flaky press releases and industry growth projections. GW generates revenues - $44.2M during 2013 - and though not consistently profitable yet, has a pipeline of cannabinoid treatments that offer expansionary catalysts, and has cash in the bank - $159.4M worth of it.
The biggest risk with GW stock now is one of possible short-term overvaluation deriving from its association with the marijuana industry. A slow scaling in over the next few months would be the wisest move, as it offers a steadily building exposure to potential value-driving catalysts in specific and the marijuana industry finding its footing in general.
The Bad
Taking the second, and not quite so attractive, spot on the list is Vape Holdings (OTCPK:VAPE). Vape markets itself as a company that focuses on designing, marketing and distributing various vaporization products. Key in this description is the word focuses, as at present, the company hardly does any of these things. The formation of the company itself came about in January this year, when PeopleString Corp (OTCQB:PLPE), a fledgling tech company, announced a 1-for-40 reverse stock split, name change and symbol change. It acquired the rights to manufacture and sell a ceramic vaporization product in February this year through a reverse merger with HIVE Ceramics, and the product now accounts for its total asset value of $250,000.
With zero revenues and assets based on the private valuation of its only product, at what capitalization does the market value this new entrant into the marijuana space? The answer - difficult to say. There has been considerable discussion on SA concerning the company's share structure, and comments on what otherwise looked to be an excellent article still shone no light on the matter. A look at the Marijuana Index however, suggests that the company currently has a little over 8.5M shares outstanding. At its most recent close, this values Vape at $28.76M. This in itself looks like an overvaluation for a company with no proven revenue potential, but looks tiny when compared to Vape's March high at $41.25, which would have valued the company at $363M.
So if not current revenues, what is this valuation based upon? Potential sounds like a reasonable answer, so let's take a look at the company's potential. Aside from the aforementioned HIVE acquisition, a look at the company's website highlights its intent to enter the electronic cigarette market. Another booming market, analysts expect electronic cigarette revenues to reach close to $2B this year. On the face of it then, this looks like a second, well-timed entry into a rapidly expanding market. However, Vape itself highlights the problem with such an entry with its own wed copy. Taken from the company's website:
"Despite an influx of hundreds of new brands in the e-cigarette business… (sic)"
The market is incredibly fragmented, and big tobacco has been relatively slow of the mark with getting involved. This has enabled some of the first movers to build a certain level of reputation, and in turn, market share. Vape, on the other hand, is entering the market after big tobacco has established itself in the space. It is very unlikely that Vape could build a $200M business through selling ceramic vaporizers and trying to wrestle electronic cigarette market share from big tobacco.
In short, the risk aversion quality that put GW at the top of this list has put Vape squarely at the bottom. Yes, the company has declined more than 90% in eight weeks, but the oversold technicals are not to be trusted on this one. Expect more trouble as the year matures.
The Ugly
The final addition to this list is GrowLife (OTCPK:PHOT). GrowLife takes the "ugly" spot, and should serve as a warning to impulse investors that promises of triple and quadruple digit returns are almost always unfounded.
GrowLife, a manufacturer and supplier of marijuana growing products in the US, spent the majority of 2013 trading over the counter between 5-10 cents. The attention that surrounded the legalization of marijuana sparked a 1,200% gain in the company's share price between October 2013 and March this year. From highs just shy of 80 cents, GrowLife stock declined to trade at the half dollar mark as the SEC announced a trading halt. Rumors of improper behavior spread and the company's stock collapsed to its current price of 7 cents following the resumption of trading.
A number of legal investigations are underway, and despite GrowLife's protestation, it looks for all intents and purposes that the company's investors have fallen victim to a classic pump and dump. (This is my own opinion, and is not representative of the outcome of any official investigation.)
To cut the company some slack, and in the interest of balance, GrowLife recently released its initial 2014 results, which suggested the company is driving in the right direction. Revenues for Q1 2014 increased to $2.38M, from $760,709 in the same period last year, an increase of $1.62M or 213% compared to revenues in Q1 2013. By the same measures, gross profit increased $270,752 comparing the respective quarters, or 108%.
These figures suggest that, while its stock market practices are currently under question, it is at least able to generate a gross profit on paper - more than can be said for Vape. It does not suggest however, that the market's valuation of the company as late is justified. The debacles already said and done with this one secure its placement in the ugly category.
Worse still, despite the tiny piece of good news in revenue growth, GrowLife had another ugly debacle with derivative valuations this quarter where it apparently overvalued some of its own paper by $34M, resulting in a quarterly loss of over $37M, a 31x increase in net loss year over year. (See pages 9-10 on its 10-Q.) Just another oopsie or is this something worse? This just adds insult to injury.
Conclusion
The marijuana hype that overtook a small segment of the investment community can be seen as a mini echo of what happened when the internet started getting popular and dot com stocks exploded. Investors got over excited about a new industry and were not discerning about where they put their money. This led to opportunistic forces looking to catch some of the enthusiasm with little or no plan to follow through. The same happened here. Many people bought pot stocks because it was new, not because any specific company was doing well fundamentally.
Nevertheless, the fact that some investors lost their heads for a time does not mean the industry is not promising. If you picked the right dot com 15 years ago, you did very well. Same thing here. Pick the right marijuana stock and you may indeed do very well, but picking the right one is not easy.
In the aftermath of a meteoric rise, and a sudden collapse of an entire industry of stock prices, all is not equal. There are some companies, such as GW, that will inevitably be tarnished by the association that loosely drew its inclusion into the industry in the first place, but could still provide an investor with steady, low risk access to the growing marijuana space. GW is merely an example of what one should look for. Actual revenues, a realizable business model, and coming catalysts. And if you see a parabolic rise in a stock with no revenues, try to short it if you can.
Disclosure: I have no positions in any stocks mentioned, and no plans to initiate any positions within the next 72 hours. I wrote this article myself, and it expresses my own opinions. I am not receiving compensation for it (other than from Seeking Alpha). I have no business relationship with any company whose stock is mentioned in this article.