Storage giant NetApp (NASDAQ:NTAP) is scheduled to announce its Q4 FY 2014 earnings on May 21. Storage hardware product sales declined by 3% across the industry in 2013, with NetApp and EMC (EMC) the only players in the market to witness growth in storage hardware in that period. In its recent earnings, EMC reported a decline in its storage products revenues - a trend which is likely to be seen in NetApp's earnings as well. On the other hand, NetApp's maintenance revenues (both software and hardware) could continue to grow on the back of a solid customer base and a high number of client maintenance contracts.
NetApp's overall non-GAAP gross margins were up by over 3 percentage points in the previous two quarters compared to the year-ago period. The company attributed the gain in margins to a favorable product mix and an efficient supply chain. Additionally, a 3% decline in the cost of materials in Q3 and lower-than-anticipated services infrastructure spending also contributed favorably to overall gross margins. Going forward, the company expects margins to be around 62.5% for Q4, which is sequentially lower than Q3 but still more than a percentage point higher than the prior year quarter. We have a $43 price estimate for NetApp, which is around 30% higher than the current market price.

Overall Storage Product Sales To Remain Subdued
NetApp's mix of products sold via the original equipment manufacturer (OEM) channel, which include products sold by partner companies such as IBM (NYSE:IBM) and Fujitsu, has decreased significantly in the last couple of years. NetApp made about 18% of its product sales via the OEM channel in 2011, but it declined to just over 11% in 2013. Comparatively, NetApp's branded sales have grown consistently in each of the previous six quarters. [1]
Strong sales of NetApp's branded products led its overall product revenues to grow in 2013, when the industry as a whole witnessed a slump. In 2013, EMC and NetApp were the only major storage providers to increase their storage hardware product sales. The chart below shows NetApp's gain in market share in the external disk storage market (data from IDC). On the back of a consistent gain in market share over the last few years, NetApp has seemingly cemented its second place spot in the external disk storage systems market.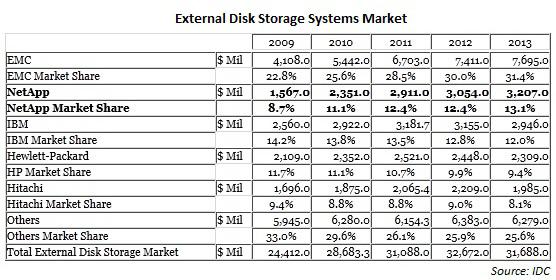 However, in the March quarter, EMC faced a 7% year-on-year decline in storage product revenues which indicates a continued slump in storage product sales. According to our estimates, NetApp's storage products are also likely to face a difficult quarter. Despite growth in NetApp branded revenues, the company could witness a decline in overall product sales due to weakness in its OEM channel and challenging IT spend across the industry. As a result, the company expects its Q4 revenues to be 3-4% down compared to the same period in 2013. [2] Although the company's storage product revenues could be lower in 2014 than the previous year, we expect it to continue to gradually gain market share.
Services And Maintenance Revenues Likely To Continue Growth
NetApp's hardware maintenance revenues have witnessed a 15-20% year-on-year increase in each of the previous seven quarters on the back of an increased installed base and aggregate contract values under service contracts. Given the continued growth in maintenance contracts, NetApp's hardware maintenance revenues are likely to continue that growth in the coming quarters.
Additionally, the company's Software Entitlements and Maintenance (SEM) revenue stream, which includes software upgrades, bug fixes and patch releases, grew at a CAGR of 9% from 2010 to 2013. With an increase in software-dependent storage, SEM revenues could continue to rise as NetApp's customer base under SEM contracts is also likely to proportionally increase. However, the increase in SEM revenues has weighed on the company's professional and corporate services revenue stream. An increasing dependence on software-based storage has driven IT departments to spend more on software-based solutions on a when-and-if-basis rather than opting for training services offered by NetApp's professional services division. Consequently, we expect NetApp's Corporate and Professional services revenues to decline by about 3% for the full year.
Disclosure: No positions.