When the Market Goes South
There is a nice debate on Wall Street right now about whether the market as a whole is overvalued or not. Well no matter what side of the fence you sit on in this debate, there will always be safe places for your money, if you know where to look.
The telecom sector is quite interesting because not only do some telecom stocks offer upside in a down market, some of the telecom stocks are offering a tremendous value with dividends.
The telecom stocks that will help your portfolio are Verizon Communications Inc. (NYSE:VZ), AT&T, Inc. (NYSE:T), Frontier Communications Corp. (FTR) and lastly Vodafone Group (NASDAQ:VOD).
Each of these stocks offer upside in a market that can turn on a dime and they are all offering close to 5% yields or higher.
Sure, three of these stocks are behemoths in the telecom industry and yes they all carry substantial debt because they are still building out infrastructure at a rapid pace. But stability is what you seek in a time when the market could be unwinding.
With a handsome yield that is higher than the 10-year U.S. Treasury note, adding these stocks to your portfolio may seem like a no brainer.
Four Stocks with a Delightful Dividend
Verizon
Verizon Communications is a great example of stability, a good dividend and upside with little downside in the near future. Currently, Verizon is around $48 a share and is hovering just above its 52-week low of $45.08 and 10% below its most recent 52-week high.
More importantly the share price has been holding steady above or just below its 50-day moving average. The important part of this is that at this level Verizon's price to earnings is only 10.70 and going forward, price to earnings is projected to be 12.49. More astonishing is that time and time again this stock has offered stability with an attractive dividend of over $2.12, leaving the investor with a whopping 4.31% yield.
Verizon also offers a very astute management team that has been able to achieve over 48% return on equity for the company while sporting an 11% profit margin and 27% operating margin. The quarterly revenue growth projections are almost at 5% which can bode well in a sector that many analysts seem to feel is stagnant at this point.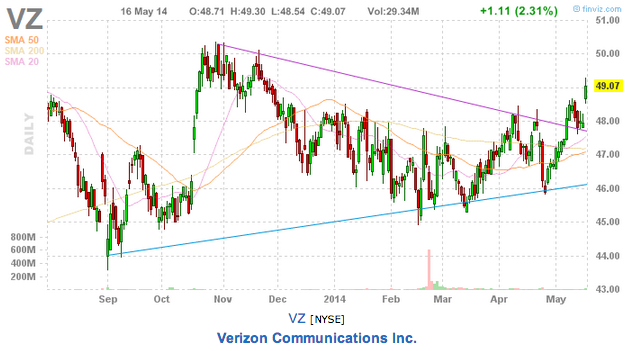 AT&T
AT&T has been under more pressure than Verizon due to the current pricing war the company has engaged in with T-Mobile (NASDAQ:TMUS), but that has not been reflected in the share price of $36.40.
Currently AT&T is much closer to its 52-week high of $37.62 than its low price of the year of $31.74 but this might be explained by traders unwinding their short positions, which still total almost 4% of the shares floated on the market.
More interesting than the possibility of upside on share price is that AT&T's $3.43 earnings per share equates to a delicious 5.10% yield. Even at this lofty level there is stability with price to earnings at 10.62 and a forward price to earnings of 12.91.
Another caveat to AT&T is the quarterly revenue growth which is projected to rise around 3.6%. With a management team that offers a very nice 14% profit margin but a slightly lower return on equity than Verizon, AT&T can bolster your portfolio at a time when some feel cash in your portfolio is the better option.
Vodafone
Vodafone is the third telecom stock that offers a generous dividend, stability and more possible upside. Currently Vodafone is just below its 50-day moving average of $36.72 but well off of its 52-week low of $27.51. More recently the share price has been under pressure due to recent earnings released from some of its competitors in the European telecom sector.
Overall, Vodafone has a price to earnings of 2.82 and a forward price to earnings of 10.75 at these share price levels. Something more interesting is that Vodafone is offering an enticing dividend for the year which equates to an outstanding 5.92%.
Vodafone's management has been very good to its investors with regard to a profit margin of 45.35% and a return on equity of almost 25%. Vodafone also offers quarterly revenue growth of 2.5%, slightly lower than AT&T and Verizon, but the company also holds less overall debt than either AT&T or Verizon.
Even with this slower revenue growth Vodafone is expected to produce almost $29.00 of revenues per share. The share price is currently around its 50-day moving average even after a couple of downgrades based on the economic atmosphere in the telecom industry in Europe and the U.K.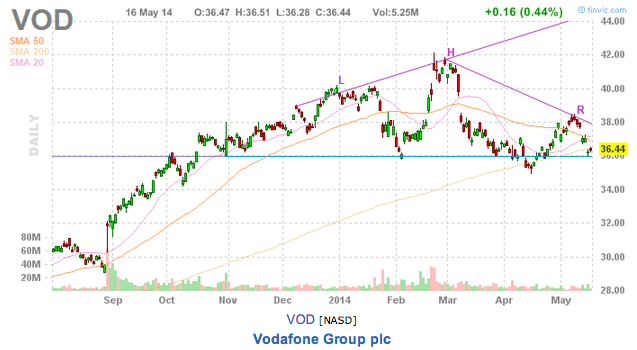 Frontier Communications
Frontier Communications Corporation is another telecom that offers a remarkable dividend of $0.40 for the year, which is a yield of 6.6% at a current share price of around $6.00. Now the Street understands the problems that have engulfed Frontier Communications. The company was hit with a decline in earnings, as well as a decline in revenue growth during the last year. But investors are still buying shares even as the company recently hit a new 52-week high.
Overall, Frontier Communication's share price is up some 30% and investors understand that there could be some serious correction at some point to the downside. There is some speculation that the dividend is unsustainable but that is for another day. The upside to the share price might actually come from a short share squeeze because over 17% of the shares floated are currently held in short positions.
With a price tag that could easily be swallowed up by a larger competitor, a merger or acquisition could be the short seller's nightmare or a dream for someone who is long and just waiting for the massive dividend.
Overall, these four telecom companies do hold quite a bit of debt between the four of them but that is the nature of the telecom build out. Telecom is a game of bigger is better. These four companies can also offer your portfolio some peace of mind knowing that the dividend yields you will be receiving are still a larger yield than that of the 10-year U.S. Treasury note. An investor also might experience a push to the upside when the market turns sour and the rush of dividend hungry investors rotate into these four companies.
Disclosure: I have no positions in any stocks mentioned, and no plans to initiate any positions within the next 72 hours.
Business relationship disclosure: This article was written by Daniel Shosky as a guest piece for Marwood Capital. We have no business relationship with any company mentioned.