Below you will find the financial data that I have gathered from a multitude of investment research and reporting firms on Howard Hughes Corp (NYSE:HHC). I gathered this data by looking at company records and index reports and measured against comparable stocks in the same industry. Before I present the statistics, I'd like to give some general information on HHC because I am a firm believer that you should never invest in something you do not understand. "Howard Hughes Corp is a real estate company and is in the development of master-planned communities and other strategic real estate development opportunities across the United States."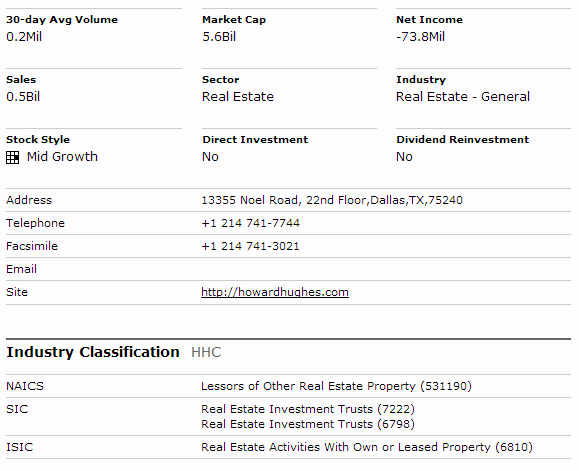 NAICS, SIC, and ISIC codes are things I used on a daily basis as a contracting officer in the Air Force that describe what category the company falls under. It is used in government contracting to report to Congress what sectors of the economy our government dollars are flowing to.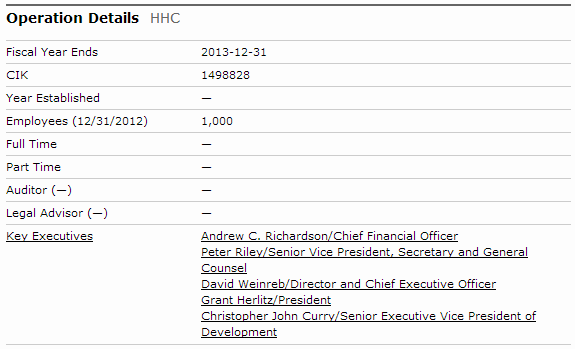 The size of the company is important to consider because it shows how large the company is and how many human assets are available. The key executives are listed to help us look into the background of each individual. In HHC's case the CEO and CFO are probably the most important people to know. CFO Andrew Richardson has worked in accounting and real estate since 1988. He has served as executive management for Northstar Realty, iStar Financial, and Salomon Smith Barney. The CEO, David Weinreb, has been with HHC since 2010. Before his position he served as CEO for TPMC Realty Corporation, and director of operations for Thornton Partners Management Company. He was project manager for MacDonald and Masi Company and brokered for Murray Financial and has been in the real estate business since 1984.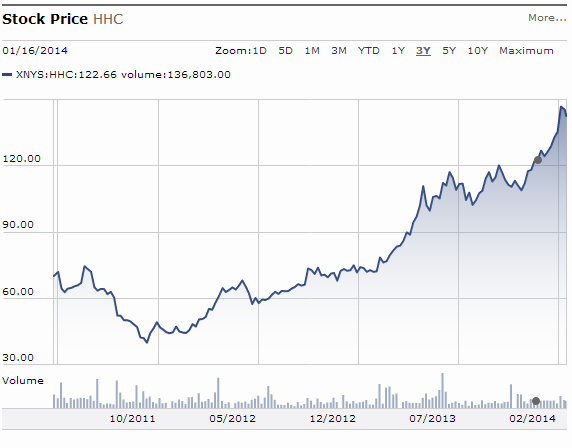 This chart shows the company's growth over the past 3 years. This chart not only shows steady growth, it also shows a timeline when the real estate market did not do as well. The next chart shows when the real estate market suffered and you can see how it lines up with HHC's chart. This demonstrates that any poor performance is not necessarily the company's fault, but instead the market's fault.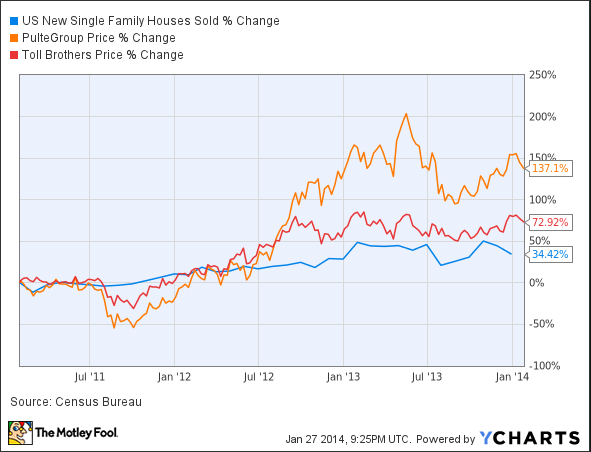 The above chart is taken from the Motley Fool, a trusted stock monitoring and advice source. The Pultegroup and Toll Brothers are two major real estate companies, and the chart shows their performance compared to the housing index. In comparison, HHC has beaten competitors in the last two years. As houses sold leveled off, competitors saw a slowdown in 2013 whereas HHC continued the momentum. HHC has grown despite the housing market's volatility since January 2013. Below is list of HHC's top competitors and where they stand with HHC.
Though the company is somewhat smaller than some of its peers, its P/S (price to sales, or its stock price to sales) is much higher than the average, meaning that it is overpriced. Its Net Income is in the negative by $73M meaning the company is in a lot of debt. And its P/B ratio (price to book ratio measures its stock price to its "book" value, or the company values based on its books as reported by the last quarterly report) is higher than the industry average meaning it is overvalued. The Street says, "Howard Hughes' ... strengths can be seen in multiple areas, such as its revenue growth, largely solid financial position with reasonable debt levels by most measures, solid stock price performance, and increase in net income and impressive record of earnings per share growth. We feel these strengths outweigh the fact that the company shows low profit margins."
Further investigation into the subjective data, or the historical data, represents the information that has been reported on the company's off-the-books dealings. This is important to research because it shows what a company has been up to in its extracurricular work, or in other words its political decisions instead of financial. This helps to explain the situation behind the numbers reported on HHC.
"I expect the momentum we achieved in 2013 to continue through 2014. Our assets are located in exceptional markets with strong economic fundamentals. Our performance, solid balance sheet and nearly $900 million of unrestricted cash on hand provide for a solid foundation and allow us to capitalize on growth opportunities."- CEO Weinreb in 2013 year-end report. This demonstrates the CEO's confidence in the company and his outlook on the future. Though he raises questions when he mentions $900 million of cash on hand, despite his company making negative $73M per year according to his books. He may have received this money from some of HHC's children companies who are doing quite well like Woodlands Development Co. who recently received a contract to build the largest development in Houston.
Bridgeland already has 2,000 homes planned and, "will begin development on the next phase of Bridgeland, an 11,400 acre master-planned community in Cypress dissected by the Grand Parkway. Construction begins this month on 1,200 to 1,400 lots over 800 acres, with houses ready for sale in the third quarter this year. Home prices for the new neighborhood, called Hidden Creek, will range from $200,000 to $1 million. A price for the overall master-plan project was not available."
The fact that Weinreb talks about investing that $900 million, may point to a larger strategy which he references in his letter to shareholders that was released in early March. "The Howard Hughes Corporation has built the foundation for our future success. Our unique assets have drawn world-class talent to the company who will create a myriad of future possibilities to grow our business. First and foremost, however, there is a lot of work yet to be done to maximize the value of our existing real estate assets. In 2014, you will see ongoing vertical development in our largest core assets as they get closer to completion. We will begin to generate significant stabilized recurring cash flows from our commercial properties and realize sales proceeds from sales of condominiums and residential and commercial land." Insider trading information provides insight into how the individuals with privileged information believe the company will perform. Morningstar reports that insider trading has increased by 12.5% over the last three years. This indicates strong confidence in the success of the company.
CONCLUSION
Based on the financial analysis, stock research, historical analysis, and other business advisors, HHC is still in a position to grow. Though this company has its risks due to its large debt overhead, it appears that investments were made and the debt was created by internal spending in order to build a stronger infrastructure on which to foundation a larger company. The saying, you must crack a few eggs to make an omelet applies when spending money on company growth. HHC is in a position to capture more market share by expanding its real estate portfolio and partnering with its sub companies. I believe that HHC will continue on its upward path to growth in the coming years, and any recent drawbacks have been due to restricting and regrouping to prepare for growth. I recommend a buy and hold for long-term steady growth.
Disclosure: I have no positions in any stocks mentioned, and no plans to initiate any positions within the next 72 hours. I wrote this article myself, and it expresses my own opinions. I am not receiving compensation for it (other than from Seeking Alpha). I have no business relationship with any company whose stock is mentioned in this article.