PepsiCo (NYSE:PEP) sells more than soda. The business owns the Quaker brand, as well as Frito Lays. In all, PepsiCo has 22 brands with over $1 billion per year in sales. The picture below shows each of Pepsi's brands with over $1 billion per year in sales. The Lipton and Starbucks brands in the picture below are sold in partnership with Unilever (NYSE:UL) and Starbucks (NASDAQ:SBUX), respectively.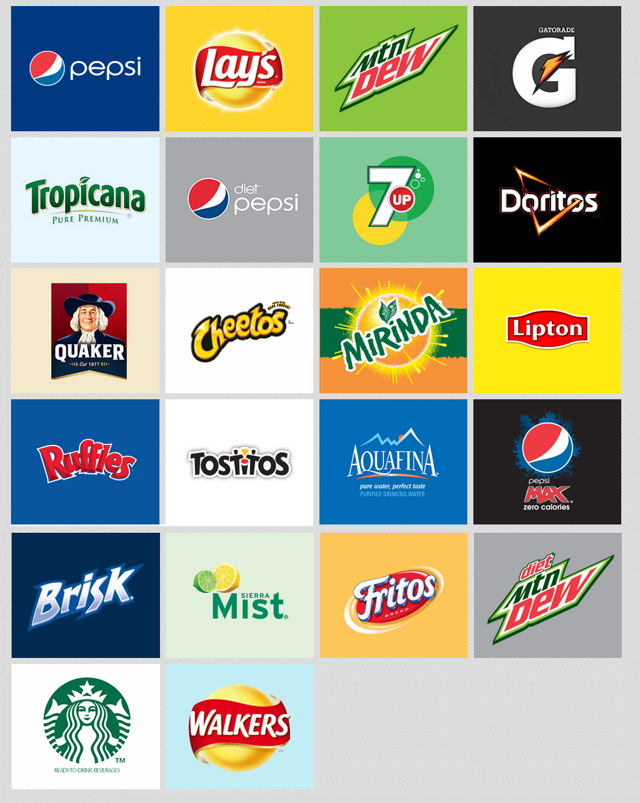 Source: Pepsi Official Website
Current Events
Pepsi posted favorable results for the most recent quarter. Organic revenue increased 4%. Organic revenue growth in emerging markets was up 9%, despite weak revenues in China from the company's bottler restructuring. The company currently generates about 50% of its revenue internationally.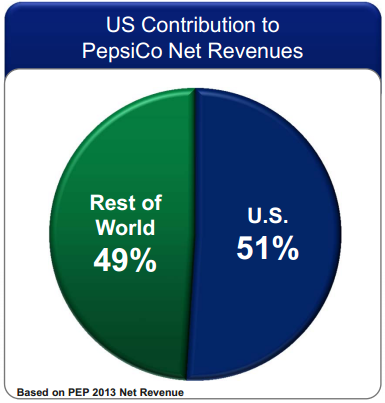 Source: 2014 Consumer Analyst Group Presentation
The soda industry in the US is in slow decline. PepsiCo's soda volume declined 1% for the most recent quarter in North America. The company's beverage volume still increased 2%. PepsiCo was able to raise prices, and posted a 1% increase in American Beverage revenue for the quarter.
PepsiCo's Frito-Lay North America division grew revenues by 4% for the most recent quarter year-over-year. Salty snacks in the US continue to expand. Pepsi's Latin America Foods division posted even better results, with organic revenue growth of 9% in the same period.
The company posted strong results internationally for the most recent quarter. Snack and beverage revenue in Europe was up 7%, while organic revenue growth was up 6% in the Asia, Middle East, and Africa (AMEA) region.
PepsiCo's future growth path is evident when examining where its current growth is being generated. Pepsi's soda sales are stagnant in the US. The company's core growth drivers are its powerful snack brands and deeper penetration into international markets. PepsiCo will continue to grow revenues by gaining share in growing emerging markets. The company benefits by marketing both snack and beverage lines, giving it better leverage over retail stores and more SKUs for consumers to purchase.
PepsiCo plans to grow revenue and increase market share through further building its brands, and through new product innovation. The company has rolled out several new product innovations recently, including Mountain Dew KickStart, Starbuck's Iced Coffee bottled drinks, and Tostito's Cantina chips. The company's ability to relentlessly innovate and try new products bodes well for shareholders. Most of the innovations may not be successful, but the ones that are will drive revenue growth.
Shareholder Return
Shareholders of PepsiCo can expect a CAGR of between 10% and 11% from organic growth (3% to 4%), dividends (3%), and share repurchases (4%). PepsiCo's management is extremely shareholder friendly. The company expects to return over 80% of cash flow from operations to shareholders through dividends and share repurchases in 2014.
Valuation
PepsiCo appears to be slightly overvalued based on its P/E ratio compared to its peers.
| | | |
| --- | --- | --- |
| Name | Ticker | P/E |
| PepsiCo | PEP | 21.65 |
| Coca-Cola | KO | 19.48 |
| Dr. Pepper/Snapple | DPS | 17.23 |
| General Mills | GIS | 19.68 |
| Kellogg | K | 12.93 |
The company trades at a slight premium to its closest competitor, Coca-Cola. PepsiCo is not a beverage only business; its revenues are split between food (Quaker, Frito-Lay), and beverages.
Pepsi Ranked with the 5 Buy Rules of Dividend Investing
Rule 1: Consecutive Years of Dividend Increases
PepsiCo has increased its dividend for 42 consecutive years. Caleb Bradham invented "Brad's Drink" in 1893. Caleb renamed his drink "Pepsi-Cola" in 1898. Pepsi has existed for 116 years. The company's stability is rare and shows the power of its brand.
Why it matters: The Dividend Aristocrats (stocks with 25-plus years of rising dividends) have outperformed the S&P 500 over the last 10 years by 2.88 percentage points per year.
Source: S&P 500 Dividend Aristocrats Factsheet, February 28, 2014, page 2
Rule 2: Dividend Yield
PepsiCo currently has a dividend yield of 3.04%, ranking it at 29 out of 105 businesses with 25+ years of consecutive dividend increases.
Why it Matters: Stocks with higher dividend yields have historically outperformed stocks with lower dividend yields. The highest-yielding quintile of stocks outperformed the lowest-yielding quintile by 1.76 percentage points per year from 1928 to 2013.
Source: Dividends: A Review of Historical Returns
Rule 3: Payout Ratio
PepsiCo's payout ratio of 62.70% ranks it at 73 out of 105 businesses with 25+ years of consecutive dividend increases. The company's dividend is in no danger of being reduced, but PepsiCo does not have much room to increase the dividend faster than the company's overall growth rate.
Why it Matters: High-yield, low-payout ratio stocks outperformed high-yield, high-payout ratio stocks by 8.2 percentage points per year from 1990 to 2006.
Source: High Yield, Low Payout by Barefoot, Patel, & Yao, page 3
Rule 4: Long-Term Growth Rate
PepsiCo has been excellent at allocating capital. Over the last decade, the company has grown revenue per share over 9%. The company should see per share revenue growth of at least 7% to 8% over the next several years from share repurchases and organic growth. PepsiCo ranks at 8 out of 105 based on this metric.
Why it Matters: Growing dividend stocks have outperformed stocks with unchanging dividends by 2.4 percentage points per year from 1972 to 2013.
Source: Rising Dividends Fund, Oppenheimer, page 4
Rule 5: Long-Term Volatility
PepsiCo's stock has shown extreme price stability. The company's long-term standard deviation of only 17.39% ranks it at 3 out of 105. Businesses with very low standard deviation exhibit stable, predictable earnings and resistance against recessions.
Why it Matters: The S&P Low Volatility index outperformed the S&P 500 by 2 percentage points per year for the 20-year period ending September 30th, 2011.
Source: Low & Slow Could Win the Race, page 3
Conclusion
PepsiCo is a shareholder friendly business with high quality brands. PepsiCo ranks very highly based on the 5 Buy Rules from the 8 Rules of Dividend Investing. The company is poised for a long streak of continued growth through international expansion and product innovation. PepsiCo may be slightly overpriced, but is still a fantastic long-term holding.
Disclosure: I am long PEP. I wrote this article myself, and it expresses my own opinions. I am not receiving compensation for it (other than from Seeking Alpha). I have no business relationship with any company whose stock is mentioned in this article.