According to the very strict Modern Graham valuation system, Intel (NASDAQ:INTC) is undervalued. This should answer the question posed by Mr. Schurman. I accept that Intel's expensive crusade to win a healthy slice of the mobile chips market might lead to a near-pyrrhic victory. However, the near-monopoly on server and desktop x86 processors gives Intel enough gas to afford a costly price war on tablet/smartphone chips.
The Modern Graham valuation system rates Intel undervalued and an excellent choice for Defensive and Enterprising investors. Benjamin Clark has stopped syndicating his articles here at Seeking Alpha but here's the Q1 2014 assessment for Intel using Modern Graham's system. This was published last May 18.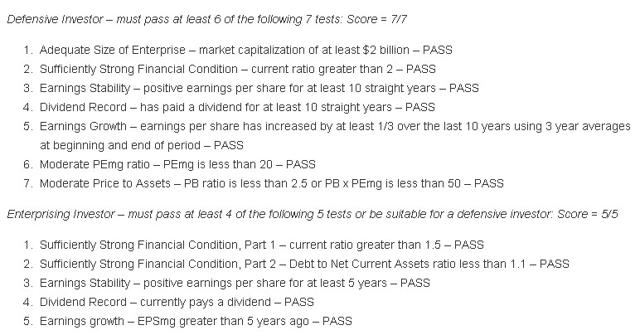 Undervalued and Underpriced
Intel passed ALL the exacting requirements of Modern Graham. Furthermore, every Intel believer should appreciate that INTC received an MG value of $48.51.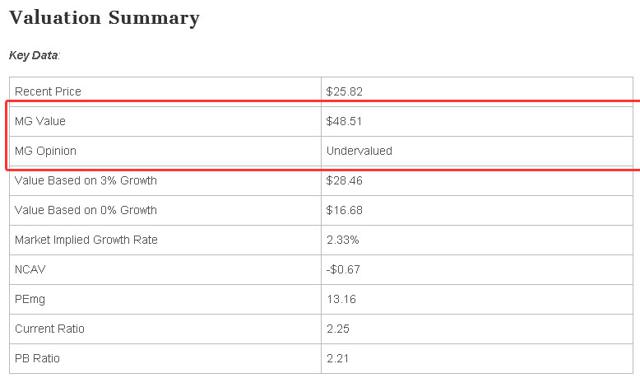 Drip investors and long-term value investors will keep on holding on to their INTC shares because of its beastly good fundamentals. The assessment of Modern Graham is strongly supported by the high-math valuation algorithm of Alpha Omega Mathematica (AOM) which gives INTC a Buy recommendation.
AOM's engine discovered that Intel is very much underpriced compared to its market, technology sector, and Semiconductor Broad Line industry peers. Please look at the Value Scoring chart for INTC. Intel's current underpricing makes it very attractive to bargain hunters looking for long-term bets.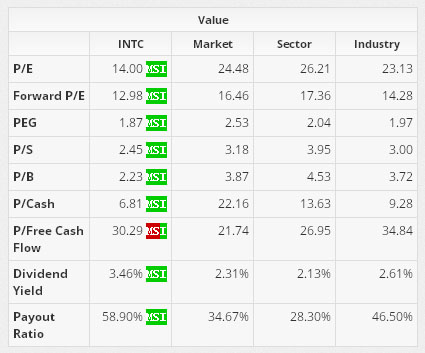 Rich Enough For A Protracted War
In spite of its very expensive struggle in mobile chips, Intel is still king of all semiconductor players. The ARMy of competitors is growing fast and strong, it now dominates tablets and smartphones. However, Intel's contra revenue is slowing down the RISC assault. Based on ICInsights charts below, Intel makes so much money on x86 chips that it can comfortably ride out a $3 billion/year operating loss in its war for mobile.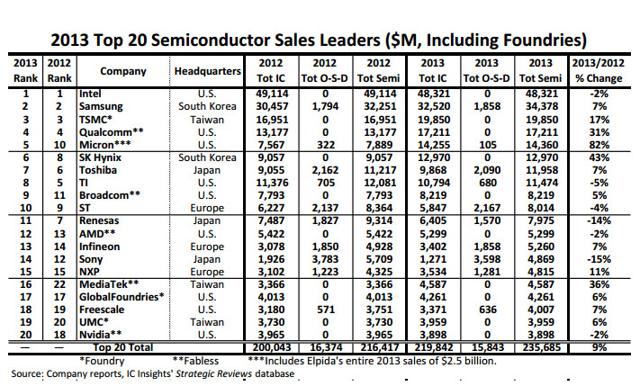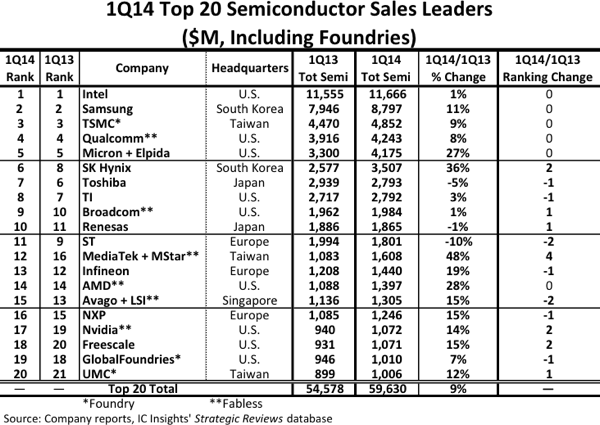 Unlike AMD, Intel has not surrendered. Intel is still adamant in its claim that x86 chips are still viable alternatives to ARM-based products from Qualcomm (NASDAQ:QCOM), Samsung, or MediaTek. Intel is now alone in the Game of Thrones for the rich kingdom of smartphones and tablets SoCs.
However, Intel doubters should again review the Q1 earnings report. INTC has enough cash reserves and healthy cash flow to fight a good fight. Giving up on mobile is suicidal, letting the ARMy go unopposed on the mobile front will expose Intel's x86 desktop and server flanks.
A War That Must Be Fought
Several Seeking Alpha users have suggested that Intel should quit mobile and just be a foundry for ARM chips requirement of Apple and other fabless semiconductor companies. I understand that this suggestion can improve Intel's bottom line. No more x86 Atoms for mobile means less contra revenue. The supposedly higher margin of being a foundry for ARM like TSM will now allow Intel to earn more for itself and its investors.
On the other hand, Krzanich is no fool. A near-term gain from monetizing the idle production capacity of the company to the enemy ARMy is like inviting a Trojan Horse. The long-term threat of ARM includes invading the desktop and server territories that Intel owns now. Surrendering on mobile will not stop greedy Samsung or Qualcomm from also pushing ARM SoCs for desktops, laptops, and server machines.
Intel's costly defensive move on mobile is a delaying/harassing tactic. Defending the x86 desktop/server fronts requires Intel to relentlessly attack ARM on mobile.
Intel's low-power Atoms will ultimately gain enough technical improvements and industry support to make them competitive against Qualcomm's products. The 64-bit SoFIA LTE SoC next year will likely require less contra revenue from Intel.
Brian Krzanich has recruited a lot of Shenzhen's white-box tablet producers earlier this year. Most of these companies are also smartphone manufacturers who can give 4G/LTE-equipped SoFIA a serious boost. Intel only needs to give gifts to the right people to make its phone chips gain enough industry support.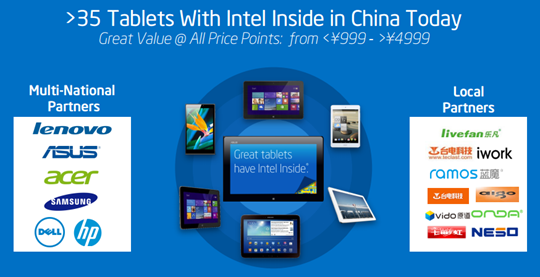 I don't really care much about the Android incompatibilities that Intel-based tablets are allegedly suffering. It's one more reason for Intel and Google to sort out. In my opinion, Intel, with its huge marketing subsidies, is better off pimping out higher-ASP Windows 8.1 tablets like the Surface 3.
Fishing for low-entry tablets will help Intel achieve its 40-million tablet chips target this year. However, INTC investors prefer that Intel won't really post a $3 billion loss on mobile doing this 2014 campaign. A secondary focus on selling higher-price Bay Trail or low-power x86 chips to Windows 8.1 tablets and 2-in-1 notebooks is highly desirable.
Conclusion
Brian Krzanich is also a factor - he is not as ruthless as the great Douglas McArthur. But he is a good leader who knows that Intel's very own future is on the line. He cannot give up mobile because it will eventually lead to Intel's demise as lord of the semiconductors.
He is not merely wasting money to gain market share in mobile chips. He is defending Intel's core cash cows in x86 processors. The advances in mobile by Qualcomm and others need to be aggressively checked.
Otherwise, Intel will be checkmated on all fronts, mobiles, desktops, servers, and embedded. The expensive blocking blow that contra revenue on mobile is necessary.
Intel, as per the great valuation systems of Modern Graham and Alpha Omega Mathematica, is a great investment now because it is still cheap. The future is very unpredictable - Intel may still be able to checkmate the ARMy to remain dominant only on the mobile industry but out of servers and desktops.
INTC is a Buy. Do your own due diligence but please know that other paid analysts from BarChart and FT.com are also endorsing INTC as a Buy.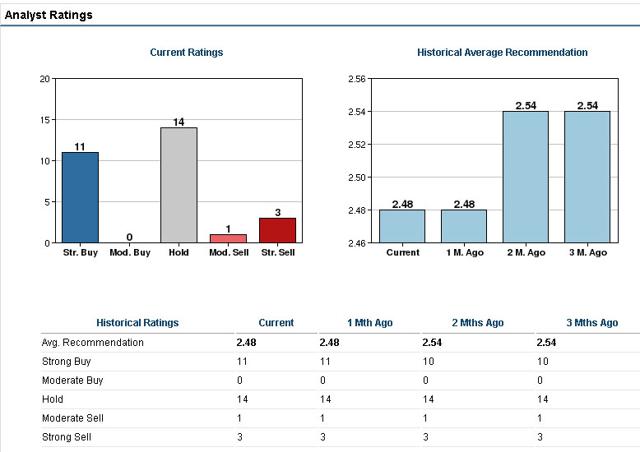 Source: Barchart.com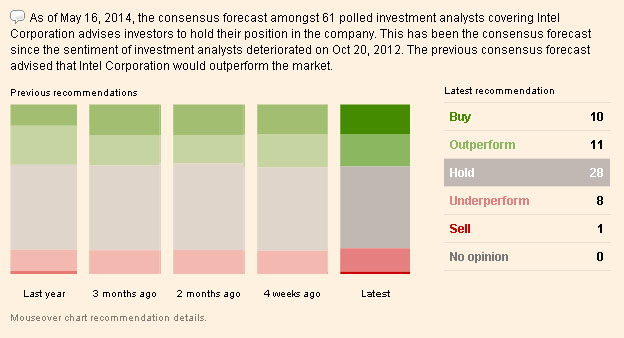 Source: markets.ft.com
An unspoken truce will eventually be negotiated because Intel, proud and rich, will never stop its price war and contra revenue against the red-hot ARMy. I look forward to Intel prospering inside its x86 realm and Qualcomm/Samsung/MediaTek to get rich on their own side of the ARM mobile nation.
Disclosure: I am long INTC, AMD. I wrote this article myself, and it expresses my own opinions. I am not receiving compensation for it (other than from Seeking Alpha). I have no business relationship with any company whose stock is mentioned in this article.